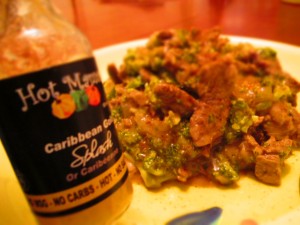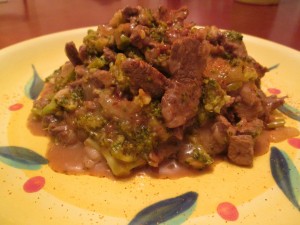 Ingredients:
3 cups finely chopped broccoli florets
½ cup thinly sliced onions
1 clove minced garlic
1 pound boneless sirloin steak, sliced into thin strips
2 tbsp San-J Tamari Organic Soy Sauce (LINK)
350 ml Pacific Foods Organic Vegetable or Beef Broth (LINK)
2 tbsp Bragg Organic Raw Unfiltered Apple Cider Vinegar (LINK)
1 ½ tbsp. fresh ginger, finely minced
1 tsp cayenne pepper
1 tsp Dixie Diner Carb Counters Thick-It-Up Thickener (LINK)
Instructions:
In one tablespoon of cooking oil, fry broccoli, onions, and garlic on medium-high heat until broccoli is tender and onions are browned. Add beef strips and continue to fry until beef is cooked through. In the meantime, combine last six ingredients and mix thoroughly. Once beef is browned, add to beef and vegetable mixture and bring to a boil. Stir frequently until sauce thickens and serve.