Super Bread – Bakers Deluxe
There is no food that has had its perception tainted by carbs more than bread. People on low carb diets have often resorted to eating loose deli meat instead of sandwiches or making wraps with iceberg or Bibb lettuce. Let's be honest, though, bread has no equal and is too ingrained in most people's diets to have a satisfying work around.
Bakers Deluxe offers two nutritious types of bread that are low carb and allow you to enjoy some of your favourite recipes. They are high in fiber and contain simple ingredients like flax meal, rye, water, wheat, salt and yeast. Additionally, these breads go great with our selection of tasty spreads.
Let's first examine the taste profiles of each bread and what makes them so beloved among those on keto and Atkins diets. Next, let's explore some amazing recipes where the simple addition of a Bakers Deluxe Super Bread can lower the number of carbs without sacrificing any of the deliciousness. This way you can eat a sandwich whenever you want or keep your Sunday morning tradition of enjoying French toast.
---
Exclusive Blog Reader Discount! $15 off sub-total $100.00* + Free Shipping!
Just enter the following code during checkout: ALZDTC
Minimum purchase of $100.00 required

To qualify for free shipping – orders subtotal must be greater than, or equal to $100 (up to 10Kg)

This offer may not be combined with other offers, limit 1 per customer
---
Superflax and SuperAwesome! Breads
Forget about cutting bread out of your life. Instead try one of these two protein-rich loaves that are filled with fiber and made with flax oil. Each piece has a firm crust and fluffy centre. These Super Breads can help keep your blood glucose level stable and your digestive system regular, both important factors to one's overall health.
You can store both at room temperature for up to 10 days. If you intend to keep it for longer then be sure to freeze it.
Try with a Spread
We carry a selection of spreads that will transform any piece of toast into something even more delectable. Choose from any of these popular brands:
Our favourite is Jok'N'Al lemon curd spread that contains only 1g of sugar and under 3g of carbs per serving. The lemons are hand-picked at their ripest and crushed and chopped in small batches to create a standard of quality.
Fans of the classic peanut butter and jelly sandwich need to try Walden Farms Grape Fruit Spread, which is gluten-free and kosher. Spread this sweet jelly in between peanut butter and add two soft slices of Bakers Deluxe superflax bread.
Recipes
Here are some of the best recipes that include, or even feature, bread. By using a low carb bread, you can meet the requirements of your diet.
Brie, Ham and Apple Panini Sandwich
This recipe is simple to make and includes brie, a soft cheese that melts easily. Once your panini press is preheated, take two pieces of Bakers Deluxe bread. You can remove the crusts to get a more even toast on the sandwich. In a bowl, mix mustard and mayo together to create a quick sauce with some zip. We recommend using a dijon or whole grain mustard for its strong flavour.
Spread the sauce on the inside of each bread. Then layer in this order: brie, ham and then thinly sliced green apple. You want to avoid one layer being too big in comparison to the others. The idea is to get an even amount of each ingredient in every bite. Finally, lightly coat the outside of the sandwich in melted butter, place on the panini press and toast. Once the cheese is melted, you're good to start eating.
You can replace apples with pears (or even poached pears, if you wish) or use a chutney or jam instead of the mustard and mayo mixture. Be sure to apply whatever sauce you use before pressing it as it will warm it up nicely.
Meatball Sandwich
Stay with us here because you probably never thought you could enjoy one of the best Italian sandwiches ever while on a strict low carb diet. With a few adjustments to the traditional recipe you can be enjoying meatball subs in only 40 minutes. Remember to skip the dough portion of the recipe because you'll be using one of the Bakers Deluxe Super Breads instead.
To start, you need to make the meatballs. In a mixing bowl, combine ground beef, garlic, basil, oregano, pepper and salt. Then divide the mixture into 16 portions and ball each one using your hand. Your next step is to heat a large skillet over medium-high heat. Once the pan is hot, add the meatballs to sear and cook. Make sure the meatballs are not touching. As the meatballs brown on all sides, lower the heat and cook until they are a nice medium in the middle. This will ensure they are thoroughly cooked but still moist. Remove the meatballs from the skillet and place on a plate.
Take your two pieces of bread and sprinkle some mozzarella on both sides. Place the meatballs on one half and then top with the other slice of bread. Now, oven bake or grill on a stovetop for 5-10 minutes. You are essentially making a meatball grilled cheese sandwich, and we only didn't mention that at the beginning so you wouldn't run off to make it.
French Toast
While you can make French toast with any bread, you really want one that's eggy and firm like challah. Many keto diet recipes call for cloud bread, which is more of a bread substitute and not to everyone's liking. You can make a more authentic French toast by using either Bakers Deluxe Superflax bread or SuperAwesome bread. Don't worry about the flax seed, either, as French toast is sweetened so you won't taste it.
Here's all you need to do: In a bowl, whisk together two eggs, ¼ cup of cream, 1 tsp of cinnamon, ½ tsp of vanilla extract and a touch of salt. Let about eight pieces of bread soak in the wet mixture.
Heat two tbsp of butter on a pan over medium heat. Then add as many pieces of the soaked bread as you can fit. You will probably have to do 2-3 batches. Cook each side of the bread until it's golden brown. Be careful not to burn either side of the bread as that will make it taste bitter.
Once it's ready you get to have some fun and add a touch of your personality. Before eating add toppings and flavours to make your French toast sing. You can either sweeten it or turn it into a sweet and salty concoction. Add homemade whipped cream by whipping some of the leftover cream in addition to sugar and vanilla for about five minutes or for one minute with a mixer. Or you can toss some fresh berries (make sure they are low carb) onto your French toast or top with the wonderful combination of bacon and maple syrup.
Enjoy these Super Breads Today!
If you are on a low carb diet or have been avoiding one because of your love of bread, then you need to try the Bakers Deluxe Breads! They allow you to keep bread at the forefront of your diet and to enjoy an array of delicious sandwiches and meals for breakfast, lunch and dinner.
Be sure to peruse our selection of ingredients to find everything you need to make your next amazing low carb meal.
---
Exclusive Blog Reader Discount! $15 off sub-total $100.00* + Free Shipping!
Just enter the following code during checkout: ALZDTC
Minimum purchase of $100.00 required

To qualify for free shipping – orders subtotal must be greater than, or equal to $100 (up to 10Kg)

This offer may not be combined with other offers, limit 1 per customer
---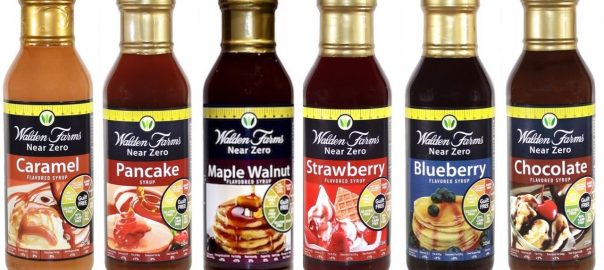 Walden Farms Popular Syrups
Many are convinced that wanting to cut down or eliminate, carbs, sugar, cholesterol or fat means having to give up some of our favourite foods. Often on that list is pancakes, the fluffy, gooey and delicious batter that makes a delightful hot breakfast. With items like pancakes and French toast, a lot of the carbs and calories is from the syrup. Let's be honest though, smothering these foods in a sticky sweet liquid is what makes them great.
For those wanting to live a healthier life but unwilling to give up pancake syrup, Walden Farms offers a delicious alternative to fit any diet. This syrup can replace table syrup in your pantry and in certain delectable recipes.
Let us introduce you to Walden Farms line of syrups that our customers love, and we're confident that you will too. Then, we'll explore some of our favourite recipes for classic meals that either include syrup or where syrup can provide an interesting twist.
An Alternative to Pancake Syrup
The traditional pancake syrup is maple flavoured and features roughly 210 calories for every ¼ cup, 52 g of carbs and 32 g of sugar. They also can contain ingredients like corn syrup, fructose corn syrup, caramel color, sodium benzoate and sorbic acid among other preservatives. As you can tell, these syrups are not exactly part of a healthy and balanced breakfast.
Walden Farms offers pancake syrup that is prepared with real fruit extract and concentrated natural flavouring, and is also available in blueberry and maple walnut flavour. They are sugar-free, cholesterol-free and contain no carbs or fat. It is a perfect way to turn pancakes, French toast and waffles into low carb treats. Use with a pancake mix like the one from Hold the Carbs or with low carb bread.
This pancake syrup also comes in single serving packet for convenience and ease.
Recipes
Pancake syrup is a great addition to a lot of different sweet or savoury recipes. Here are some of our favourite recipes. We're sure you will love them!
We've taken some liberties with each recipe to make them healthier but never at the expense of taste or enjoyment. Recipes are merely guidelines, not strict rules, so feel free to play around and make a meal your own.
Cinnamon Rolls
Who doesn't love hot and fresh sticky buns? The only thing that can make these fluffy rolls better is to incorporate some pancake syrup for sweetness and to balance the cinnamon. This recipe calls for maple syrup but you can easily add Walden Farms Pancake Syrup for a similar flavour minus the guilt.
This easy recipe makes the best cinnamon rolls. Remember to make simple adjustments to reduce the carbs and/or fat. For instance, you can replace any sugar content with sweet berries, or use almond or soy milk instead of whole. To make, all you need to do is combine warm milk, yeast and brown sugar in a bowl. Let sit for 10 minutes and then add flour.
Mix well to create a pliable dough.  You will notice the mixture grow frothy. In a separate bowl, combine flour, sugar, salt and cinnamon. Place the dough in a lightly oiled bowl and cover. The dough will rise within an hour.
Now, you need to make the filling. Combine sugar, cinnamon, salt and melted butter. Roll out dough and spread the filling in an even layer. Tightly roll the dough and cut into 12 pieces. Let the pieces rise for 30-40 minutes (they will double in size). Bake at 375 F for 30-45 minutes.
Syrup-Soy Glazed B.C. Salmon
Maple and fatty fishes like salmon are a natural pairing. You can substitute the much healthier Walden Farms Pancake Syrup and the dish will not miss a beat. This recipe is easy enough to make after a long day of work or to make for guests at a dinner party. You can even swap in asparagus if fiddleheads aren't readily available.
To create the glaze, mix ¼ soy sauce with 2 tbsp. each of pancake syrup, cilantro and sweet chili. Marinate the salmon for 10 mins and then bake for 10-12 minutes. Rest the salmon for 3-4 minutes and then plate by placing on top of the sautéed vegetables.
Waffle Sandwiches with a Nut Crunch
This rich and decadent desert can be made with close to zero carbs by using the Hold the Carbs Stevia Pancake & Waffle Mix. It's a great desert to end any low carb meal.
To make the nut crunch, whisk egg whites until they are light and foamy. Add pancake syrup with ¼ tsp of vanilla and a pinch of salt. Toss with a nut like pecans or walnuts. Bake at 225 F for 45 minutes, stirring every 15 minutes. If you are preparing in advance, you can store in a tightly sealed container for up to 1 week.
Get the waffles ready by adding flour to a bowl with cocoa powder, baking powder, sugar, baking soda and salt. Separately whisk egg, milk, sour cream and melted butter. Add egg mixture to flour mixture and stir. At this point, you can use food colouring if you want.
After waffles are made, whip some cream until it can hold stiff peaks. You're now good to start assemble, which means you are almost at the best stage, eating!
The Ultimate Side Dish
This brussels sprouts recipe calls for a syrup finish to its bacon, beer and mustard flavours. A great side dish for red meat dishes or with a perfectly grilled chicken. Even brussels sprouts haters will be converted by this smoky and hearty accompaniment. Note that we removed the breadcrumb component to keep the carb intake low.
To make this meal all you need is a pound of halved brussels sprouts, four slices of bacon, ¼ of beer, grainy mustard, butter and some pancake syrup. To start, mix the beer with the mustard, pancake syrup and a touch of salt. The next step is to cook the bacon in a pan, preferably cast iron. Transfer to a plate after five minutes. In the same pan, sear brussels sprouts until they are brown. Add the beer mixture and the bacon and combine until the sprouts are coated.
Baked Beans
We want to share one more amazing side dish recipe with you because they can really make a meal come together.
Get two cups of white beans, one cup of pancake syrup, four slices of bacon, one large onion and some ginger and mustard ready to go. Preheat your oven to 300 F. Toss the beans in a saucepan with cold water, making sure they're completely covered. Bring to a boil, then reduce the heat so that the beans simmer. Beans should be tender in about 45 minutes.
Drain the beans and place in a baking dish. Add the remaining ingredients including the pancake syrup. Cover with tight fitting lid and cook for 60-90 minutes.
Sure, this side dish takes a lot of time but it is sweet and smoky and impossible to resist.
Get Cooking with Walden Farms Pancake Syrup
We hope you give this sweet and delicious pancake syrup a try. It is perfect for your waffles, stack of hot cakes or even for some of your favourite savoury entrees and side dishes. Try these recipes out on your friends and family. You won't regret it and they'll be begging you for the recipe.
Remember to check out our selection of low carb ingredients to get everything you need to get cooking immediately!