Recipe How To: Ultimate Rack of Low Carb & Keto Ribs
If you've never had a really amazing, super tender, fall-off-the-bone rack of ribs before, you are missing out on one of the best eating experiences the world has to offer. There's just something about the flavour of the sauce and seasonings, combined with the rich taste of slow-cooked meat, that gets our taste buds fired up and craving ribs.
However, there are some tips and tricks that are handy to know before you start cooking up a batch of ribs that will help ensure you avoid tough, chewy results and make certain that you end up with the perfect rack everyone will want to devour.
Choose Your Ribs Wisely
First, it's important to know how to pick a great set of ribs when you're browsing the grocery store or butcher shop. You'll need to look at the types of ribs, as well as a few telltale signs of great ribs.
Side Ribs vs. Back Ribs
If you ask 10 different rib chefs which is better, side ribs or back ribs, you'll probably get an even 50/50 split of opinions. Both styles of rib have their pros and cons, but it really all comes down to your personal preference.
Side ribs, also known as spareribs, come from the side of the belly section of the pig or cow.  They're a longer rib that comes in a fairly uniform, rectangular-shaped rack. Chances are if you see an image of a very symmetrical rack of ribs with long bones on a restaurant menu, they'll be side ribs.
Some rib chefs find side ribs to be a little tricky to cook, since they are lower in meat content and higher in fat, but when done right they are often described as 'bacon on a bone'. If you're going to work with side ribs, be prepared to really take your time with them.
Back ribs are cut from the area of the pig or cow closer to the spine and have shorter bones, but are generally meatier than a typical side rib. Back ribs are more forgiving in their cooking, and can be ready faster than side ribs. This makes them extremely popular for home cooking, and you can find them much more easily at a wider variety of supermarkets and butcher shops.
Beef Ribs vs. Pork Ribs
When it comes to beef vs. pork, your personal preference is really the deciding factor. Both types are extremely delicious, and for the most part use the same cooking techniques. If you can't decide, simply ask the butcher which is the better cut they have in stock at that time, or just flip a coin. You won't be disappointed with either beef or pork if they are cooked the right way.
What should I look for in a rack of ribs?
First and foremost, look for the thickness of the meat on the ribs. The best ribs will be very meaty, and also have a nice distribution of fat throughout. The fat helps keep the ribs tender and adds flavour, so if you see a rack that's just all muscle, move to the next one.
Next, you'll want to check for exposed bones protruding from the meat, which are colloquially known as 'shiners' in the rib world. The best racks of ribs will have meat right to the end of the bones, since the meat will naturally contract as it cooks anyway. If you see a ton of exposed bones, it just means you're paying more for less meat.
And finally, always go fresh if you can. Like any other cut of meat, fresh ribs will provide better results than ribs that have been frozen. However, if frozen is all you've got, don't stress about it. Just make sure to thaw the racks completely before cooking to get the best taste and results.
To Sauce or To Rub?
When you picture ribs, chances are your default image is that of saucy, sticky, ribs fresh off the grill. However, dry rub ribs are amazingly delicious too, and offer a very different flavour experience.
At the end of the day, this is another one of those personal preference things. If you're in the mood for a classic rib taste, then sauce them up. But if you want to explore some new flavours, then get rubbing. Both methods are going to give you a rack of ribs that will surely have you licking your fingers afterwards.
For amazingly delicious, saucy ribs, give Crazy Mooskies Original BBQ Sauce a try. It's sugar-free and with just 1g of carbs per serving, perfect for low carb and keto dieters alike.
To get your rub on in style, check out this incredible Cajun Spice Rub from Hot Mamas. It's got a big, bold taste and enough heat to get you sweating in a good way. This stuff is fantastic for a great big rack of low carb dry rub ribs!
For even more flavour ideas, discover all the different low carb sauces, spices, and seasonings here at The Low Carb Grocery.
There are countless recipes out there for all different kinds of ribs, and everyone has different methods that they've perfected over the years for great tasting pork and beef ribs. We've got a few of the best to share at the end of this article, but we also wanted to share with you a tried-and-true method for making consistently amazing ribs that's super easy and will make you feel like a real pro even if it's your first time.
Never-Fail Fall-off-the-Bone Low Carb Ribs
This recipe is incredibly easy, and in just a few steps you'll be devouring amazing ribs that everyone will love! It uses the slow cooker for most of the cooking process, so you'll need to get things going in the morning to have it all ready for dinner time. You can use either your bbq or oven to finish the ribs, which is great because that means you can use this recipe year-round even if you don't want to grill in the snow in February!
Here's all that you'll need:
1 portion of back or side ribs per person (usually about 5-8 ribs each)
Your favourite low carb bbq sauce or low carb dry rub seasoning
Slow cooker
Aluminum foil
Oven or bbq grill
Step 1 – Cut the racks of ribs in to portions of about 5-8 ribs each, one per person. If you're serving a bunch of sides with the meal, perhaps go down to about 4-5 ribs per portion.
Step 2 – Place each portion of ribs on a piece of foil and season liberally with your choice of sauce or dry rub. Be sure to coat both sides. Then wrap them up tight.
Step 3 – Put the wrapped rib portions in the slow cooker, standing them on end so that you can fit many side-by-side. Pour in about ½ cup of water to the bottom of the slow cooker, and set on low for about 8hrs. The key to fall-off-the-bone ribs is 'low and slow'.
Step 4 – Once the ribs are done in the slow cooker, preheat the BBQ or oven to 350°F. Remove the packs of ribs from the slow cooker open them up, making sure that the meaty part of the ribs faces up, but leave them lying on the foil.
Step 5 – If you've used sauce for your ribs, brush a thin layer of fresh sauce on the meat. If you've used dry rub for your ribs, brush them with some of the juice in the foil packs and sprinkle with a little extra rub.
Step 6 – Place the opened foil packs of ribs on the grill or in the bbq (use a large baking sheet to make this easier to put them all in at once and remove all at once when done). Bake in the oven or roast on the grill for about 20-30 minutes, just enough to make the top of sauced ribs sticky and the outer meat on dry ribs a bit crispy.
Step 7 – Remove the ribs from the opened foil packs, and begin the feast! This recipe produces ribs with meat that is amazingly tender and falls right off the bone with no effort, each and every time.
Extra tip: Prepare each portion of ribs with a different sauce or dry rub and share them all to experience a lot of different great flavours of rib together.
More Rib Recipes for Low Carb & Keto Dieters
Looking for more inspiration and other cooking methods to try? Here are some of the best low carb and keto rib recipes from around the web.
Best Low Carb Barbecue Ribs – AllDayIDreamAboutFood.com
Instant Pot Low Carb Ribs – IbreatheImHungry.com
Low Carb Dry Rub Pork Ribs – StepAwayFromTheCarbs.com
Keto Barbecue Dry Rub Ribs – PeaceLoveAndLowCarb.com
It's Rib Time!
So, what are you waiting for? Go out and plan your own rib night for this weekend and bring the ultimate rack of low carb and keto ribs to the table. Your family will thank you, and we're sure you'll earn the title of Rib Champion in no time. Raise a rib and cheer!
---
Exclusive Blog Reader Discount! $15 off sub-total $100.00* + Free Shipping!
Just enter the following code during checkout: ALZDTC
Minimum purchase of $100.00 required

To qualify for free shipping – orders subtotal must be greater than, or equal to $100 (up to 10Kg)

This offer may not be combined with other offers, limit 1 per customer
---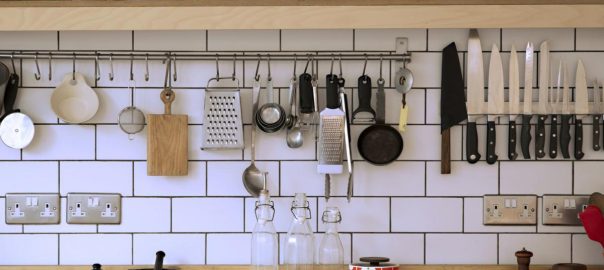 Organization Ideas for Your Kitchen, Pantry & Cupboards
North Americans recently learned the name Marie Kondo, an organizational expert who believes that tidying a space can be a transformative experience. She invigorated a movement where people wanted to renew their love of their favorite spaces through a newfound devotion to organization and joy.
Whether you have a cozy kitchen or a spacious one, you need to make sure it is functional and that you can make everything from a simple low carb breakfast to a healthy thanksgiving turkey feast with ease. Additionally, an organized kitchen is an easier one to clean and maintain.
Let's get moving so you can get your kitchen organized right away. We'll start by reviewing the value that organization can bring to your everyday life and what principles should guide these types of projects. Then, we'll get down to brass tax and offer tips on how to organize your cabinets and pantry.
---
Exclusive Blog Reader Discount! $15 off sub-total $100.00* + Free Shipping!
Just enter the following code during checkout: ALZDTC
Minimum purchase of $100.00 required

To qualify for free shipping – orders subtotal must be greater than, or equal to $100 (up to 10Kg)

This offer may not be combined with other offers, limit 1 per customer
---
Why Organize a Kitchen?
A messy kitchen can make life difficult and result in food being wasted. Imagine how much money you've invested in products that line the back of your cabinets and fridge that have never been used or have long expired. Just as frustrating and wasteful are the products you bought solely because you needed a single teaspoon for one recipe.
An organized kitchen is an accessible one where the most utilized gadgets and products are readily available. It also curbs the possibility of waste and allows the space to become the one it is meant to be; a place where people congregate and where parents and grandparents can share their love of cooking with a younger generation.
An organized kitchen offers a lot of other benefits:
Cooking becomes more streamlined and efficient
Easier to find things & less frustrating
Takes less time to clean and maintain
More energy efficient saving you money
More environmentally friendly by wasting less food
And, of course, don't forget that an organized kitchen simply looks better than a cluttered one where the cabinets can't close because they're overflowing.
What Does an Organized Kitchen Look Like?
Organization is subjective. Some adhere to a more rigid definition of being organized whereas others are naturally disorganized so anything is an improvement. You need to set your own standard and then stick to it.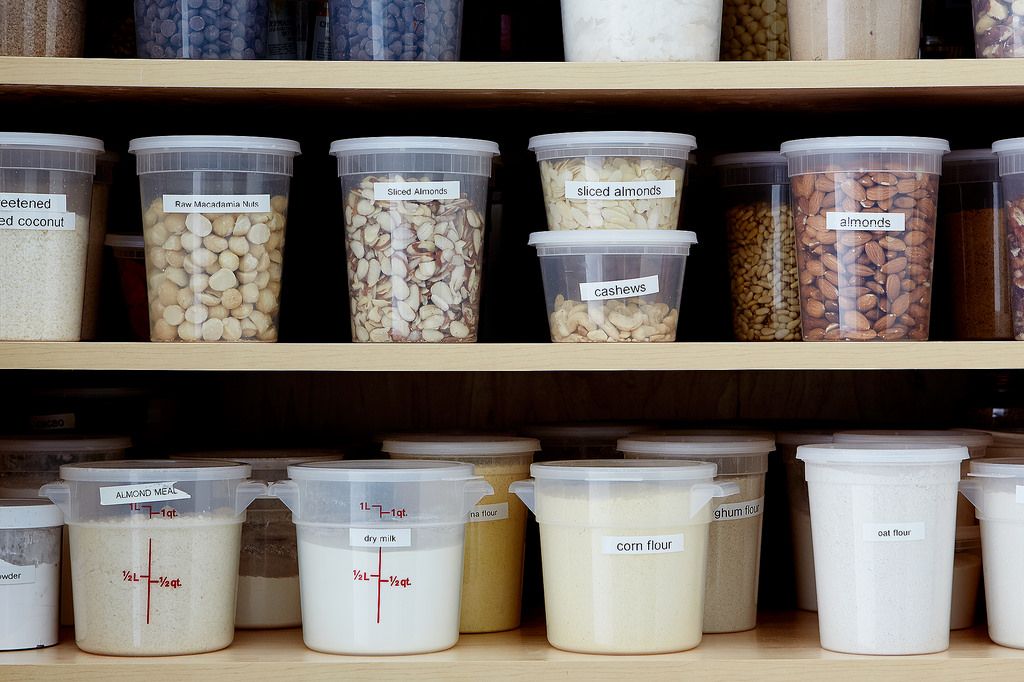 Whatever your level of organization might be, we suggest trying to push it a little further. Being organized not only benefits your kitchen, it can seep into other aspects of your life. Imagine having a tidy garage, a clean car and all your towels are neatly stacked in your linen closet.
Yes, it's true that organization of any space requires an investment in time initially, but over time, it saves you far more time than what's required to set things up in an organized way.
If you open your mind to the possibilities and benefits of being organized, you might be surprised by how much you love it.
Organizing Tips for your Kitchen
Here are some general tips to get your kitchen into tip top shape. Keep in mind that this can be a big—and often annoying—project and you want to get it done quickly since you probably can't afford your kitchen being out of commission for too long. Be sure to have a plan so you can get your kitchen in order in only one day.
Empty your Cabinets
A good first step is to empty your cabinets. Once everything is out, take an inventory and sort by the following:
Items you use regularly
Item you use every now and then
Items you haven't used in a long time.
Items you only used once.
Put aside any duplicates you find (who doesn't have a bunch of glasses or coffee cups taking up valuable cupboard space?). The trick here is to be ruthless and only keep what you actually use, need and love. The rest you can put in another location for the odd time you might need it, or better yet donate it to goodwill.
Use Clear Containers
To organize your fridge and cabinets, make the investment in buying some good quality storage containers. They'll make organization so much easier, and you'll be using less throw away plastic, like ziplock fridge and freezer bags.
With some quality containers in hand, put as much as possible in clear containers. This way you can know what something is at a glance. This should include things like sauce packets or smaller boxes like the ones that pudding mixes come in. Then you can group baking supplies together, and when you need them, you can just pull the whole container out and have it all at hand.
Whenever you use clear containers, take that extra step and label them because different types of rice and flour could be hard to distinguish.
Here are a few more tips:
Buy dry herbs and spices in bulk when possible.

The reason this is a good idea is because you can buy the amount you need and refill containers. This will keep everything organized and make sure you don't have loose bags floating around.

Buy a food container lid organizer.

This will make sure you can neatly store lids and stack the actual containers.

Slide out garbage bins are a great way to keep waste away from food preparation areas.

This is a smart option for households of one or two as bigger families might produce too much garbage to keep under a sink.
By emptying your cabinets and utilizing the right containers, you can take the first step toward your kitchen resembling a proper filing system.
Declutter your Pantry
Over time, pantries become a museum, holding a collection of untouched things that are often forgotten. Non-perishable food and other kitchen items tend to fall to the back and are relegated there until you discover them while moving. Worst of all, people end up buying two of something, not realizing that they already have one hidden in the pantry.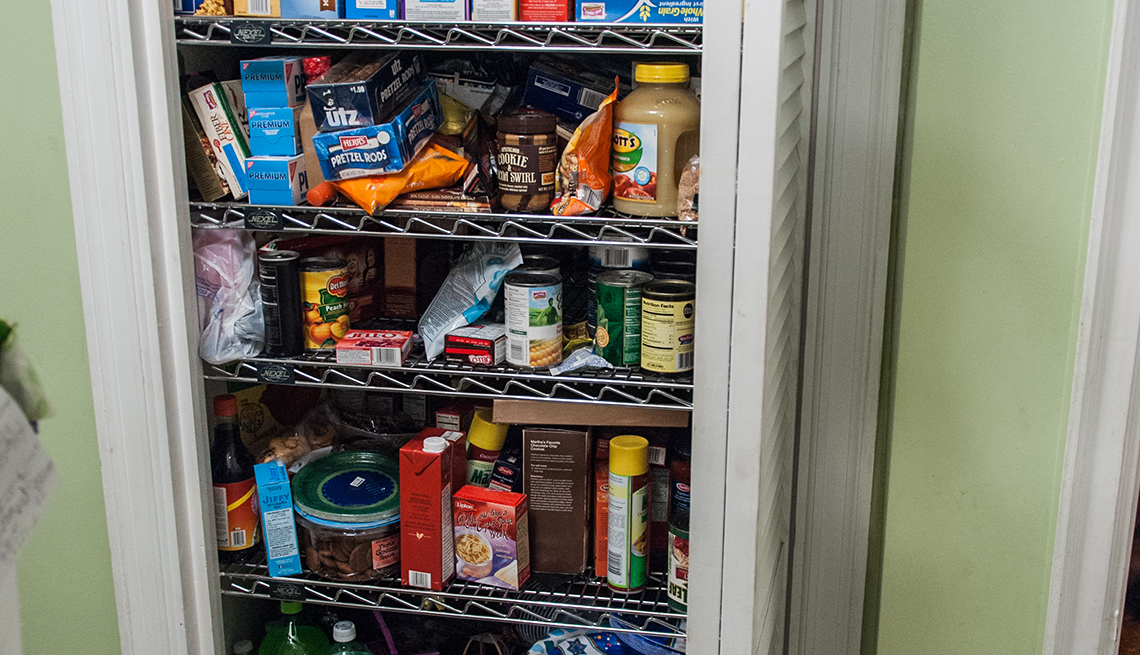 Pop-in drawers are a great way to organize a pantry in addition to make sure you can see what's lurking at the back. These sliding drawers tuck nicely into a closed pantry and can easily "pop out" when needed. We recommend keeping similar items grouped together.
An innovative idea is to take shower caddies usually designed to hold body wash and shampoo, and hang it on the inside of your pantry door and fill it with produce that doesn't require refrigeration.
And again, using larger storage containers for the pantry can help keep things grouped together in logical order, making finding things much easier.
Take Control of your Cabinets 
Having cabinets that are overflowing with food or other items can turn something fun like cooking into a daunting task. Additionally, it can make you feel as if you've lost control of your kitchen and makes cooking less enjoyable. These tips are specific to cabinets but will have a ripple effect throughout the entire space.
Here are a few ways to organize your cabinets:
Use Vertical and Hanging Space
By installing a magnetic or hook system you can save room in your cabinets. You can hang mugs above counter tops or pots and pans on the wall, which are especially nice since these are bulky, awkward and hard to store. You can also hang knives on the wall with a magnetic strip instead of the traditional bulky counter top block storage systems, saving you valuable counter top space.
Divide and Conquer
Don't look at your cabinet as one big space. Instead, use rotating trays and dividers to separate it into tiny rooms for food and items. Rotating trays are great for oils and vinegar's and you can also use them to sort vitamins. Dividers are perfect for separating cooking utensils or miscellaneous items that clog areas. The right dividers let you carve out small spaces for different things, making everything easier to find.
Once you've taken inventory of your food and kitchen utensils and gadgets, you can get a sense of how many trays and dividers you need.
Time to Grocery Shop!
Hopefully these tips and ideas inspire you to make the organizational leap and set aside a day to transform your kitchen space. Once you've cleared out and organized your kitchen, it's time to get the right ingredients to make delicious low carb meals for breakfast, lunch and dinner.
Browse our low carb food store, you'll find tons of unique, healthy ingredients to make wonderful low carb meal ideas that you and your friends and family will love!
---
Exclusive Blog Reader Discount! $15 off sub-total $100.00* + Free Shipping!
Just enter the following code during checkout: ALZDTC
Minimum purchase of $100.00 required

To qualify for free shipping – orders subtotal must be greater than, or equal to $100 (up to 10Kg)

This offer may not be combined with other offers, limit 1 per customer
---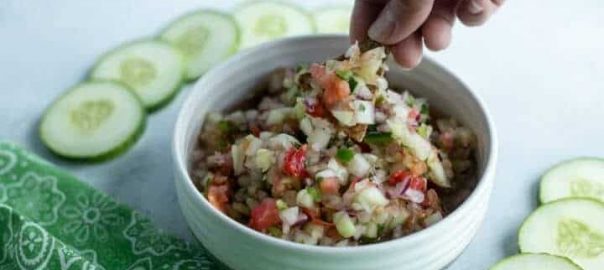 Delectable Dips & Spectacular Salsas – Low Carb Style
There are very few things that can define a gathering, dinner party or a fun night in front of the TV more than a delicious dip or salsa. It helps keep the conversation flowing and tends to become the place where people congregate.
Dips and salsas look complicated to make but they are actually quite simple. Some recipes only involve a few fresh ingredients and you don't need to cook anything. Best of all, there are a ton of low carb options that don't sacrifice quality, taste or creativity.
What are we waiting for? Let's get started by looking at what makes dips and salsas so universally beloved. Then we'll introduce you to low carb recipes that you'll love and will have your friends and family salivating for more.
---
Exclusive Blog Reader Discount! $15 off sub-total $100.00* + Free Shipping!
Just enter the following code during checkout: ALZDTC
Minimum purchase of $100.00 required

To qualify for free shipping – orders subtotal must be greater than, or equal to $100 (up to 10Kg)

This offer may not be combined with other offers, limit 1 per customer
---
What Should You Dip With?
Before we get into the recipes, you need to pick the right vessel to soak up all that delicious dip or salsa. People use low carb chips, crackers or pita bread, but you need to pair these recipes with something that won't undermine the carb intake.
Whatever option you go with, make sure it's either plain—so it won't overpower or mask the flavour—or a complementary flavour like a lime chili tortilla chip to go with an authentic Mexican salsa verde.
Here are some low carb brands that go with the recipes provided below:
Whatever you choose, keep it low carb and make sure you enjoy its taste.
Salsa Recipes
With your favourite chip or pita in hand, it's time to learn about some amazing salsa recipes.
Traditional Salsa
Everyone should have a traditional low carb salsa recipe in their repertoire. It's perfect to whip up as a snack or when guests unexpectedly show up at your doorstep. Also, making a big batch is much cheaper than buying a container of one of the most popular brands.
You only need five ingredients to make this salsa:
8 tomatoes
2-3 chili peppers (choose which kind based on your heat preference)
4 garlic cloves
1 tbsp of salt
2 limes
To make your salsa, start by roasting your tomatoes, chili pepper and garlic on high heat for 5-8 minutes in either a pan or on a grill. You can also broil for 8-10 minutes. You know it's done when the skin of the tomatoes blister and brown (don't burn them!).
Next, cool the vegetables for 5 minutes.
Toss it all in a blender with salt and the freshly squeezed lime juice. Pulse 5-6 times and enjoy once it's reached the consistency that you like.
Cucumber Salsa
This cucumber salsa is refreshing and a nice departure from the usual tomato based recipes. One bite will make you wonder why cucumbers aren't the number one choice for salsa.
Gather these ingredients to get started:
2 medium cucumbers (peeled, seeded and chopped)
2 medium tomatoes (see they aren't totally forgotten)
4 medium jalapeno peppers (seeded and chopped—remember seeds contain the heat)
½ medium onion
1 garlic clove
2 tbsp of lime juice
2 tsp each of fresh parsley and cilantro (both finely chopped)
In only 10 minutes you can have 4 ½ cups of delicious salsa by combining all the ingredients in a large bowl and mixing with a spoon.
Dip Recipes
If salsas aren't your thing or you need to switch it up after eating it every day for a week, then try one of these low carb dips. Each recipe offers a savoury alternative to a fresh salsa.
Cold Crab with Cream Cheese
Crab and cream cheese are staples of classic dip recipes. This one combines the two flavours to give people something salty, creamy and wholeheartedly satisfying. If you're not comfortable working with seafood, don't worry because cold crab is super easy. And the secret to that unique crab flavour is old bay seasoning.
Place 4 oz of cream cheese (already softened), 3 tbsp of sour cream, 1 tsp of lemon juice and old bay season (use your judgement) in a blender. Add 8 oz of lump crab meat (drain as much moisture as possible) and 2 tbsp of chives with a rubber spatula. Mix but careful not to overdo it. You don't want to lose the lumpiness of the crab, which can make every bite that much better.
Lastly, cover in plastic wrap and chill until it's time to serve.
Creamy Bacon Horseradish Dip
Bacon and horseradish is a duo that belong together more than peanut butter and jelly.
This recipe requires some unique ingredients but it is still simple to make.
Crisp 4 slices of bacon in a pan for roughly 6 minutes and then chop into smaller pieces. Mince 1 tbsp of green onions and then blend 1 tbsp of prepared horseradish (while tempting don't grate your own), 1 tsp of Swerve sweetener, ¼ tsp of Worcestershire sauce, ¼ tsp of dried dill weed, ¼ granulated garlic, 1/8 tsp of cayenne pepper and a pinch of salt.
This dip is best after being refrigerated overnight, so plan ahead!

Some Out of the Box Recipes
If you want to really wow your guests, then give one of these recipes a shot. Both pair well with roasted pita bread or vegetables or as part of your favourite Mexican dish.
Mango Habanero Summer Salsa
A habanero pepper is the hottest variety of small chili peppers available. It pairs well with a fruit like mango as their contrasting flavours play nicely off one another. If you want something more acidic, you can replace mango in this recipe with pineapple.
To make this summer salsa, you need:
1 cup each of diced mango and red onion
½ cup of fresh cilantro
1 habanero pepper
1 lime
Salt and pepper
Combine all the ingredients in a bowl and give them a good stir. Add salt and pepper to taste but we recommend going a bit heavy on the salt. Chill for a few hours or overnight.
A good tip is that whenever you're working with chili or hot peppers, use a glove or wash your hands thoroughly after preparation – and be very careful touching yourself before thoroughly washing your hands, especially around your eyes.
Green Goddess Dip
Green Goddess is something of a well-kept secret among foodies. It's a salad dressing that contains a form of mayo, garlic, anchovy paste and is given a striking green colour with either parsley or green onions.
Here are the ingredients you need to make this amazing drip:
½ cup of parsley
2 cloves of garlic
2 tsp of anchovy paste
¼ cup each of chives and basil
1 tbsp of tarragon
2 tbsp of cream cheese
2 tbsp of lemon juice
½ cup of mayo
½ cup of sour cream
In a food processor, pulse all the herbs with the garlic until they're thoroughly minced. Add the remaining ingredients and incorporate into the herb mixture.
This dip pairs perfectly with asparagus. While it's chilling in the fridge, steam the asparagus in boiling water for a few minutes, ensuring they are cooked but not soggy.

Shop Our Low Carb Foods Today!
Enjoy these low carb dips and salsas. We promise they can make your next gathering or dinner party a huge hit!
Be sure to browse our low carb food store and discover amazing low carb products and ingredients that will have you excited about your next meal!
---
Exclusive Blog Reader Discount! $15 off sub-total $100.00* + Free Shipping!
Just enter the following code during checkout: ALZDTC
Minimum purchase of $100.00 required

To qualify for free shipping – orders subtotal must be greater than, or equal to $100 (up to 10Kg)

This offer may not be combined with other offers, limit 1 per customer
---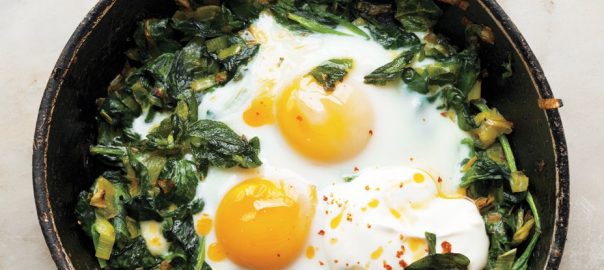 Spring Weekend Breakfast Ideas
There's nothing like enjoying a hearty and warm breakfast on a cool spring morning. Whether you need a meal that your kids will love or want to surprise your partner with breakfast in bed, there are tons of low carb meals you can enjoy.
Let's explore what makes a perfect spring weekend breakfast. This will help you understand why certain low carb recipes are excellent choices for you and your family. We'll also look at a couple of unique recipes that are worth trying.
Ideal Spring Breakfasts
There are recipes built for every season like gazpacho or grilled hamburgers in the summer or beef stews made with Autumn vegetables or anything pumpkin spiced for fall. For the cooler days, you want to load up on protein, soups and stews. These meals get the chill out of your bones and deliver a warm respite from the colder temperatures.
Besides being served hot, a proper meal for those colder days contain the nutrients to combat the lack of sun, and of course they achieve this while keeping the carbs to the minimum.
---
Exclusive Blog Reader Discount! $15 off sub-total $100.00* + Free Shipping!
Just enter the following code during checkout: ALZDTC
Minimum purchase of $100.00 required

To qualify for free shipping – orders subtotal must be greater than, or equal to $100 (up to 10Kg)

This offer may not be combined with other offers, limit 1 per customer
---
Family-friendly Options
Children don't understand the need to prepare meals. They tend to jump out of bed and want to eat right away. You need recipes that are quick, easy-to-make and that include as few steps as possible. This helps cooking become an activity instead of a chore.
Cinnamon Oatmeal with Refreshing Fruit Topping
Oatmeal fans will love this recipe that's packed to the brim with nutritious ingredients.
Get started by gathering the following ingredients: ½ cup plus 2 tbsp of chia seeds, ½ cup plus 2 tbsp of golden flax meal, ½ cup plus 2 tbsp of finely shredded unsweetened coconut and 1 tbsp plus ¾ tsp of cinnamon. This recipe also calls for instant oatmeal, which makes it super quick. Choose your favourite low carb brand and follow the package's instructions. The only change is to add 2 tbsp of unsweetened coconut milk and swerve for sweetening.
To make, combine the chia seed, golden flax meal, unsweetened coconut and cinnamon in a bowl. Add ½ cup of cooked oatmeal to the container along with ½ cup of water and let sit for 3-5 minutes.
Try topping some fresh berries like raspberries or blackberries. If you choose to make oatmeal from scratch, not instant, we recommend McCann's Steel Cut Irish Oatmeal.

Cinnamon and Coconut Pancakes
This recipe is a favourite among Paleo fans. These pancakes have a different consistency that traditional pancakes, which is why the focus is on flavour. We recommend soaking them with sugar-free pancake syrup or maple syrup.
Get the following ingredients out of your fridge or pantry to make a batch of a dozen pancakes: 2 large eggs, 3 tbsp of full fat coconut milk, ½ mashed ripe banana, ½ tsp of apple cider vinegar, ½ tsp of vanilla extract, 1 ½ tbsp of organic coconut flour, ½ tsp of cinnamon, ¼ tsp of baking soda, a pinch of salt and ghee as a substitute for cooking oil.
Whisk the eggs, coconut milk, mashed banana, apple cider vinegar and vanilla extract in a bowl until all the ingredients combine. In another bowl, combine all the dry ingredients except for the ghee. Combine the wet ingredients with the dry ones to create a batter.
Heat a tbsp of ghee over medium in a skillet, ideally a cast iron one. Toss a tbsp of batter into the hot pan and wait for bubbles to form. Once they have, flip the pancake and cook for another 30 seconds. Keep doing this until you are out of batter.

Sausage Egg Sandwich
Eating low carb can mean forgoing some of your favourite fast food breakfast sandwiches. Not to mention, a chilly spring morning makes rushing out to pick up an Egg McMuffin unappealing.
Don't worry, we have a recipe that will fill your family's bellies with a sandwich that is even better because you replace the English muffin with perfectly cooked eggs.
All you need is 2 tbsp of ghee, ¼ lbs of raw pork breakfast sausage, 2 large eggs, kosher salt (coarser than table salt), pepper and ¼ cup of water.
Grease two biscuit cutters with 1 tbsp of melted ghee, these will act as molds. Fill with sausage meat and press it down. Heat a skillet over medium heat and add another dollop of ghee and then add the sausage meat still in their molds. Once the patty shrinks, gently remove the mold. Fry the sausage for 3 minutes on each side. If it's on the thicker side, make sure it is cooked all the way through. Transfer to a plate.
To make the "buns", crack each egg into separate bowls. Over medium-high heat, grease a skillet with the remaining ghee and place the molds in the centre. Break each egg's yolk with a fork and pour one egg into each mold. Season with salt and pepper.
Add ¼ cup of water into the skillet outside the molds. Turn heat to low and cover the skillet with an airtight lid so that the steam can cook the eggs. Cook for 3 minutes and then transfer to a paper-towel lined plate or baking sheet. All you must do is assemble in this order: egg, sausage, egg.
To elevate it further, top with a spoonful of guacamole.
For a Romantic Breakfast in Bed
Let your partner sleep in and wake up to a delicious and comforting breakfast that'll make you look like the ultimate hero. Here are two dishes that you should consider.
Skillet-Baked Eggs with Spinach, Yogurt and Chili Oil
This healthy baked egg dish is the perfect way to start a day or a weekend celebration like an anniversary.
Gather 2/3 cup of plain Greek yogurt, 1 garlic clove, kosher salt, 2 tbsp of unsalted butter, 2 tbsp of olive oil, 3 tbsp of chopped leek (white and green parts), 2 tbsp of chopped scallion, 10 cups of fresh spinach, 1 tsp of lemon juice, 4 large eggs, ¼ tsp of crushed red pepper flakes and 1 tsp of chopped oregano.
This recipe is super simple to make. Mix the yogurt with the garlic in a bowl and add a pinch of salt. Preheat oven to 300 degrees Fahrenheit. Crank a burner to medium heat and melt 1 tbsp of butter and a drizzle of oil in a large skillet. Add the leeks and scallions, turn the heat down to low, and cook for 10 minutes. Incorporate the spinach and lemon juice and sprinkle some salt. Turn up the heat to medium-high and cook for 4-5 minutes. Be sure to stir frequently.
Remove the spinach and place it in a 10" skillet. Using a large spoon, make 4 deep impressions in the middle of the spinach. Break an egg into each impression and bake for 10-15 minutes. In a saucepan over medium-low heat, melt the remaining butter and some salt and cook until it foams, only 1-2 minutes. Add oregano and toss away the garlic from the yogurt.
Spoon yogurt over the spinach/egg concoction and drizzle with the butter.
For Those Who Enjoy Funky Recipes
If one spring like morning you're feeling courageous enough to try something more creative than bacon and eggs than give this recipe a go.
Breakfast Stuffed Peppers
This breakfast is great for eating in bed since the pepper helps contain any mess. It also has wonderful hints of Mexican flavours.
Get these ingredients out: ½ lbs of chorizo, ½ small onion (chopped), 2 garlic cloves (minced), 6 eggs, ½ cup of milk, ½ cup of shredded mozzarella, parsley (chopped), 3 large bell peppers (seeded with the tops removed) and salt and pepper.
Preheat your oven to 350 degrees Fahrenheit. Cook the chorizo in a skillet until it has browned. Add the onion and garlic and give everything a good mix for 3-4 minutes. In a bowl, whisk eggs, milk, cheese, parsley and then sprinkle with salt and pepper. Add the chorizo mixture to the egg mixture and pour into the bell peppers.
Place the peppers in a shallow baking dish and bake for 40 minutes. Make sure the eggs are cooked through before plating.
Shop the Low Carb Grocery Today!
Warmer days are on the way, don't let the cool spring mornings get you down. Enjoy these recipes and make chilly weekend mornings a fun and satisfying experience!
While you're here browse our aisles and find amazing low carb products that you'll love.
---
Exclusive Blog Reader Discount! $15 off sub-total $100.00* + Free Shipping!
Just enter the following code during checkout: ALZDTC
Minimum purchase of $100.00 required

To qualify for free shipping – orders subtotal must be greater than, or equal to $100 (up to 10Kg)

This offer may not be combined with other offers, limit 1 per customer
---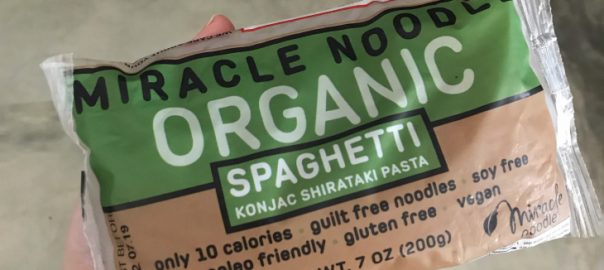 Low Carbohydrate Miracle Noodle Spaghetti – with Paul Yip – Owner of The Low Carb Grocery 
Fans of the low carb lifestyle shouldn't have to sacrifice their diets to enjoy a quick and delicious meal. They also shouldn't miss out on eating a delicious noodle dish for dinner. Luckily, there's Miracle Noodle, a perfect choice for those who crave pasta dishes that are easy-to-make and also let you get a little creative with ingredients and flavour combinations.
The Low Carb Grocery founder, Paul Yip, recently created a video on his Low Carb Grocery YouTube channel, how he likes to prepare Miracle Noodle Spaghetti and why it's such a great product, especially for people looking to replace traditional pasta in their diet.
You will love this simple recipe that is great for dinner. As a bonus, if you make a big enough batch, you can enjoy the leftovers for lunch while your co-workers watch and salivate.
To start, let's create a baseline by looking at some classic spaghetti recipes. Then, we'll explore Miracle Noodle, and what makes it a such a great addition to any pantry. Lastly, we'll have some fun by providing a step-by-step recipe guide for Paul's signature spaghetti.
Classic Spaghetti
Spaghetti has been around for centuries and its different iterations are enjoyed in homes and restaurants in every corner of the world. It's pasta in the form of long solid strings and is traditionally paired with a tomato sauce and maybe a meatball or two. Like all pasta, spaghetti allows you to include your favourite vegetables, proteins, herbs, spices or flavours.
You can keep it simple with a nice tomato basil sauce or mix it up with a creamy alfredo sauce. Some like to opt for the drier route where they just pour some butter or brown butter (a warm butter sauce with a nutty taste) over cooked spaghetti.
If you've already watched Paul's recipe video, then you know that spaghetti can also be the basis for a delicious, hearty Asian-inspired dish.
Miracle Noodle
These instant noodles are a nutritious alternative to other pasta that's high in carbohydrates. Miracle Noodle Organic Spaghetti contains 0g of fat, only 3g of carbs and 2g of fibre (per 100g, roughly half a package),. It's a perfect addition to any low carb diet while still being flavourful enough for people who just want to indulge in a plate of pasta. Miracle Noodle can also reduce your meal's glycemic index, which can help control blood sugar level and contribute to a healthy lifestyle.
If Spaghetti isn't your thing, this brand offers a variety of types and flavours. Be sure to check out one or more of the following types of pastas or the rice substitute:
Miracle Noodle also comes in ready-to-eat meal packets in the following Asian-inspired flavours:
And two authentic Italian flavours:
Whatever noodle dish you love, Miracle Noodle offers a tasty dinner or lunch option.
Ingredients
To make this wonderful recipe, you really only need a pack of the Spaghetti Miracle Noodles. From there it's about adding the ingredients that you love, keeping the amount of carbs top of mind.
For this recipe, you will want to get these ingredients:
Cilantro (if cilantro is your thing, of course.)
Enoki mushrooms
Green onions with stems
Garlic
Soy sauce
Sesame oil
Cooking oil of your choice
Each oil serves a purpose. Cooking oil is to get the noodles crispy and to make sure nothing sticks to the pan. Sesame oil is strictly for flavour.
Follow These Simple Steps
As Paul illustrates in his recent video, Miracle Noodle—Spaghetti is easy-to-make and with a few notable ingredients, you can enhance the flavour and elevate the dish.
Simply follow these directions:
Gather your ingredients.
Open the Miracle Noodle package and empty the contents into a strainer. Then rinse with water.

You need to do this because there is a liquid inside the pouch that has a distinct smell, and we don't mean distinct as a compliment. The liquid smells a bit off but don't worry, that's completely normal and is needed to keep the noodles fresh.

Pour a bit of oil into the pan and let it heat up.
Add the noodles and cook them for two minute so they get crispy and the excess water is dried out.
Once it looks and sounds like the noodles are popping off the pan, remove them and set aside.
Add the garlic and cook until fragrant. Careful not to burn.
Now it's time to cook the protein.

We think beef works best but you could use tuna, salmon, chicken or tofu. Of course, feel free to keep it vegetarian if that suits your lifestyle.
For beef, use thin strips so that it cooks fast and doesn't overpower the other ingredients. Include as much beef as you want and sear on both sides.

Add the other ingredients: green onions, cilantro and a handful of enoki mushrooms.
When the mushrooms are ready, add the noodles back to the pan. Stir-fry for a few minutes.
Add some soy sauce. This can be done to taste depending on how much salt you want.
Add some sesame oil, again eyeballing it is perfectly fine.
Slide it out of the pan onto a plate. Top with garnish of your choice (cilantro or parsley) and then enjoy!
A good tip is to use kitchen scissors to break up the noodles while cooking. This will make it easier to eat.
Substitution Options
We love this recipe as it is but every palette is different. Some people can't be in the same room as cilantro or some don't want the salty hit that soy sauce provides.
There are a few substitutions you can make if you don't like one or more of the ingredients. You can also adjust just to change the flavour profile.
Here are some substitution suggestions:
If you want to go Thai, replace the cilantro with some combination of lemongrass, fish sauce, lime and chillies.
You can use parsley instead of cilantro.
If you don't like green onion, try a thinly sliced shallot.
Consider using sesame seeds if your protein of choice is tuna.
To make it shine with more Japanese flavours, you can add a small amount of miso paste or mirin, which is a sweet wine vinegar.
If you omit a protein, then load up on low carb veggies like broccoli, asparagus, zucchini, spinach or avocado.
Enjoy This Amazing Meal Today!
We hope you try this recipe as we know you'll love it! It's delicious, affordable, easy-to-make and lends itself to bountiful leftovers so you can keep enjoying it all week long.
Browse our selection of Miracle Noodle, which make for excellent low carb meals. It's a step up from other instant noodle or soup brands and lets you make a variety of soups, stir-frys and pasta dishes.
Shop our aisles to discover all the unique and enjoyable low carb meals you can make.
---
Exclusive Blog Reader Discount! $15 off sub-total $100.00* + Free Shipping!
Just enter the following code during checkout: ALZDTC
Minimum purchase of $100.00 required

To qualify for free shipping – orders subtotal must be greater than, or equal to $100 (up to 10Kg)

This offer may not be combined with other offers, limit 1 per customer
---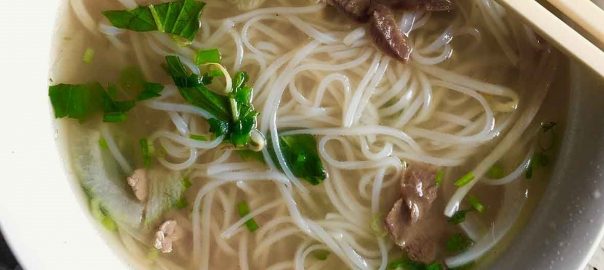 Miracle Noodle Pho – Quick & Easy Recipe feat. The Low Carb Grocery owner Paul Yip
Recently, the Low Carb Grocery founder and owner, Paul Yip, demonstrated on The Low Carb Grocery YouTube channel, how to prepare pho using Miracle Noodle to create a delicious meal that's easy-to-make. Using Miracle Noodle keeps pho gluten, grain and dairy-free while making it safe for vegans to enjoy. This product is paleo-friendly and only contains 9g of total carbs per ½ package (108g). Some popular recipes contain as much as 65g of total carbs per serving.
Traditionally, making pho is a long process that includes upwards of 15 ingredients or more if you plan on making your own broth from beef soup bones or vegetable skins. The cook time is around 8 hours and the total time from start to finish is around 9.5 hours. Yeah, there's a reason most prefer ordering a bowl in their favourite Vietnamese restaurant instead of cooking for half a day.
Let's begin by introducing you to the magic that is pho, and the different ways you can prepare it. Then, we'll explore Miracle Noodles and provide a step-by-step guide to using this ingredient to making a big pot of savoury and perfectly seasoned pho.
With our help, you'll be enjoying a hot and satisfying bowl tonight. Trust us, your mouth will be watering before you finish reading this article.
---
Exclusive Blog Reader Discount! $15 off sub-total $100.00* + Free Shipping!
Just enter the following code during checkout: ALZDTC
Minimum purchase of $100.00 required

To qualify for free shipping – orders subtotal must be greater than, or equal to $100 (up to 10Kg)

This offer may not be combined with other offers, limit 1 per customer
---
What is Pho?
You might never find a more unique soup than Pho. It has a thin yet flavourful broth with strong notes of ginger and subtle touches of Thai or lemon basil. It's served piping hot so that it can cook thinly sliced beef or evenly diced raw vegetables. It's a wonderful combination of aromatic herbs, succulent noodles and a broth jam-packed with flavour.
Pho is a Vietnamese soup that started as street food before exploding globally. Years ago, it was an exotic treat that most people mispronounced (It's actually pronounced, "fuh"). Traditional versions of this soup consist of broth, noodles, herbs, beef or chicken. The common herb used in restaurants is cilantro. Remember, not everyone loves cilantro, so if you're cooking for someone else, serve it on the side.
Like any soup, the chef can take some liberties while maintaining the integrity of the dish. You can keep it vegan by excluding meat and using vegetable broth. You'll still want to include ginger and star anise but feel free to get creative with what vegetables you use. Most recipes call for an onion, green onion and bean sprouts but you can add mushrooms, celery, carrots or zucchini if that's your preference.
Unless you're allergic, we strongly recommend keeping lime in the mix. One squeeze of lime over your hot soup adds a layer of flavour that elevates the dish and provides some acid to cut through the saltiness.
Miracle Noodle
Miracle Noodles are a low calorie ready-to-make meal made with shirataki noodles. These long white noodles have a spongy texture and are quite filling. They are made from the root of the konjac plant making it high in fiber.
This product comes in a variety of tasty flavours, some inspired by classic Asian cuisine, others by Italian:
A package of Miracle Noodles costs under $5.00, and lets you enjoy a hearty meal that's perfect for either lunch or dinner. It also freezes well if you want to save some for a future meal.
Miracle Pho Noodles Video Recipe
To see exactly how it's made, watch this video where Paul Yip takes viewers through each step. You'll see how simple and quick it is to make.
Follow These Easy Steps
Making a bowl of pho using Miracle Noodle requires zero skill and only a little bit of time. Use this recipe to kick it up a notch.
Open the package and empty the contents. There should only be the noodles and sauce packet of pho broth.
Rinse the noodles under water in a colander.
Add noodles to a hot pan. You don't need to use any oil, but a dash of sesame seed oil adds some additional flavor. Mix with a wooden spoon.
Add a glass of water and empty the pho broth concentrate to the noodles.
Cover the pan with a lid and let the heat and steam cook the noodles with the broth.
If you want to add a protein now is the time. Add thinly sliced beef or small pieces of chicken.

If you use beef, keep in mind that it will continue to cook once served so you want to leave it a bit on the medium rare side if not closer to rare.
Most stores sell pre-cut beef, that's typically cut the right thickness for doing stir fry's and the like. If you're cutting your own from a whole steak, just make sure the slices aren't too thick.

Add your garnishes: green onions (using the white stems as they contain the most flavour) and cilantro. The garnishes will cook fast so keep an eye.
Now, it's all done so carefully transfer to a bowl and enjoy!
Because it's quick and contains few ingredients, Miracle Noodle pho is perfect to make at work if you have access to a stove or kettle. You can also whip up a batch in the short amount of time between work and going out. Additionally, it's a great post-workout meal that won't undermine your efforts at the gym.
Products to Use
You can choose what produce and protein to include in your Miracle Noodle Pho. Here are some products you can also include in your dish to enhance its best qualities.
True Citrus – Lime, Garlic & Cilantro Seasoning

This seasoning can replace fresh cilantro, which isn't always readily available or accessible. The lime component complements the dish and the garlic adds an interesting note. It's perfect for people who want to dull the cilantro flavour without omitting it completely.

Go Bio – Low Sodium Organic Vegetable Bouillon Cubes

If you want to increase the broth's flavour, simply add one bouillon cube while cooking. You can always reduce it with water beforehand.

Hot Mamas Splash Sauce – Lime Pepper

Fans of spice and heat should add a splash of Hot Mamas Splash Sauce. We recommend Lime Pepper as it complements this meal's flavour profile.
Shop our Store Today!
We promise you'll love our low carb take of classic pho featuring Miracle Noodle. It suits those with a busy lifestyle who can't afford the 8-10 hours it takes to make such a magnificent dish. Fans of Vietnamese food will feel like they're dining at their favourite local restaurant since it doesn't skimp on the flavour.
The Low Carb Grocery offers an impressive inventory of Miracle Noodle to help you make soups, stir-fried dishes and Italian meals with a twist that are absolutely delicious!
Shop our aisles to explore what low carb meals you can make and to discover your next favourite product. As a bonus, we offer free shipping for orders over $99.00.
---
Exclusive Blog Reader Discount! $15 off sub-total $100.00* + Free Shipping!
Just enter the following code during checkout: ALZDTC
Minimum purchase of $100.00 required

To qualify for free shipping – orders subtotal must be greater than, or equal to $100 (up to 10Kg)

This offer may not be combined with other offers, limit 1 per customer
---
WEST COAST OFFICE
8610 Glenlyon Parkway
Unit #137, Burnaby
British Columbia
V5J 0B6 Canada
Phone
(604) 568-5671
CENTRAL/EAST OFFICE
170 Esna Park Drive, Unit #8
Markham, Ontario
L3R 1E3 Canada
Phone
+1-888-484-7479 or
(905) 752-1284
© 2019 Low Carb Grocery. All Rights Reserved.