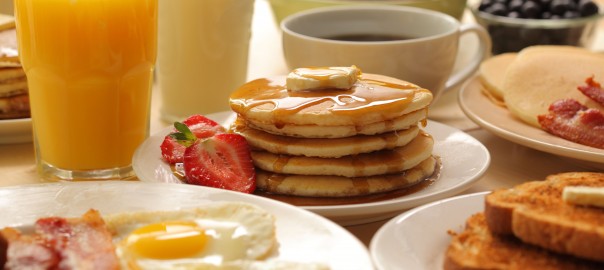 Tips for Great Low Carb Breakfasts
Tips for Great Low Carb Breakfasts
Since it's the most important meal of the day, planning tasty and healthy low carb breakfasts is a big part of the low carb lifestyle. Sure, a simple plate full of bacon and eggs is a great choice, but having the same thing every day can get boring really fast. Plus, if you're more a fan of a nice light bowl of cereal, finding a low carb option that has the taste and crunch you're looking for can be tricky. For low carb dieters, breakfasts are a meal that can either be easy and simple, or very frustrating. That's why we've gathered together a collection of our favourite breakfast tips to help you make better choices in the morning, and plan a fast and easy set of meals that the whole family will love.
Here, we will take a look at a handful of different kinds of breakfasts, including options for people who prefer either hot or cold breakfast items, and some recommendations for people who are short on time and need something fast and easy they can grab as they head out the door. Let's get started with some classic breakfasts that have been updated for the low carb lifestyle!
Cereals, Toast, and Bagels
It's tough to find any breakfast that's as simple and easy as a bowl of cereal. They're a favourite choice for people of all ages, and with the wide variety of tastes and styles that are available, everyone has their preference when it comes to cereals. For low carb dieters, your typical supermarket brands aren't going to cut it when it comes to meeting your dietary needs. Fortunately, there are plenty of low carb brands making very tasty cereals to choose from. We've got a wide selection of healthy low carb cereal options available in many different flavours.
It's not just cold cereals that you can find in low carb varieties, however. There are lots of delicious hot cereals, as well. For low carbers who love the warmth of a nice bowl of oatmeal, this Peaches n Cream Hot Cereal from Dixie Diner should satisfy those cravings! It's got a nice sweetness to it, which our customers love, and is fast and easy to prepare in just a few minutes.
For people who love a nice warm piece of toast with fruit spread or a bagel with cream cheese, check out the wide range of products from Bakers Deluxe. Their low carb breads and bagels always get rave reviews, and there are lots of different flavours to choose from. Some of their most popular products include this amazing Rye bread, and their classic Everything bagels. Spread a little fruit on them, like these delicious spreads from Walden Farms, and you've got the perfect combo of warm crunch and cool sweetness that works so well as part of your breakfast menu.
Eggs, Bacon, and Cooked Breakfasts
Low carb dieters really can't go wrong with a nice hot plate of eggs and a side of bacon. Eggs are ideal no matter how you choose to prepare them, and bacon is a great source of protein that we all know simply tastes amazing! However, there are many great additions you can choose make your breakfast even better. Instead of a side of fried potatoes or hashbrowns to go with your bacon and eggs, why not substitute a nice bowl of fresh fruit? Make sure you choose fruits that are lower in natural sugar content like raspberries, blackberries, and strawberries, or some melon like honeydew or cantaloupe. Try to steer clear of bananas and grapes, as they contain higher levels of sugar. Check out our guide to the best fruits and vegetables for the low carb diet for even more recommendations.
If you're in the mood for something a bit fancier for breakfast, why not cook up some Eggs Benedict as a special treat? It's easy to make a low carb version by changing out a few things to help bring the carb count down. Check out our article on The Low Carb Brunch for more info on how to make a great low carb Eggs Benny.
Pancakes and waffles might not seem like a great fit for low carb diets, but Dixie Diner has come to the rescue by creating a fantastic low carb pancake and waffle mix. Why not plan a family pancake or waffle making party this weekend and have some fun preparing a tasty and delicious breakfast together?
On-the-Go Breakfast Options
If time is of the essence and you don't even have time for a quick bowl of cereal, there are still things you can do to get some nourishment above and beyond just a cup of coffee. Yogurts are a great option to take on the go with you, but low carb dieters need to be careful which ones they choose. Some yogurts are high in sugar, and should be avoided. Over at VeryWell.com, there's a handy article by Laura Dolson that you can use as your guide to Choosing the Right Yogurt for a Low Carb Diet. Add some low carb granola like this Cinnamon-flavoured Nut and Flax Granola from Sensato if you love a little crunch to go with the cool, creamy taste of your yogurt.
For an even easier and faster option, consider breakfast bars that are high in protein to help sustain your energy. Quest has a wide range of flavours in their protein bars, including delicious Banana Nut Muffin. With 20g of protein in each bar, they are great for an emergency breakfast or for a midday snack to help get you through the workday.
Conclusion
As you can see, there's no need to settle in to the same old routine for your breakfasts day after day and week after week. There are lots of ways to add some variety to your breakfasts and keep things low in carbs. A little planning, preparation, and forethought goes a long way in to making sure you've got plenty of choices in the mornings that suit your tastes and give you a great start to the day. We hope that you've found this information helpful. Have a great low carb day!