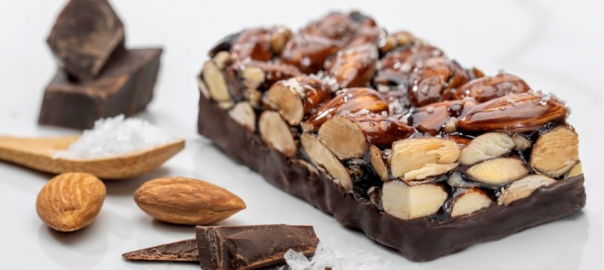 Protein, Low Carb & Snack/Meal Replacement Bars
Where to Buy the Best Low Carb Bars
Discover delicious low carb protein and snack bars to help you get started on a low carb or keto diet.
It's always a good idea to keep a stash of protein bars in your pantry for snacks, quick breakfasts, or pre- and post-workout fuel. They are one of the most convenient forms of food, but the problem is that many protein bars on the market are filled with added sugars and other harmful ingredients – despite health claims on the packaging.
In this article, we cover the best snack and protein bars for low carb and keto dieters. We put together a list of the healthiest, highest protein and tastiest bars that are low in sugar and net carbohydrates. We have also included some simple recipes for homemade low carb and keto-friendly bars!
Love Good Fats Bars
Love Good Fats has become a keto-household name across North America! Their products are always made with "good" fats, that is, healthy fats from plant sources. These ensure that their bars not only provide great taste and meet the needs of low carb high fat dieters, but are also healthy and nutritious. When your diet consists mainly of fats, it is important to choose the right kinds. Bacon, margarine and hydrogenated vegetable oils just can't compete with the raw, plant-powered nutrition of foods like coconuts, avocados, nuts and seeds. Healthy fats provide the following health benefits:
Increase energy
Boost metabolism
Reduce inflammation that causes chronic diseases
Improve brain function
Improve mood balance
Improve the appearance of skin and prevent signs of premature aging
Improve cholesterol levels
Improve eyesight and eye health
Love Good Fats Bars are made with a proprietary fats blend of nut and seed butters, organic palm stearin and coconut oil. Some may claim that these are too high in saturated fats, which are said to increase bad cholesterol levels. However, when it comes to saturated fats, the source matters. Saturated fats from plant sources are actually not bad for you; the real culprits of cholesterol-raising saturated fats are butter, cheese and red meats. Coconut oil is also especially good for keto dieters because its medium-chain triglycerides (MCTs) are easily and rapidly converted into ketones, helping you get into ketosis faster.
Love Good Fats Bars also provide a good serving of protein and fibre to help keep you satiated. Available in both regular (containing whey protein) and plant-based versions (containing whole grain brown rice protein) and a wide variety of exciting flavours from Rich Chocolatey Almond to Lemon Mousse and Peanut Butter and Jam. If you can't decide, try our Chocolate Lovers Variety Pack or the What's New Variety Pack!
Good To Go Bars
Good To Go snack bars are a revolution in the bar category! Described as a cross between a soft-baked cake, muffin and a snack bar, they are truly a delicious – but healthy – treat. With 13g or more of plant-based fats and 7-8g of dietary fibre from organic inulin, they are a smart and convenient choice for low carb dieters. Plus, each bar contains 5g of protein and just 2-4g of net carbs. They are also gluten-free, non-GMO, Kosher, peanut-free, and Keto Certified by the Paleo foundation. Try some of our best-selling flavours such as Cinnamon Pecan, Vanilla Almond and Raspberry Lemon! Throw one in your bag and you're "good to go"!
No Sugar Keto Bars
The No Sugar Company kept keto dieters in mind when they made No Sugar Keto Bars. Each bar is made with a recipe that provides 75% of its calories from healthy fats, 20% from plant-based protein and 5% from carbohydrates, so you can eat these bars and not worry about balancing out your macros later on. These bars are packed with healthy ingredients like almond butter, coconut oil, fava bean protein, sprouted brown rice protein, and fair-trade dark chocolate. As the name implies, there is also no sugar added; these bars are sweetened instead with erythritol and stevia extract. Try fun and tasty flavours like Chocolate Mint, Birthday Cake and Fudge Brownie!
For all those keto-tarians or keto dieters trying to incorporate more plant-based foods, No Sugar Company also offers No Sugar Vegan Pure Keto Bars. With the same ratio of fats, protein and carbs these vegan bars offer the same nutrients and no sugar. Available in Chocolate Peanut Butter and Chocolate Chip Cookie Dough flavours.
Dang Bars
Dang bars have one of the shortest ingredients lists out of all of our keto bars, making them a favourite for anyone who doesn't like reading long ingredient lists! These bars were designed for the keto diet and offer a plant-based, whole foods approach to snacking. Key ingredients include almonds, chicory root fibre, pea protein, coconut and chia seeds to provide a 15-16g of healthy fats, 6g of fibre, 9-10g of protein and just 4-5g of net carbs.
Founded by two Thai American brothers who were inspired by their mother's original recipes, these bars are available in unique flavours with the intent of sharing their culture for a healthier, more flavourful world! Choose from Almond Cookie, Lemon Matcha, Chocolate Sea Salt, and Cardamom Chai flavours.
Keto Bars
Simplicity is the key behind the ingredients (and the name!) of these bars. Keto Bars are "honest by design" – they contain just a few simple, keto-friendly ingredients to provide a balance of nutrition, flavour and convenience. The main ingredients are chocolate, almonds and coconut to give you 20g of healthy fats in each bar, as well as 6g of protein, 6-7g of fibre and just 3g net carbs! They contain no added sugars and are instead sweetened with all-natural non-GMO erythritol and stevia. Check out these decadent flavours: Dark Chocolate Coconut Almond, Chocolate Peanut Butter and Mint Chocolate! They make for a great midday pick-me-up snack.
Kiss My Keto White Chocolate Protein Bars
White chocolate is usually off-limits in a low carb diet since it is notoriously sweet, but Kiss My Keto Protein Bars were designed with low carbers, keto dieters and diabetics in mind! These gluten-free sweet treats won't throw off your macros as they contain 19-20g of fat, 10g of protein, 13g of fibre and just 3g net carbs per bar! They are made with all-natural ingredients including medium-chain triglycerides (MCTs), which are especially great for keto dieters. They also contain protein from whole eggs, almonds, cashews and whey protein. Try their delicious flavours such as White Chocolate Birthday Cake, White Chocolate Maple Doughnut and White Chocolate Salted Caramel. Yum!
YoFiit Keto Bars with Fermented Plant-Based Protein
Last but not least, YoFiit Keto Bars offer a truly unique snack made with fermented organic pea protein. Fermented foods are full of prebiotic fibre and are great for gut health. A healthy gut is the key to optimal digestion and absorption of nutrients, clear skin, a strong immune system, better moods and healthy sleep! Whenever possible, it is great to include fermented foods in your diet. Some other low carb fermented foods you can try are kefir, kimchi, sauerkraut, tempeh, miso and raw apple cider vinegar.
YoFiit Keto Bars are a great snack for low carb and keto dieters because they contain 12-13g of healthy plant-based fats, 10g of protein, 8g of fibre and just 2g net carbs per bar. They are flavoured with all-natural ingredients such as freeze fried strawberries, organic vanilla extract and organic cocoa. Choose from two delicious flavours: Strawberry Vanilla and Almond Chocolate!
These are just some of our favourite keto snack and protein bars. Browse our full catalog of keto bars today!
How to Make Low Carb Protein Bars from Scratch!
Protein bars are a simple and easy snack to make at home with ingredients that suit your specific dietary needs and preferences. An entire batch should last you and your family several days – if they don't get eaten all at once! This is a great way to include your family in healthy eating habits and have some fun in the kitchen.
To get started, you'll need a few things:
You'll want to choose some healthy fats as the base of your low carb or keto protein bars. Some good choices include:
You can't have a protein bar without some protein! Although protein should be consumed in moderation on a ketogenic diet, it is still good to include it, especially in snacks, as it can help keep you full and energized throughout the day and before or after exercising.
Here are some good sources of protein that you can add to your protein bars:
It's always a good idea to add some fibre to your protein bars as well to make them more filling and easier on the digestive system. Some great options include ground flaxseed, coconut flour, chia seeds, oat fibre or psyllium husk. Adding raw, whole nuts and seeds will also provide some fibre and more healthy fats and protein!
Your homemade bars should already taste pretty good, thanks to all the delicious plant-based fats we've included so far, but if you want to add a little extra flavour or sweetness, here are some ideas:
For some added zero-carb sweetness, choose a natural sweetener. Stevia, erythritol, xylitol and monk fruit sweeteners are all great choices. Swerve Icing Sugar (made from erythritol) has a great texture for baking and will mix well with the other ingredients in the bars. See our article "Know Your Sugar Substitutes" find out which one is right for you!
To make the bars, simply combine all of the ingredients mentioned in a bowl or food processor and spread the mixture onto a tray to set in the fridge or bake in the oven (depending on the recipe).
Here are some recipes that can help you with the measurements and give you some flavour inspiration:
Stay Connected
We hope that you found the perfect low carb or keto-friendly protein bar and we hope you enjoyed learning different ways to make your own! As a thank you to our readers, we would like to offer a special discount on all Love Good Fats products.
To redeem, apply code W4DKW in your shopping cart at checkout for 5% off your order of Love Good Fats products. Limit 1 per customer. Promotion may end without notice and/or while promotional quantities last.
No substitutions or rain-checks, please. Valid until 2021-09-18.
If you'd like to join others who also love low carb and keto foods, be sure to check out our low carb communities on Facebook and Instagram. We also love to hear your feedback, so if you'd like – please leave us your Google Review! Also, for the latest updates, specials and sales – consider subscribing to our email newsletter!