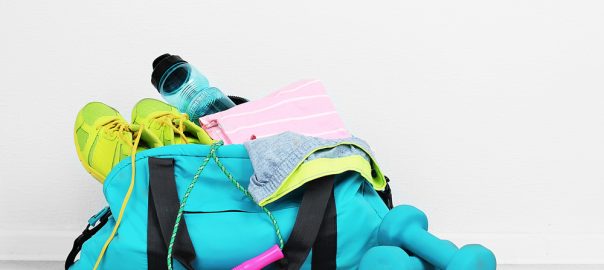 Essential Workout Gear for 2018
Essential Workout Gear to Get Fit this Spring
The snow has thawed. The cold has moved on. It's time to pull yourself off the couch, put the parka in storage, get outside and get fit! As spring approaches, it's common to want to get outside more and focus on your health as you work to get your body back into shape. With the right workout gear designed to help you get fit, you can be on your way to looking and feeling great this spring!
In this article, we'll provide a list of essential workout gear to help you get fit this spring. This gear will cover different aspects of your body, all focused on giving you a leg up and maximizing your performance.
 Belts aren't typically synonymous with workout gear but they should be. People who try workout belts get annoyed when the belt rides up, it's lack of storage or its bulkiness. FlipBelt stays in place on your hips. With zippered pockets, large enough to carry a smartphone, you'll have ample storage for your items as you jog or hike. This belt features three other storage compartments to carry an energy bar, credit card and your keys.
The FlipBelt is machine washable, immune to moisture and is adorned with a reflective safety strip for those who like to go running at night.
 You need to be comfortable when exercising, so make sure you have a pair of shorts that stretch, cool your lower body and can keep you dry. A popular pair of shorts among workout enthusiasts are the Lululemon Twill Chill Shorts for Men.
These shorts are comfortable enough to wear casually and are perfect for a rough workout at the gym. Made from stretchy material that is also sweat-wicking, the shorts are essential if your workout routines include heavy amounts of cardio. They'll stay dry and keep your lower body cool. In typical Lululemon fashion, they are versatile and stylish with a simple look.
There are a lot of fashionable, noise-cancelling headphones on the market. The Jabra Sport Coach Headphones were made to connect you with personalized fitness coaching. By downloading the Jabra Sport Life app and entering your health information and workout goals, you can receive tailored and customized workouts. This digital personal trainer will give you tips on technique and nifty reminders on form as you exercise. It even features a real-time rep count. Best of all, it works with whatever music you are listening to and comes with a noise cancellation feature.
PowerBlock is an innovative dumbbell set with adjustable weight that has become a favourite of many online fitness stars and athletes. They're pricey (a set ranges from $300-$800) but are essential gear for those looking to tone their muscles and not take up a lot of room in their home.
By purchasing The U33 set, you can replace 25 pairs of dumbbells and over 800 lbs. of equipment weight. Whoever you share your home with will thank you for this purchase.
You can adjust the weight of the PowerBlock Dumbbells by sliding the selector pin into the desired weight.
There will be a lot of different exercises you can choose from based on the muscle you want to focus on. The U33 set go up to 125 lbs., so as you grow stronger you won't outgrow this set. In fact, you can start light in the early spring and increase the weight as you build up your strength closer to the summer.
Under Armour Perpetual ½ Zip for Women
Under Armour apparel is known for its cutting-edge details and sleek styles that can help you get fit. The Under Armour Perpetual ½ zip for Women is made from comfortable fabrics that can stretch as your workout intensifies. Breathable and supportive, its design conceals without any additional bulk and allows you to stretch and turn in any direction.
Light, durable and made with thumbholes to keep sleeves in place, this piece of apparel is a game-changer that will have you working out for longer and with much greater comfort.
Adidas PureBoost Xpose for Women
Runners need a strong pair of supportive, durable running shoes. Adidas offers a pair that are all those things plus have a flexible arch that feels natural. The PureBoost Xpose for women has a mesh top for breathability so your feet feel great as you run and jump. These high-performance running shoes have a bounce that takes some getting used to but they support the foot while absorbing the impact. Responsive and cushioned, this shoe is designed to release energy and tension to help you propel forward or push-off.
This is a great shoe for women who want to work out for longer and burn more calories, without experiencing any foot pain or wearing down their foot apparel.
Your gym bag needs a proper water bottle so that you can stay hydrated. The Hydro Flask keeps your sport liquids cold for up to 24 hours and can keep hot liquids warm for up to 6 hours. This bottle has a comfortable grip that is resistant to condensation and won't slip out of your sweaty hand. The spout makes for easy delivery.
The Hydro Flask comes with a lifetime warranty, is BPA-free, and will quickly become your favourite workout buddy.
Get fit means pushing your body to its limits and exerting a ton of energy. You'll need to replenish your body with a healthy energy bar. The Glutenull line of energy bars is raw, low sugar, organic, vegan, gluten-free and low in carbs. They're a delicious alternative to a lot of energy bars sold at gyms that contain artificial ingredients, carbs and sugar. Glutenull comes in chia, goji berry, hemp and coco d'lish flavours.
Check out this line of energy bars or to purchase them.
Conclusion
When spring rolls around, most people feel an urge to get out and get fit. By using any of these pieces of essential workout gear, you can get in shape while feeling comfortable and maximizing your efforts. Each product was created to help you work out for longer and get healthy faster.
We're sure that by giving any of these products a chance, you'll agree that they make working out more fun and will give you more confidence to achieve your fitness goals. They are sure to become staples in your gym bag.