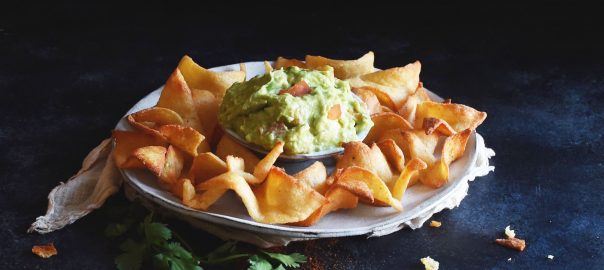 Desert Pepper Salsa & Dips – Mexican Cuisine
Desert Pepper: The Most Authentic Salsa
Salsa has been a popular condiment in North America for a long time. It's a kitchen staple and the perfect accompaniment to any Mexican or southwestern dish or snack. The right salsa can make a bag of tortillas that much more addictive, and when it has all-natural ingredients and is low in carbs, it's that much better. Desert Pepper is one brand of low carb salsa that is still bold and savoury.
About Desert Pepper
The Desert Pepper Trading Company operates on the Texas, Mexico and New Mexico border, giving its products the authentic taste of three influential regions. It's salsa line includes a buffet of bold classic southwestern flavours like Pineapple, Tequila, Diablo Hot, Del Rio Medium, Divino Mild, Peach Mango, Roasted Tomato Chipotle Corn and Fire-Roasted Habanero. It is one of the most popular specialty salsas on the market. Shop all Desert Pepper Salsa.
Desert Pepper Salsa includes ingredients that are natural and recognizable like tomatoes, New Mexico green chiles, onions, salt, lime juice, spice, garlic and cilantro.
Spicy or Savoury
One of the most appealing features of most Mexican or Southwest cuisine is the heat and spice. Desert Pepper Salsa Diablo Hot or XXX Fire-Roasted Habanero can add the right amount of heat and spice to your meal and lets you control the amount of heat. If you prefer milder heat but still desire bold flavour, you can use Salsa Divino Medium or Mild instead.
For fans of sweeter fare, try the pineapple or mango salsa. These interesting flavours have a delicious tang and add a unique and fruity flavour profile to traditional recipes.
A Healthy Alternative
Desert Pepper's salsa is all-natural and low carb, much healthier when compared to other popular brands of salsas and dips. It's wheat and gluten-free with zero grams of fat and only 1-3 grams of carbs per serving. You can enjoy it as part of your snack regiment without the guilt and it is an amazing compliment to taco night with the family.
By using a lean protein and whole wheat tortillas, you can turn any Mexican dish into a healthy meal that doesn't sacrifice flavour or satisfaction.
Popular Recipes
Desert Pepper salsas pairs perfectly with beef, chicken or fish, making it an essential ingredient for many classic or modern Mexican recipes. One popular recipe is the classic Huevos Rancheros. For this recipe, take a warm corn tortilla, top it with a perfectly poached egg and smother with Desert Pepper's Salsa Divino that's been warmed on the stovetop. A sprinkle of cheese and your breakfast is good to go.
Another perfect use for the Desert Pepper Salsa Diablo is with grilled fish tacos. Simply grill your favourite white fish and warm the tortilla. Assemble the taco by placing the charred fish in the tortilla and guacamole on top. Salsa Diablo will add the heat and even more flavour. A squeeze of lime and garnish with cilantro and you're good to go.
Summary
You don't have to give up taste to enjoy salsa that is low carb and wheat and gluten free. Desert Pepper Salsa is one of the most delicious condiments available.
Whatever Mexican or Southwest flavours you enjoy, Desert Pepper has an option to elevate your dishes or snacks. Sweet flavours like mango and pineapple can add a twist to traditional recipes so you'll never get bored.
We bet if you give these salsas a try, you'll never go back and won't miss carbs one bit. They're the perfect addition to any Mexican fiesta!