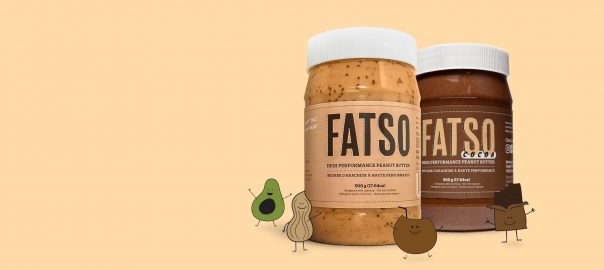 Fatso – All Natural Peanut Butter
Peanut Butter, Reinvented – Fatso High-Performance Peanut Butter
Peanuts are amazing. They are grown all over the world and besides being lauded for their flavour, they are considered environmentally sustainable due to their ability to be farmed and harvested in abundance with little water. Additionally, they provide us with peanut butter, one of the all-time great comfort foods.
Low carb eaters shouldn't have to miss out on eating peanut butter. Whether it's smooth or crunchy, peanut butter has been a pantry staple for a long time. Furthermore, its versatility is impressive as it can be the main component of a sandwich or the centerpiece of a sauce that is found in a variety of dishes.
Just because your low carb lifestyle means ditching the Jif, doesn't mean you need to remove peanut butter from your diet altogether. With Fatso High-Performance All Natural Peanut Butter, you can enjoy the benefits of popular nut butters with the classic taste of the best peanut butter.
It's time to get to know Fatso! Let's look at what traditional peanut butters are made of and why so many people love them. Next, we'll outline how Fatso is different (and better). Lastly, we'll offer some mouth-watering recipes that are low carb and feature Fatso Peanut Butter.
Traditional Peanut Butter
Peanut butter tastes amazing. It's flavourful, hearty and filling. Traditionally, it's made from dry-roasted peanuts but most popular brands like Jif and Kraft also contain additional ingredients and preservatives, which alter the taste and nutritional content.
Let's use Kraft Smooth Peanut Butter as a comparison. While this product contains the same number of calories (90) and carbs (4g) per 1 tbsp. (15g) as Fatso there is a big difference in the ingredients used.
Kraft Smooth Peanut Butter contains the following ingredients in addition to select roasted peanuts:
Soybean oil
Corn maltodextrin
Sugar
Hydrogenated vegetable oil
Salt
Mono-diglycerides
You can see why many are apprehensive about giving it to their children.
Fatso All-Natural Peanut Butter
One of the most popular products at The Low Carb Grocery is Fatso Peanut Butter, which is enriched with plant-based superfats. It takes something as mundane as peanuts and transforms them into a tasty and healthy spread.
For carb counters, classic and crunchy salted caramel flavours contains only 3% per 1 tbsp. Keep in mind, 2g of those carbs is attributed to fibre.
Why it's Different
Fatso takes the triple crown: it's vegan, gluten-free and keto-friendly. It's full of healthy fats, fibre and contains chia seeds with a touch of sweet coconut. Additionally, it's more affordable than many of the fancy nut butters on the market.
It comes in three flavours: classic, cocoa and crunchy salted caramel. Each tastes great as an ingredient in smoothies, on a sandwich or even straight out of the jar on a spoon.
The Best Ingredients
The star of Fatso's show is peanuts. They are high in protein, minerals, antioxidants, vitamins and contain monounsaturated fatty acids that have a proven ability to lower high cholesterol. They contribute significantly to giving each jar their creamy consistency and full-body taste.
Fatso peanut butter ingredients also include super seeds like flax and chia, which contain antioxidants, fibre, calcium and iron. One big difference between Fatso and other leading brands is that Fatso is boosted by high-performance fats like coconut, avocado and MCT oil. This promotes healthy cholesterol and fat burning. Lastly, Fatso is made with tapioca fibre to add a hint of sweetness without the use of sugar or sugar alcohol.
To achieve an ideal consistency, you should stir it well and keep it stored in the fridge.
Low Carb Recipes
It's time to get cooking with some recipes that go well with one of Fatso's lip-smacking peanut butters. These recipes are low carb and we included the use of Fatso instead of the recommended peanut butter to further lower the carb count.
Low Carb Peanut Butter Cookies with Coconut Flour
What peanut butter fan doesn't love seeing it used as an ingredient in cookies. This low carb recipe is easy to make and great for kids. This recipe serves 24 people and only takes 25 minutes to prepare and cook.
The ingredients include: 2 tbsp. of coconut flour, ¼ tsp. of stevia powder, ½ tsp. of monk fruit extract powder, 1 cup of Fatso classic flavour, ¼ cup of softened butter, 2 eggs, ¼ tsp. of salt and 1 tsp. of vanilla extract. You can also add ¼ cup of low carb sugar or ½ cup of Swerve to up the sweetness level.
To make, combine all the ingredients and mix them until you have a firm dough. Scoop the dough and roll each scoop into small balls, placing them on a baking sheet lined with parchment paper. Use a fork to make crisscross marks on each ball, flattening it in the process. Bake at 350F for 12-15 minutes. Stop once you notice the edges of the cookies have browned.
Consider using the cocoa flavoured version of Fatso to give a batch a delightful chocolatey taste.
Peanut sauce is a staple of Thai cooking and pairs beautifully with noodles, salads, steak, chicken, shrimp or lobster. It packs a punch with an intriguing depth of flavour. In addition, this recipe can be whipped up in no time.
Gather these ingredients: ½ cup of Fatso Classic, 2 tbsp. of soy sauce, 1 tsp. of rice vinegar, 1 tbsp. of fresh lime juice, 1 packet of Stevia non-caloric sweetener, ½ tsp. of chili paste, 1 tsp. of garlic, ½ tbsp. of ginger, 1 ½ tbsp. of fresh coriander leaf and 1 tbsp. of warm water.
You're all set to make an awesome peanut sauce. All you must do is combine the ingredients except for the warm water, in a pot over low heat. Whisk until it's smooth and thick. Since peanut butter is thick, you should taste it to ensure it is heated through. Next, whisk in the warm water and immediately remove from stovetop. If you desire a thinner sauce, add slightly more water.
You can enjoy this rich sauce either warm or cold.
This recipe lets you make silky smooth mousse with subtle hints of peanut butter and caramel thanks to Fatso Salty Crunch Caramel.
The first step is to blend ¼ cup of Fatso Crunchy Salted Caramel until it's smooth. This will help your mousse achieve the desired consistency, which is key.
In addition to Fatso spread, all you need is ½ cup of heavy whipping cream, 4 oz. of cream cheese, ¼ cup of powdered Swerve Sweetener and ½ tsp. of vanilla extract.
Follow these steps to make your own batch of creamy mousse. In a bowl, whip the heavy cream until it forms stiff peaks, then set aside. In a different bowl, beat the cream cheese and peanut butter until they combine and reach a creamy texture. Add the vanilla and sweetener and then combine everything until it's as smooth as possible. Next, gently fold in the whipped cream until everything is incorporated, meaning no streaks are present. Spoon into bowls or dessert glasses. Voila! You're ready to dig in.
Try Fatso Today!
Get ready to make the best peanut butter and jelly sandwiches, amazing peanut sauces for your favourite Asian dishes or even just a delicious glob to eat right off the spoon! Fatso is the perfect peanut butter spread for those on a nutritious low carb diet who want to enjoy this classic flavour.
Stock up on your own supply of Fatso all natural peanut butter today.