Ketorious Foods Low Carb Granola
Healthy, Delicious and Keto-Friendly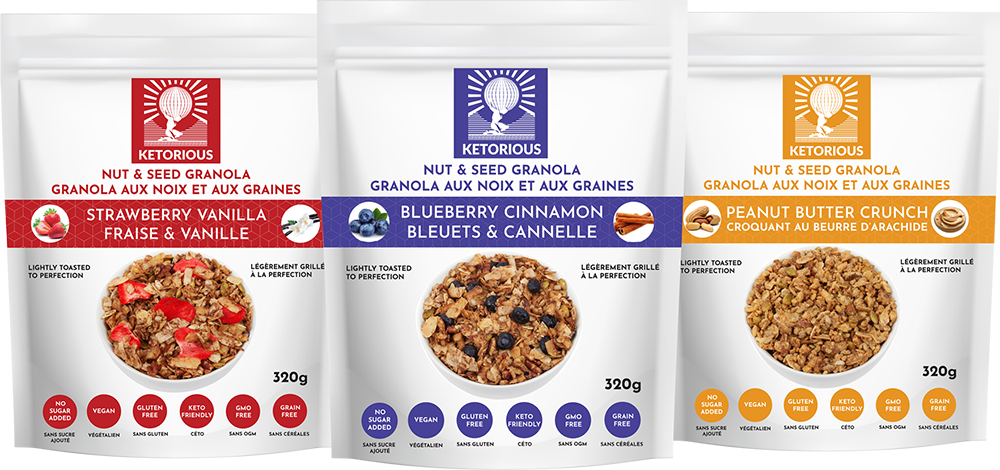 You don't always have the time in the morning to make a big breakfast, but that doesn't mean you need to sacrifice nutrition or taste. Keto-friendly low carb granola from Ketorious is a fast and easy way to fuel up for the day with long-lasting energy and proper nutrition.
For people living the low carb lifestyle, the breakfast cereal aisle at typical grocery store isn't exactly filled with a wide variety of low carb and keto-friendly products. Regular cereals and granolas are very high in carbs, and often loaded with extra sugar, leading many people to simply scratch granola off their weekly meal plans in favour of other foods that have fewer carbs. If you really love the taste and crunch of a good granola, this can be more than a little disappointing. The good news is that you can put granola back on your breakfast table with the delicious low carb products from Ketorious Foods!
What's the Story Behind Ketorious Foods?
When you make the decision to follow a low carb or ketogenic lifestyle, the search then begins for healthier substitutes to a wide range of common food items that don't fit with a reduced-carb diet. Foods made with grains such as oats and wheat contain a high amount of carbs, so these are often some of the first to go. As you can imagine, this includes a very long list of popular foods that we use almost every day, such as bread, crackers, pancakes, and cereals like granola.
The Ketorious mission is quite simple; to make a delicious and healthy granola from ingredients that are strictly keto. Creating a nutrient-rich granola that's low carb, sugar-free, grain-free, gluten-free, vegan, organic, and non-GMO was no easy task, but the end result speaks for itself. Instead of using the typical ingredients of granola, Ketorious opted instead to go for a nut and seed mixture as the basis for its line of granolas. In addition, Ketorious avoids the use of artificial flavours and preservatives, making each bite of their granolas taste fresh and naturally flavourful.
What Makes Ketorious Foods Low Carb Granola Different?
For starters, the biggest differentiating factor of Ketorious low carb granolas is that there are no grains like there are in other brands of granola. Instead, a unique blend of seeds and nuts creates the foundation for each bag of Ketorious low carb granola. You'll find nutrient-rich pumpkin seeds, almonds, sunflower seeds, and pecans, along with coconut flakes, dried fruit, and just the right amount of seasonings and sugar-free sweetener.
The sweetener is another important ingredient in the Ketorious method for making healthy granola. Instead of regular sugar, Ketorious granolas are made using a combination of erythritol and stevia leaf extract for a light and natural sweetness that won't impact keto or low carb diets. Erythritol is a compound known as a 'polyol', aka 'sugar alcohol'. These types of sweeteners are popular among people living the low carb lifestyle because they don't digest the same way that normal sugars do. Erythritol has a delicate sweetness with no lingering aftertaste like some other sugar alternatives have, making it the perfect choice for sweetening a wide range of low carb and keto-friendly products.
Delicious Varieties of Healthy Ketorious Foods Granolas
Ketorious nut & seed granola is currently available here at The Low Carb Grocery in three amazing varieties. Choose from crave-inducing flavours such as Strawberry Vanilla, Peanut Butter Crunch, and Blueberry Cinnamon. Each bag is packed with plenty of nutrition and energy to keep you going all day long, but the best part of Ketorious granola is that it's not just for breakfast. There's lots of different ways you can use Ketorious low carb granola as part of your healthy lifestyle.
Of course, having a nice bowl of delicious granola with your preferred type of milk is definitely a great way to help wake your body up in the morning, but a healthy breakfast is just the beginning. Ketorious granola is also perfect as a fast and easy grab-and-go snack that you can take to work, school, on a road trip, on a hike, or anywhere else the wind might take you.
Granola is also an excellent way to elevate yogurt with a nice crunch and just a little sweetness. Simply add a scoop or two of Ketorious granola to your preferred brand of yogurt, and enjoy! You can do the same thing with sugar-free ice cream, too. Granola is a fantastic ice cream topping, and it also helps to boost the nutritional value. How's that for an added bonus? We sure like the sound of it!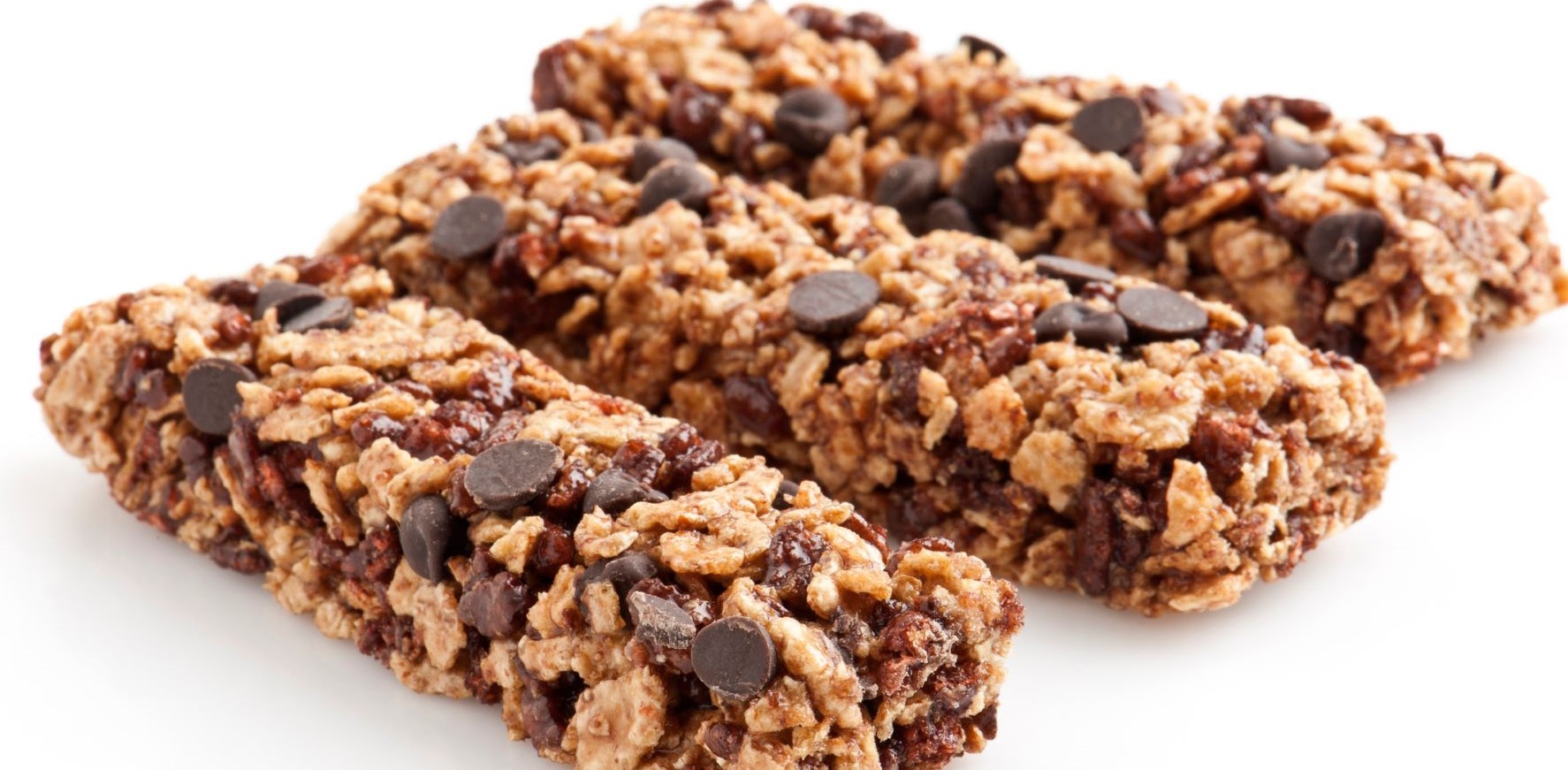 Make Your Own Ketorious Low Carb Granola Snack Bars
If those all sounded like excellent ideas to you, we've got one more that you're definitely going to like. For a quick, delicious snack that's also healthy and convenient, try making your very own homemade granola bars using your favourite flavour of Ketorious nut and seed granola. It's amazingly simple, and requires just a few common ingredients to create the perfect low carb & keto friendly granola bars. Here's how you do it!
First, start by preheating the oven to 350º. You'll need 3tbsp almond butter, 1tsp vanilla extract & 1 egg to make the binder that holds the bars together. Mix all these ingredients together in a bowl until they are uniformly blended. Next, add in large scoops of your preferred flavour of Ketorious granola, and fold together until thoroughly coated.
Using a shallow baking dish lined with baking parchment paper, use a firm spatula to spread the coated granola and compress firmly until the layer reaches about ½" thick, or you can alter this to your desired thickness. For crunchier & firmer bars, make them a little thinner. If you like your granola bars a bit softer and chewier, go a little thicker.
Slide into the oven and bake for about 15 minutes. Check after about 10-12 minutes to see how they're coming along. The longer you bake it, the firmer and crunchier the bars will be. 18 minutes is usually the absolute longest that you'll want to go. If the surface and edges of the granola mixture has started to brown, it's usually time to remove from the oven. Set the baking dish on a trivet and allow it to completely cool. Once cool, remove the baked granola from the dish and place on a cutting board. Cut into your preferred bar size, and you're all done!
Homemade granola bars will keep quite well for a while, but freezing extra bars will help avoid any potential spoilage. Also, this recipe is amazingly easy to customize to suit your personal preferences. If you like your granola bars a little sweeter, you can add a small amount of your favourite low carb sweetener like monk fruit or erythritol to the binding mixture. You can also add other ingredients that you might like, such as shredded coconut, dried fruits, or other nuts and seeds that you enjoy. It's a great time to get creative!
Ketorious Foods Low Carb Granola for Breakfast Time or Snack Time
Granola made from nuts and seeds works incredibly well with the low carb lifestyle, and Ketorious proves this beyond a shadow of a doubt. Seeds are rich in vitamins and minerals, as well as dietary fiber, while nuts add healthy fats and proteins that are so important when living a low carb life. When combined with a little sweetness, tasty dried fruits, and other flavourful ingredients like coconut or peanut butter, you've got a super-nutritious breakfast, or a healthy snack that is easy to take anywhere you want to go.
Give Ketorious low carb granolas a try today! Shop now at The Low Carb Grocery for Ketorious Foods Nut & Seed Granolas.
More Low Carb Lifestyle Articles