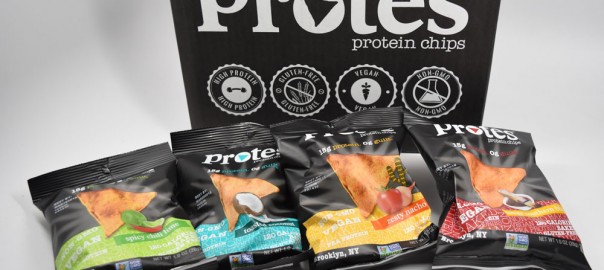 Product Insights: Protes Protein Chips
Product Insights: Protes Protein Chips
I love the "stories behind the brand"; they are always so fun and interesting to me. There is always a common theme, which is that there was a need in the market, and someone decided to fill that need.
I recently had a chance to talk with Krik and Ryan, the founders of Protes Protein Chips, and I'd love to share their story with you.
Erin: So Krik and Ryan, you guys were basically sitting on the couch after a workout, wondering why there were no protein-based snacks other than bars and shakes.
K&R: That's right. We both work out regularly, and don't have the time to prepare a full meal. We each like to eat something quick, and high in protein after a workout. We were bored of the many bar and shake options, and realized there were no snacks. So we decided to create a protein chip.
Erin: And so, despite being busy with your day jobs, you decided to devote what little spare time you had to this project.
K&R: Yes. We were living in New York (and still do) and were both working long hours in the finance industry. Once we decided to try it, we spent over 6 months testing out recipes late at night, after we got home from work.
Erin: So I guess you didn't sleep very much.
K&R: (laughing) That's right, we still don't…
Erin: What are some of main attributes of the Protes?
K&R: Protes protein chips are a great way to add extra protein to your daily snacking. Each 1.0 oz bag contains 15 grams of protein. As well, they are gluten-free, Non-GMO Project certified, vegan, and soy-free. Add in the fact that they are low in carbs, calories, and fat, and snackers of all diets can enjoy them!
In addition, while there are plenty of protein bars and shakes out there, there aren't many salty snack options outside of jerky. Our protein chips allow you to munch on chips and still feel good about yourself. With five flavors ranging from sweet (Toasted Coconut) to spicy (Spicy Chili Lime), there are plenty of flavors to try to find your favorite.
Erin: Besides snacking, are there any non-obvious ways to use Protes?
K&R: They can be used for breading chicken, making nachos, or as toppings for salad or pizza.
Erin: Interesting. How else are Protes unique?
K&R: Protes are made of pea protein isolate and are baked. Most other competitors use whey protein and are fried. We also offer two bag sizes, 1 oz and 4 oz, for individual use or sharing.
Erin: What was the criteria in selecting the ingredients for Protes?
K&R: All of Protes protein chips ingredients are gluten-free, Non-GMO Project certified, and vegan.
Erin: Is there anything else that you would like your customers to know?
K&R: Protes is all about functional snacking. We believe that snacking should be truly beneficial and not just "less bad" than other options, while still tasting good. We hope you'll give our high protein chips a try and continue to follow us as we take snacking to the next level!
Erin: Great, well thank you very much, Krik and Ryan, for taking the time to speak to me today and for sharing your story.
K&R: It is our pleasure!
About the Author: A Holistic Wellness Practitioner, Erin is a proponent for holistic and natural living. Her passion is guiding people to live healthier, happier lives: physically, emotionally, mentally and spiritually.