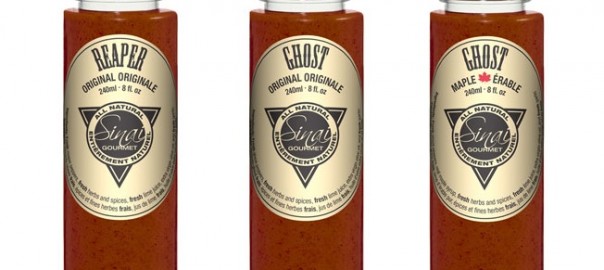 Product Insights: Sinai Gourmet's Hot Sauce
Product Insights: Sinai Gourmet's Hot Sauce
When I cook, I generally like to keep things simple; I use minimal ingredients and simple ingredients; I like to keep it easy. As such, I tend to use very few packaged products. When I do purchase packaged products, I always review ingredients; I prefer to avoid sugar, gluten, grains, additives and preservatives. I like simple and natural.
So, when I had the opportunity to try a line of hot sauces whose philosophy is creating simple-natural products, with the goal of making your meals taste better, I was in. Truthfully, I've never had an affinity for hot sauce, but I started to read up on the health benefits of spicy foods, and Sinai Gourmet had me curious with their simple and premium ingredients.  And they did not disappoint.
I recently had the opportunity to chat with the owner and founder of Sinai Gourmet, Laurence Isaac and wanted to share the story behind his brand.
Erin: Laurence, given my lack of experience with hot sauces, combined with my propensity for clean, simple and natural ingredients, I found your hot sauces to be refreshingly appealing.
Laurence: Thank you, Erin. Sinai Gourmet's hot sauces are certainly unique in that way. And with a range of heat levels from mild to wild and an original and maple flavour, there is a hot sauce for anyone: From those starting with spice to experts.
Erin: I can tell you that I am a novice, and the Poblano is perfect for me. I'm sure that you are asked this question often, but why vinegar free?
Laurence: Yes, that is the most common question I get asked. The storey goes, while eating in a steakhouse one day, I requested hot sauce to go with my delicious rib eye. The restaurant, like many others, brought Tabasco sauce which I used, inadvertently ruining my steak. The strong vinegar taste overtook all natural delicious flavours of the steak and did nothing to enhance it. It was at that moment it clicked that the solution would be a fresh tasting and vinegar-free hot sauce – so I created one! We are happy to be able to say that we are the only truly vinegar-free, unfermented and fresh tasting hot sauce on the market.
Erin: That's awesome! That's they way to make it happen. What are some of your favourite ways to use your hot sauces?
Laurence: Since the sauces taste fresh and are very flavourful they can easily be combined with any current condiment selection to greatly improve them. This simple #lifehack makes your mayos, ketchups, salad dressing, olive oil, and so on go from good to WOW!
Erin: They sure do!  Just last night I added a squeeze of the Original Poblano to my tuna and mayo, and Wow!  I'm wondering what is the criteria in selecting the ingredients for the sauces?
Laurence: Freshness, taste, quality, and – when possible – local. Our maple syrup for example is from a local Quebec producer whose family has made maple syrup for over 200 years!
Erin: I love it! Laurence, thank you so much for creating these awesome hot sauces – and for taking the time with me today.
Laurence: Thank you! Enjoy!
About the Author: A Holistic Wellness Practitioner, Erin is a proponent for holistic and natural living. Her passion is guiding people to live healthier, happier lives: physically, emotionally, mentally and spiritually.