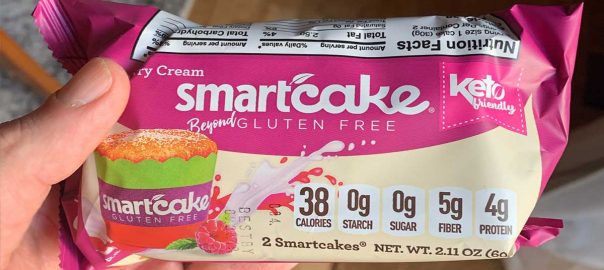 Smatcake – Delicious Cakes – The Low Carb Way
Smartcake – Perfect for Low Carb Lovers
Who doesn't love cake? It's a comfort food that's sweet, indulgent, moist in the middle and often enjoyed during celebrations like birthdays and anniversaries. People on low carb diets should also have the option of diving into a rich piece of moist cake whenever the craving hits them.
Smartcake allows people to have their cake and eat it to. This product proves that low carb food can not only taste good but also satisfy the biggest sweet tooth. Its light and delectable taste has garnered a legion of fans mainly because its flavour resembles that of traditional cakes.
Ready to learn more about Smartcake? Let's start by introducing you to the company that makes these wonderful treats. Next, we'll look at the four different flavors along with the ingredients and nutritional value. Lastly, we'll share some amazing recipes you'll want to immediately try, including one for the holidays.
---
Exclusive Blog Reader Discount! $15 off sub-total $100.00* + Free Shipping!
Just enter the following code during checkout: ALZDTC
Minimum purchase of $100.00 required

To qualify for free shipping – orders subtotal must be greater than, or equal to $100 (up to 10Kg)

This offer may not be combined with other offers, limit 1 per customer
---
The Company Behind the Cake
The company that manufactures Smartcake is Smart Baking Company. Their products are purposefully designed so they can be enjoyed by:
Diabetics
People with celiac disease
People looking to lose weight
People on a keto diet
In addition to Smartcakes, they are also known for Smartbuns, a nutritious hamburger bun that's gluten-free, wheat-free, sugar-free, low carb and non-GMO.
The ingredients commonly found in their products, include:
Water

They use actual water, not water laden with added chemicals. They do this by employing nano filtering systems, The Cool Blue, to ensure their water is pure. This purifying system includes three layers of technology to produce the best tasting water.

Protein

Smartcake contains 4 grams of protein per cake. Protein is typically derived from high-protein ingredients, like eggs, some of which feature essential amino acids. Additionally, the whey protein used promotes muscle growth and improved digestion.

Olive oil

Olive oil contributes to the taste of Smartcakes and offers healthy dietary fats, which may reduce the risk of heart disease. Some studies suggest that certain fatty acids found in olive oil may positively impact one's insulin levels or blood sugar.

Flax

Flax meal features Omega-3 essential acid, is high in fiber and has some antioxidant qualities.
Furthermore, the Smart Baking Company has been named Orlando's fastest growing company in 2019, according to a ranking by the Orlando Business Journal. Last year, this company sold over 3.5 million Smartcakes.
Part of a Low Carb Diet
So, what makes Smartcakes so beloved? For starters, they have a high level of nutrition so you can enjoy them guilt-free. They are sweet, satisfying and indulgent, tasting as good or even better than many high carb alternatives.
Flavors
Smartcakes offers products in a variety of popular cake flavours:
Smartcake Ingredients
This desert snack features the four key ingredients we already covered. In addition, each cake is made with proprietary fibre blend (oat fiber, corn fiber, flax), erythritol, whey protein isolate, cinnamon, pure vanilla, salt, cellulose gum, monk fruit, citric acid, spices and herb.
Smartcake Nutritional Value
People love Smartcake because of its taste but also because it lets you eat cake without having to call it a cheat day. It is far more nutritious that traditional cake or deserts like brownies or cookies.
Each cake contains:
Only 38 calories
35 mg of cholesterol
40mg of potassium
5g of fibre
It's important to note that Smartcakes can be stored at room temperature for about 21 days, and in the freezer for about 3 months.
Delicious Recipes
Eating Smartcakes on its own is always fun but you can also enjoy them as part of these sweet and savoury recipes. Each highlights Smartcakes' versatility and how to leverage its flavour profile.
Strawberry Shortcake Smartcake
This traditional English recipe usually calls for a shortbread cake topped with strawberries and heavy whipping cream.
With this low carb version, you substitute shortbread with one of chocolate or cinnamon Smartcake. Top with whipped cream, some drizzles of sugar-free caramel and fudge and top with as many strawberries as you'd like. This desert comes in at under 150 calories and the only sugar is the natural one from strawberries.
Smartcake Bread Pudding
Another classic English desert that you can make low carb by using Smartcakes. Gather the following ingredients: ½ cup of cinnamon Smartcake cubed, ½ cup of plain Smartbun cubed, 1.5 cups of unsweetened coconut milk, 1/5 cups of unsweetened apple sauce, two whole eggs lightly beaten, one red delicious apple peeled and diced and ¼ cup of walnuts.
To create the sauce, you'll need: two scoops of vanilla whey protein powder, ¼ cup of fat-free plain yogurt, ¼ cup of coconut milk, ¼ cup of blueberries and some fresh mint.
Add coconut milk, applesauce and eggs to a mixing bowl and beat lightly with a whisk. Incorporate the Smartbun cubes, walnuts and apples. Next, transfer the mixture to an oven safe dish, cover and place in the refrigerator for at least one hour.
Once it's ready, preheat oven to 350F and bake the bread pudding for 45-50 minutes. When it's done, the top should be golden brown. Afterward, let it cool until it's at room temperature. You can then transfer to individual mason jars, cover and place it back in the refrigerator.
Before serving, make the sauce by combining protein powder and yogurt with a whisk.  Let it rest for a minute and then give it another solid stir until it's nice and smooth. Then, add the milk and stir again until it achieves a creamy consistency. Pour the sauce generously over the bread pudding, and garnish with the blueberries and 1-2 sprigs of mint.
Low Carb Holiday Casserole with Smartcake Topping
Southern cooking isn't synonymous with low carb eating but this recipe is a delight that lets you stay on track without sacrificing taste or heartiness. This is a great side dish for Christmas or Thanksgiving dinner especially if you or your guests are on a low carb diet.
Gather three cups of mashed pumpkin (you can also use purée), 1 ½ cups of frozen riced cauliflower, 3 tbsp. of ghee, 2 tbsp. of almond milk, 2 tbsp. of golden monk fruit sweetener, two large eggs, 2 tbsp. of coconut flour, 1 tsp. of pure vanilla extract, 1/8 tsp. of fine sea salt. To make the topping, you only need four cinnamon Smartcakes and ½ cup of chopped pecans.
Time to get baking! Preheat your oven to 350F. Grease an oven-safe casserole dish. Get your food processor out and add the pumpkin and cauliflower to the bowl. Hit pulse until the mixture is perfectly smooth. Next, add the ghee, milk, sweetener, eggs, coconut flour, vanilla and salt and then pulse again until everything is combined.
Spoon it all into the greased casserole dish and smooth the surface with a spoon. Prepare the topping by crumbling the Smartcakes and mixing them with the crushed pecans. Sprinkle over the top and then bake at 350F for 25-30 minutes. Make sure the middle is set and the pecans are golden brown and giving off a nutty aroma. Let it cool for five minutes and serve warm.
Enjoy Smartcake Today!
Be a Smartycake and get yourself some Smartcakes today! They are your guilt-free passport to enjoying a low carb cake snack that is absolutely delicious.
---
Exclusive Blog Reader Discount! $15 off sub-total $100.00* + Free Shipping!
Just enter the following code during checkout: ALZDTC
Minimum purchase of $100.00 required

To qualify for free shipping – orders subtotal must be greater than, or equal to $100 (up to 10Kg)

This offer may not be combined with other offers, limit 1 per customer
---
© 2020 Low Carb Grocery. All Rights Reserved.