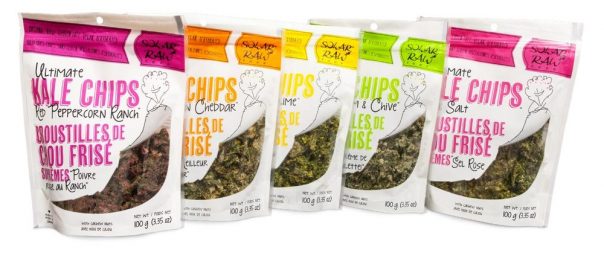 Ultimate Low-Carb Kale Chips from Solar Raw Food
Kale Chips – Taste the Difference of All-Natural Solar Raw Food
The word 'superfood' gets thrown around a lot these days, and not all of them really live up to the hype. However, there's one superfood that definitely delivers a superior level of nutritional value, and that superfood is kale. Renowned as one of the healthiest of all the greens, kale is simply a perfect part of any low carb diet.
You might be thinking that, although kale is obviously beneficial to your health, there are only so many ways you can use the leafy green as part of your weekly meal plan. Well, you'll be pleasantly surprised to learn that there are other ways to get more kale in your diet that offer a different taste experience, and that's where Solar Raw Food comes in with their line of Ultimate Kale Chips.
The Story of Solar Raw Food
Solar Raw Food was founded on simple but powerful principles that have guided everything they make and do. Ultimately their mission is to produce fresh and nutritious natural foods in a sustainable way. Their focus has always been on the types of foods that deliver superior levels of nutrients, vitamins, and health benefits.
All of Solar Raw Food's kale is grown right here in Canada on their sustainable organic farm. They use solar energy as the method of powering their kale kitchen and drying out their ingredients without baking or frying. This is the origin of their name, as their approach to using solar energy in preparing healthy raw foods is truly unique to Solar Raw Food.
Why Kale?
Although we all know kale is exceptionally healthy, many people don't realize just how beneficial kale is as part of a nutritious diet. While it may look a lot like other leafy greens, kale truly is a wonder of nature in just how many different vitamins and nutrients it contains and how dense the values are.
Kale is an excellent source of many different vitamins including Vitamin A, B6, C, and K. It's also rich in minerals such as Calcium, Potassium, Manganese, Copper, and Magnesium that help maintain a healthy and strong body. In addition, kale is an excellent source of dietary fibre, helping to promote proper digestion.
Anti-oxidants are also found in abundance in kale, which are beneficial in counteracting oxidative effects of free radicals in the body. Beta-carotene, vitamin C, polyphenols, and flavonoids are all found in kale.
How Ultimate Kale Chips Are Made
The process of making Ultimate Kale Chips begins with the 100% organic kale grown on the Solar Raw Food farm in Castleton, Ontario. Once harvested, the kale is then shucked to remove the leaves from the thick stems. The kale is then washed, coated in a special seasoning blend, and then it moves on to the dehydrator.
After 14 hours in the dehydrator, the kale chips are then separated and packaged, at which time they are ready to ship to you. This simple process reinforces the Solar Raw Food commitment to natural foods, and the freshness of the final product is evident in each and every bite.
Take a look behind the scenes with this great video overview from Solar Raw Food that shows just how they make their Ultimate Kale Chips: https://www.youtube.com/watch?v=9j6doyC7NUk
Flavours to Suit Any Taste Preference
Of course, Ultimate Kale Chips aren't just wholesome snacks with a great crunch. They're also available in some of the tastiest flavours you'll ever snack on. If you're a fan of trying lots of different tasting chips, the variety from Solar Raw Food will keep you busy for a while. Here's the full list of delicious flavours you can choose from.
Hemp Cream & Chive – This savoury blend of seasonings is a classic taste for a new kind of snack chip. One handful of these is simply not enough!
Spicy Curry Lime – Curry fans will absolutely love these. The vegan curry seasoning is very rich, and perfectly complimented by the citrusy zest of lime.
Better Than Cheddar – An all-time favourite of snackers all over the world, cheddar flavour is simply delicious on a snack chip. This cheesy seasoning is vegan-friendly, and extremely addictive!
Pink Salt – For those snackers who prefer a lighter taste, Pink Salt kale chips are the perfect choice. These chips are gently seasoned with the classic Solar Raw Food dressing, and then dusted with a touch of salt.
Red Peppercorn Ranch – The big, bold flavour of ranch comes home on these chips, along with a spicy kick that you're definitely going to love. Try a bag of these to snack on with your next movie marathon.
Cucumber Dill – The newest flavour from Solar Raw Food is a brilliant combination of fresh cucumber flavour and the savoury taste of dill. Regular dill flavoured chips can't compete with these tasty bites!
Taste the Solar Raw Food Difference
Once you try the fresh, wholesome taste of Ultimate Kale Chips from Solar Raw Food, you'll never snack the same way again! Their dedication to quality, nutritional content, and great taste shines through in each and every bag.
Give them a try today and taste the difference that natural, organic kale can make.