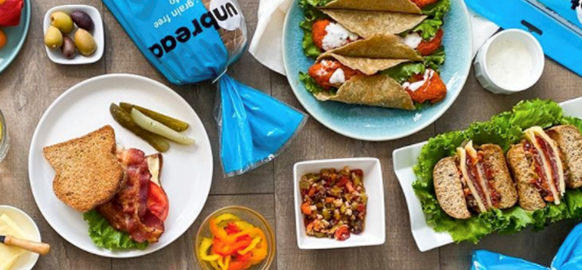 Unbun Keto Friendly Buns & Pizza Crust Products
Unbun Paleo Friendly Buns & Pizza Crust Products
Discover Unbun keto-friendly buns and pizza crust. Learn different ways to use these versatile products that are suitable for low carb, gluten-free, keto, and paleo diets.
Disclaimer: The information in this article is not intended to replace personalized medical advice. A low carb diet may not be suitable for you. Consult your health care provider before making any changes to your lifestyle or use this information at your own risk.
Unbun products are grain-free, gluten-free and suitable for several low carb diets including Keto and Paleo. The philosophy behind Unbun's "unproducts" is simple: delivering healthy foods made from the cleanest natural ingredients to customers, without sacrificing taste. Discover why these wholesome products have gained so much popularity in the low carb, keto and paleo communities and how you can be a part of the action.
About Unbun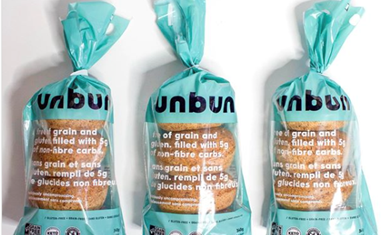 Unbun Foods is a Toronto-based company that was founded in 2017 by Gus Klemos from his one-bedroom apartment. At the time, Gus was disappointed with the special diet foods he could (or couldn't) find, so he decided to make his own product that would help change the low carb world. From the beginning, Unbun products have always been gluten-free, grain-free and suitable for low carb diets include ketogenic and Paleo diets. Within just two years, the company began partnering with local and national establishments to provide keto-friendly bread and pizza options, serving over 1,500 locations in total! Unbun products can now be found at quick service restaurants such as Mr. Sub, Pizza Pizza, and The Burger's Priest as well as a number of national grocers, including The Low Carb Grocery.
Unbun's success can be attributed to keeping things uncomplicated. They believe that the freshest, most natural ingredients make for the best recipes and happiest customers. The keto diet is about more than just the macros; food quality is also important. This is why Unbun never uses any fillers or chemically engineered ingredients, which has helped them achieve true Keto Certification. Some of their key ingredients and their health benefits are described below. For a full list of ingredients, check out all the Unbun products on our site.
Almonds
Almond flour is a great gluten-free, grain-free, low carb alternative to traditional wheat flour. Plus, almonds provide several health benefits due to their rich nutrient profile. Not only are almonds rich in healthy fats – a must have on a ketogenic diet – but they also provide numerous essential vitamins and minerals that contribute towards a healthy, balanced diet. Including healthy fats in your diet has been shown to reduce the risk of cardiovascular disease, improve blood sugar control and allow for healthy weight management.
Coconut Flour
Coconuts are also rich in healthy fats and provide nutrients that can improve metabolism, promote blood sugar regulation, and reduce certain risk factors for heart disease. The blend of coconut and almond flours in Unbun products provides great texture and flavour, plus a blend of nutrients.
Eggs
Eggs are a complete protein, meaning they contain all nine essential amino acids. We need amino acids in order for our bodies to build proteins, which make up everything from our muscles, bones and skin to things like hormones, enzymes and other body chemicals. Eggs are also one of the most nutrient-dense foods on the planet, containing every essential vitamin and mineral required by the human body other than Vitamin C.
Unbun also offers a plant-based keto pizza crust and plant-based keto tortillas, which do not contain eggs.
Pumpkin Seeds
Pumpkin seeds are one of the richest natural sources of magnesium, a mineral that is heavily involved in blood sugar control and other important functions in the body. Since not many foods contain significant amounts of magnesium, many people are magnesium deficient, which can worsen medical conditions such as diabetes. Pumpkin seeds are also rich in fibre, zinc, and antioxidants.
Flax Seeds
Flax seeds are extremely rich in omega-3 fatty acids, which help fight inflammation in the body. Inflammation is caused by natural metabolic processes, but also from exposure to environmental pollutant and toxins (including chemicals in processed foods). Plus, flax is a great source of fibre, making it an all-around great addition to Unbun bakery products.
Chia Seeds
Chia seeds are small but mighty! Packed with omega-3 fatty acids, fibre, and high-quality protein as well as various vitamins and minerals, they deliver a massive amount of nutrients with very few calories. It is believed that these super seeds were a staple part of the ancient Aztec diet. The Aztecs thought so highly of chia seeds that they even offered them to the gods as a sign of worship!
Psyllium Husk
Psyllium husk is a form of fibre that is praised for its ability to improve digestive health. It is highly soluble in water, making it one of the more effective fibre sources and is not associated with excessive flatulence. Increasing fibre in the diet has many other benefits for other parts of the body, too. Namely, it can help reduce cholesterol levels, improve cardiovascular health and help regulate blood sugar levels. Plus, fibre helps keep you full for long periods of time while being low in net carbohydrates!
Extra Virgin Olive Oil
Extra virgin olive oil is one of the healthiest oils on the planet! Not only is it rich in flavour, but it also provides a number of antioxidants and healthy fats. Some of the benefits of using olive oil include improved heart health, reduced inflammation and the prevention of cognitive decline in the elderly. It is no wonder that it is a dietary staple in some of the healthiest regions of the world! Note that the type of olive oil is also important, which is why Unbun uses extra virgin olive oil, "extra virgin" indicating the least amount of refinement, or none at all.
Unbun Bakery Products
Explore the selection of products from Unbun below and discover different uses and recipes for each.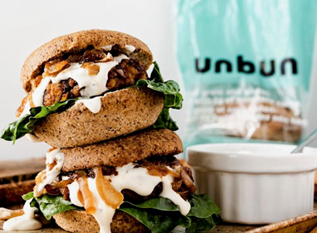 The buns that started it all! Unbun Keto Buns are perfect for burgers, any and all sandwiches, croutons, eggs benedict, stuffing, or even simply served warm with butter! Each bun provides 16g of healthy fats, 10g of fibre, 10g of protein and just 5g of non-fibre carbohydrates. They are also incredibly convenient; these buns maintain their taste and texture while frozen and thaw perfectly whenever needed. See why so many customers have tried and loved Unbun Keto Buns!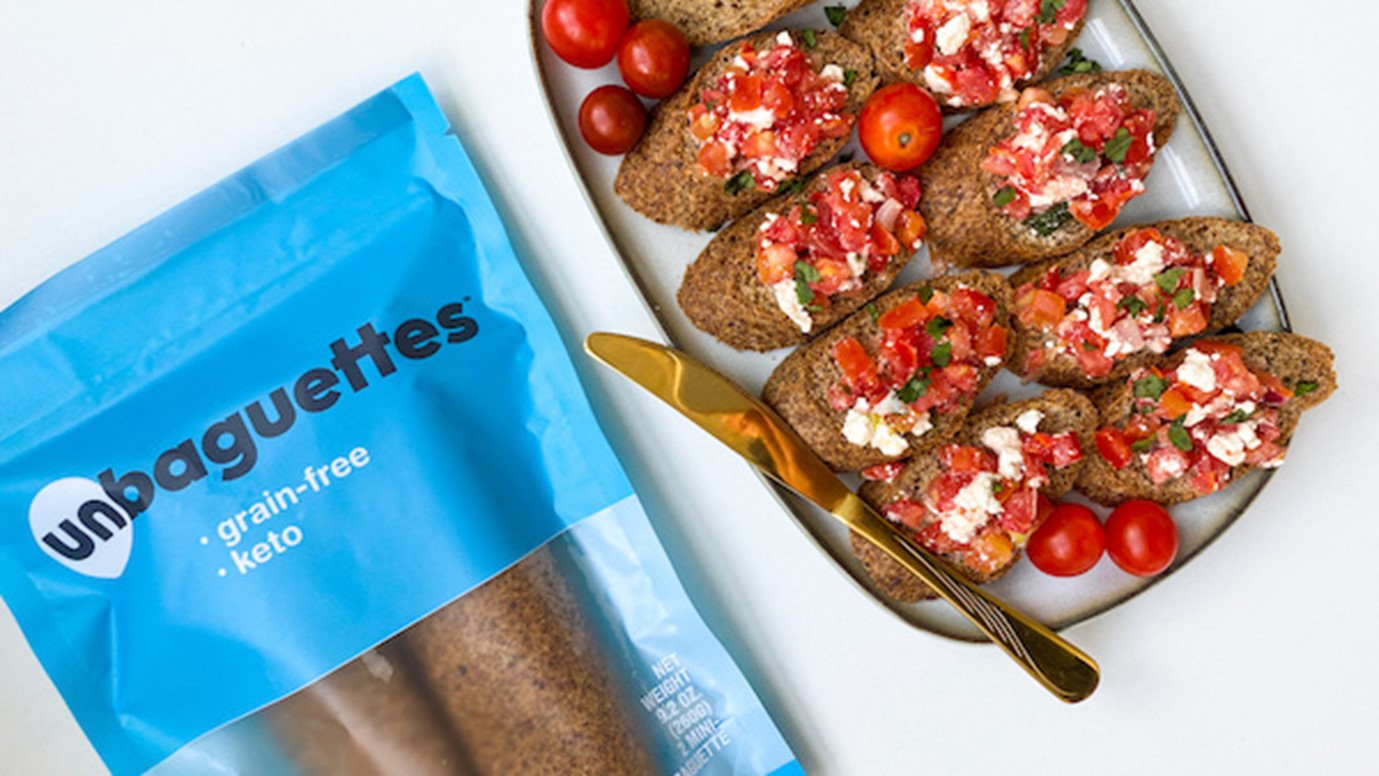 Unbun Keto Mini Baguettes open up the doors to even more sandwich possibilities! If you prefer a more oblong 'wich, these are your go-to. They are also great for making crostini, bruschetta (pictured above), garlic bread, open faced sandwiches, and even French toast! They are also the perfect shape for hot dog buns.
Each mini baguette provides 20g of fibre, 16g of protein and 22g of healthy fats! Opt for half a bun with just 3g net carbs and 180, calories or indulge in the whole bun if you have carbs to spare. These buns taste and smell like a fresh multigrain bread (rather than white) and have a bread-like texture, although slightly softer and springier. They can also be heated in the oven for a crispier texture, or pop them in the microwave to make them warm and steamy! They are large in size and customers report that they feel full and satiated after eating an entire baguette.
Unbun Plant-Based Keto Pizza Crust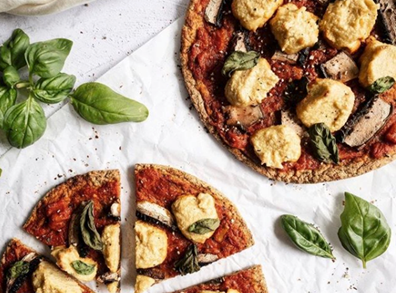 With just 3g of non-fibre carbs in the entire crust, any night can be pizza night! Enjoy this guilt-free crust with any of your favourite toppings. Uncrust is made with all of the same wholesome ingredients as their other products, meaning you get a good dose of fibre, protein, vitamins and minerals – from pizza! These crusts are also lightly flavoured with nutritional yeast (a plant-based cheese replacement), garlic and basil to evoke flavours of authentic Italian pizza.
Our customers love Uncrust, just read numerous 5-star reviews! Many people praise the taste and texture of this pizza crust, as well as the convenience and ease of preparation. Check out this recipe for Breakfast Pizza from Unbun! You'll need a low carb pizza sauce for this recipe. Check out our inventory of low carb condiments and sauces, including Rao's Sauces (recommended by Unbun recipe curators!).
Get Unbuned Today!
We hope that you enjoyed reading about Unbun, and hopefully found a great recipe to try. If you would like to share your thoughts or reviews on Unbun products, head over to the product pages on our website, or let us know on Facebook and Instagram.
Also, please let us know how we did with a Google Review. And, for the best deals on low-carb and keto-friendly products, be sure to subscribe to our weekly newsletter.