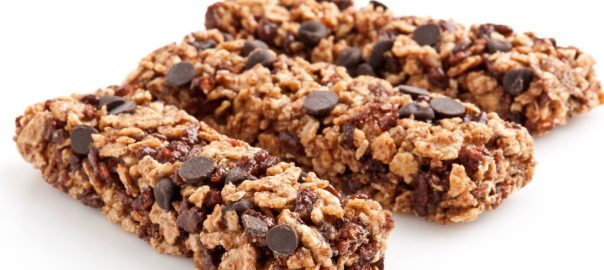 Healthy Homemade Keto Snack Bars
Replicating Delicious and Soft Keto Snack Bars
We put our low carb baking skills to the test to see if we could create delicious, soft baked keto snack bars inspired by one of our favourite brands!
We love our selection of keto snack bars so much that we decided to begin a series of replicating some of our favourites at home starting with Good To Go Keto Snack Bars! This series is all about diving into the clean and simple ingredients of our favourites brands and putting our low carb baking skills to the test by trying to replicate our favourite products in a homemade recipe, created by us!
We chose Good To Go Keto Snack Bars as our first in the series because they are the ultimate convenient snack for busy low carb dieters on the go. They are made from simple, wholesome ingredients that are compliant with most low carb, keto, paleo, gluten-free and plant-based diets. And they are soft baked into a cake-like consistency that we can't seem to get enough of! Good To Go snacks are perfect for anyone looking for a simple, nutritious, and deliciously satisfying snack. We recommend trying them all!
To begin our replica recipe, we had to get started in the low carb test kitchen where we stock our favourite low carb baking essentials! And because these snack bars are made from mainly single-ingredient items, it seemed pretty straightforward! We grabbed a bag of almond flour, erythritol sweetener, sugar-free chocolate chips, some coconut oil and shredded coconut flakes, and a bottle of Bragg apple cider vinegar from our inventory and got planning. Read how our experience went below.
What are Good To Go Keto Snack Bars Made from?
For starters, we had to see the quality we were up against. While snacking on a Vanilla Almond Good To Go Bar, we turned over the label to see exactly what makes these bars so delicious. Here are the ingredients for this flavour:
Almond flour, inulin*, erythritol*, vegetable glycerin*, apple cider vinegar*, ground chia seeds*, sea salt, natural flavours*, baking soda, rosemary extract*, mixed tocopherols.
*Organic.
This super short ingredient list was not only refreshing to see – but also meant good news for us trying to re-create these delicious snack bars! Well, we could try, but we wouldn't know the exact proportions of ingredients used, and there were still a few ingredients that were missing or substituted in our recipe.
If you're looking for where to buy some of these alternative baking ingredients that we used, The Low Carb Grocery has got a huge selection of low carb cooking & baking ingredients. Shop online or at one of our three retail stores if you have questions that you'd like to ask us in person!
Before we got baking, we decided on how we would compare our final product with the real thing at the very end. We laid out the following metrics to score our bars on (pass/fail):
Soft and Chewy – Good To Go bars have a texture that can only be described as a cross between a cake, a muffin, and a cookie. We knew our snack bars would need the same texture if we wanted them to be comparable.
How to achieve: We decided to bake our bars low 'n slow until they were just lightly golden brown, like a real Good To Go bar. Letting them bake for a long time at a low temperature setting would reduce the risk of overbaking and prevent our mixture from drying out too quickly.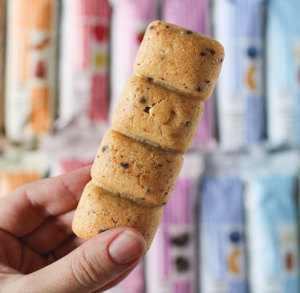 Pictured: A Good To Go Blueberry Cashew Bar, up close and personal.
Even Texture – The ingredients in Good To Go snack bars are combined perfectly to achieve just the right even texture and resulting in consistently delicious bites every time! Some flavour varieties include additional chunks of goodness, such as Cinnamon Pecan with pecan chunks, Double Chocolate with mini chocolate chips, and Cocoa Coconut with coconut flakes throughout, but these additions are all small enough that you get something yummy in every bite!
How to achieve: Inspired by three of our favourite flavours mentioned above, we decided to add in Ceylon ("true") cinnamon and other seasonal spices, sugar-free chocolate chips, and unsweetened shredded coconut.
Holds Together for Easy Eating On The Go – A lot of low carb, gluten-free baked goods made from alternative flours can become crumbly and fall apart because these flours are not as finely milled as wheat flour. Crumbly cookies and bars are not what we're going for if we want to achieve the ease-of-eating created by the makers of Good To Go bars – this is what makes them "good to go"!
How to achieve: We opted for Indigo Extra-Fine Natural Blanched Almond Flour since it has one of the best consistencies for baking. We would still have to find just the right balance of the other ingredients, so that the batter would hold together well. The perfect ratio of ingredients may be the secret behind Good To Go bars' deliciousness… but I guess we'll never know.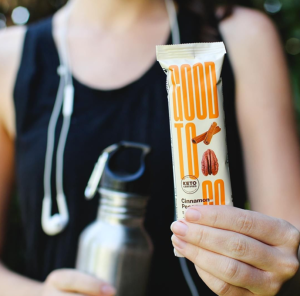 Pictured: A Good To Go Cinnamon Pecan Bar enjoyed on-the-go!
Recipe: Delicious and Soft Keto Snack Bars – Inspired by Good To Go
Check out our final recipe below to see how we made our keto snack bars!
If you try making these bars or something similar yourself, you can see how they stack up against possibly the best keto-friendly snack bar ever made. And if you have no idea what we're talking about – stop sitting around and grab yourself a Good To Go bar! Shop the entire collection of Good To Go keto snack bars, brownies, blondies, granola, and nut & seed bites.
Ingredients
Going back to the ingredients list of a Vanilla Almond Good To Go Bar, we realized we had to pick up a few more things before we could get cracking.
Almond flour, inulin*, erythritol*, vegetable glycerin*, apple cider vinegar*, ground chia seeds*, sea salt, natural flavours*, baking soda, rosemary extract*, mixed tocopherols. *Organic.
The first thing we were missing was inulin. Luckily, The Low Carb Grocery sells this type of prebiotic dietary fibre, which can be added to anything from baked goods to smoothies and cereal! We used ground flaxseed alternatively, since we already had some and it helps achieve the same effects of absorbing water for extra-moist baked goods (+ digestive regularity!).
We also had some pre-ground chia seeds on hand, but you could grind your own whole chia seeds for extra freshness. Sea salt, natural vanilla extract, and baking soda were also lying around the kitchen, so we didn't have to buy anything else. We decided to use vanilla extract to fill in the natural flavours blank, but you can customize your snack bars with any sugar-free flavours or syrups! Syrups would work especially well in this recipe, since they can help mimic the texture you get from using vegetable glycerin.
Speaking of vegetable glycerin, which is a type of vegetable fat added to many natural food products for its low-glycemic sweetness and moisture-adding properties, we substituted this for organic unrefined coconut oil. Coconut oil has a number of other cooking and baking applications such as safe high-heat cooking and at-home frying – so we always have this stocked in our low carb kitchen! If you're curious about choosing the best cooking oils for cooking and baking, head over to our blog to learn more.
The last ingredients missing were rosemary extract and mixed tocopherols, which are used as natural food preservatives and antioxidant agents. Since coconut oil is rich in vitamin E and has antioxidant properties, too, this ingredient choice was a triple win for us.
Almond flour, inulin*, erythritol*, vegetable glycerin*, apple cider vinegar*, ground chia seeds*, sea salt, natural flavours*, baking soda, rosemary extract*, mixed tocopherols.
With all of the original Good To Go bar ingredients accounted for or substituted, we added a few ingredients of our own, too.
We wanted to make a Pumpkin Spice Keto Snack Bar with Sugar-Free Chocolate Chips and Coconut – considering the changing seasons, and some of our favourite low carb baking ingredients. To achieve this unique flavour, we added the following ingredients: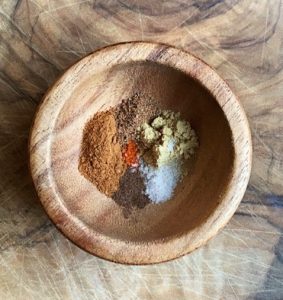 Pictured: Our pumpkin spice mix with ingredients from Wild Tusker and Anthony's Goods
Pumpkin Spice Spice Mix:
1 teaspoon Organic Ceylon Cinnamon
½ teaspoon nutmeg (this is key for achieving that classic pumpkin spice taste!)
½ teaspoon Organic Ginger Powder
½ teaspoon of allspice
A pinch of cayenne pepper to put the spice in pumpkin spice! (Our secret ingredient).
½ teaspoon of sea salt to bring all the flavours together!
Flavouring Agents:
Time to get cooking…
Here are the measurements for the rest of the ingredients:
First, we mixed all of the dry ingredients and the spices together (except for flavouring agents) with the coconut oil until small lumps formed. Then we added our ACV, vanilla extract, and a bit of water to the batter until it started to stick. Finally, we threw in our chocolate chips and shredded coconut and combined everything evenly.
The batter looked like this when we were done: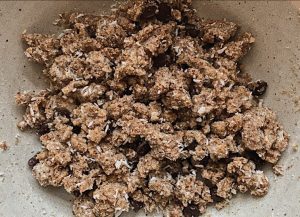 Next, we formed the batter into (roughly) the shape of bars – a bit bigger than finger-length and about 1-inch wide. We even scored the bars with a butter knife to pay homage to the classic design that makes Good To Go bars so easy to snack on! You can simply break off the perfect bite-sized piece along the scored lines and you're good to go!
Finally, we baked our bars at 260˚F for about 45 minutes, checking on them frequently to assess the moisture/dryness level. (*Note: our batter also expanded slightly while baking, so we used a butter knife to gently keep the bars in their original molded shape a couple times).
Here's how they turned out!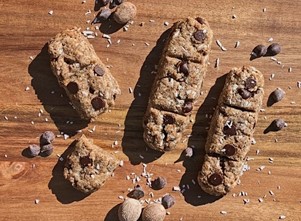 Pictured: the final result of our Good To Go bar-inspired keto snack bars made with sugar-free chocolate chips and organic erythritol from Krisda, and natural almond flour and unsweetened shredded coconut from Indigo.
The Final Evaluation
In terms of taste alone, we think our snack bars turned out pretty good. They had a sweet and lightly nutty taste, just like Good To Go bars. Our pumpkin spice mix was definitely nutmeg-forward, but that's what makes it taste nostalgic and delicious to us! You can customize your own homemade keto snack bars with any flavours or ingredients that bring you joy.
Here's how our bars scored according to the rest of our metrics:
Soft and Chewy – Our keto snack bars were definitely soft and definitely chewy (although maybe not as chewy as original Good To Go bars). This is thanks to the almond flour we used, which naturally contains more moisture than wheat flour. You could also use coconut flour, which provides moist texture to baked goods, too. Luckily, we had chewy morsels of coconut flakes in our bars! (Pass)
Even Texture – While we combined all of our ingredients as evenly as we could, the nature of our unique flavour choice meant that these bars were a little chunky. Instead of regular-sized chocolate chips, you could use mini chocolate chips or break your favourite sugar-free chocolate bar (we love Cocoalicious organic dark chocolate sweetened with Xylitol!) into tiny pieces to achieve a more consistent texture throughout each bar.

(Could be better)

Intactness – Our Good To Go-inspired bars did not exactly hold together very well – oops…. But, the score lines we added made it easier to break off a piece and pop it into your mouth in one swift bite! (Fail, unless you're very careful)
Concluding Thoughts
Thanks for coming along this journey with us – we had a great time testing out new low carb baking recipes and setting ourselves up for a little challenge. We hope that we've either inspired you to pick up a bowl and whisk yourself and get experimental in your own kitchen – or that you've realized baking is a lot of work and it's much easier just to grab a box of Good To Go bars (don't worry, we won't blame you for deciding the latter).
What we will say, is that having the right low carb, worry-free ingredients on hand certainly makes low carb cooking and baking that much easier. It takes away a lot of the thought work that's already involved in preparing healthy meals and snacks for yourself and your family. The Low Carb Grocery is always here to help you find what you're looking for, just contact us by telephone, email, or send us a DM on Instagram or Facebook. Whether you are looking for low carb ingredients to help you cook and bake at home, or clean label, delicious, diet-compliant pre-packaged foods to assist your busy life – we can point you in the right direction!
Browse our collections of low carb cooking & baking ingredients and low carb snack bars online or at one of our three retail stores if you've got something sweet and delicious on your radar…
Stay Connected
If you make these "Keto Snack Bars – Inspired by Good To Go" yourself, share a photo with us on Facebook or Instagram by tagging us @lowcarbgrocery and @goodtogosnacks!
We'd also love to hear your thoughts on The Low Carb Grocery by leaving us a Google Review. And remember to sign up for our email newsletter to be the first to know about our weekly sales, news, and blogs!