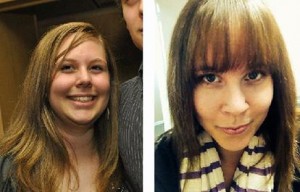 On the day I discovered Low Carb, I was at my peak weight of over 195 pounds. As much as it felt like it happened overnight, it was creeping up on me slowly over time due to student stressors, a desk job, and my own ignorance. I knew I had to move quickly to undo the damage that years of unhealthy eating caused.
Being overweight affects you more than just physically. Due to my size and how I felt that I looked, I began to act and think differently as well. I was convinced that my husband no longer found me attractive, and I had no libido. I distanced myself from the man I loved, and who loved me, simply because I was no longer comfortable in my own skin. On top of avoiding dressing up, or being out with friends, I stopped swimming. A healthy activity that brought me joy, stopped only because I couldn't stand to see myself in a bathing suit.
A good friend told me that working out and eating well can cause a natural high. At this point I was so depressed, I was willing to try anything, and I'm so thankful I did. I knew my full-time desk job and genetically low metabolism would pose a challenge but I wasn't prepared to let it stand in my way. After some self-education on diets and exercise programs I found a combination I knew would work‒ Atkins and martial arts.
I'm so thankful my husband was there to support me. When I told him my plans, he jumped in with me headfirst and made the initial transition into a healthier lifestyle that much easier. We made meals together from the Atkins cookbook, and every hindrance in my journey was met with his ongoing encouragement.
I reached a plateau at 178 pounds after dealing with unexpected family issues. It also became more difficult to find meal options, and substitutions for holiday treats. It took all my willpower to not delve into my Easter chocolate! The Low Carb Grocery became my main grocery outlet. I can buy all my Atkins products online, plus some great treats like Atkins decadence bars. Bread and chocolate were the hardest foods for me to cut out, but with Low Carb Grocery I didn't have to.
Now I'm at 170 pounds, and I'm still losing! I've only been at it for 3 months but it feels like I've gained back a lifetime. I feel beautiful again, and that bathing suit keeps looking better and better. Being active and eating well are the best gifts you can give yourself. I achieve new goals everyday and pretty soon I'm going to run out of them! All it takes is the right push, and enough self-motivation to keep going.
-Megan H.