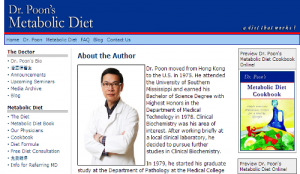 Dr. Poon created his three-phase metabolic diet to treat his patients' medical problems that were secondary to their obesity.  Dr. Poon found that after a 10% reduction in body weight, most of his patients' medical problems became less severe, and were even eliminated, especially for patients with metabolic syndrome, type 2 diabetes, hypertension, indigestion, gastroesophageal reflux, high serum triglycerides, high serum cholesterol, polycystic ovarian syndrome, fluid retention, sleep apnea, arthritis, and fibromyalgia.
Dr. Poon is frequently asked by surgeons to help their patients to lose weight pre-operatively, in order to lower their peri-operative and post-operative morbidity and to decrease the chance of disease recurrence.
Dr. Poon's Metabolic Diet is designed to shed stored body fat; particularly that carried around the waist, which is considered to constitute a risk factor for heart disease, while maintaining lean muscle mass.
The four objectives of the Poon Metabolic Diet are:
To combat obesity related diseases
To lose fat and preserve muscle and bone
To lose weight quickly and safely
To keep weight off for life
For Dr. Poon, it is not the quantity of food consumed that leads to obesity, but rather the kind of food consumed, with the primary reason for weight gain along the abdomen being excess consumption of carbohydrate. This is supported by the common complaint that one can exercise for hours a week, yet still experience weight gain. Even counting calories will ultimately prove unsuccessful in the long-run, since in order to experience significant weight loss, one must reduce caloric intake by one third. This leaves dieters feeling satiated, eventually leading to the diet's failure. Ultimately proper diet is the essential component, which takes the form of a low-carb, high-protein, moderate-fat and low-sodium diet.
While in this three-phase program, patients' bodily functions are monitored to make sure that they are proceeding with the diet correctly and without adverse complications. Patients are required to do blood and urine testing regularly as needed. This diet is completely safe if followed properly. By following this diet plan diligently, patients will be burning off fat 24 hours a day, even when they are sleeping!
Typically a patient will lose an average of 5 to 7 pounds during the first week and 3 to 4 pounds the second week during the Fat Burning Induction Phase (Phase 1). A loss of 1.5 pounds weekly is common during the Continued Weight Losing Phase (Phase 2).
Once patients have achieved the necessary weight loss, Dr. Poon will then show them how to eat properly and maintain their weight and health during the Maintenance Phase (Phase 3).
At the Low Carb Grocery, we carry offer an extensive selection of foods which are compatible with the Dr. Poon Diet.
Most Popular Dr. Poon Phase 1: