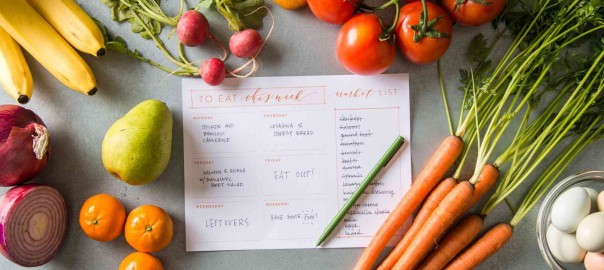 Tips & Tricks for Low Carb Meal Planning
Low Carb Meal Planning Tips and Tricks
Success on the low carb diet comes from a combination of diligence, patience, and organization, and an essential element of your organization should be an easy-to-follow meal plan. Creating a meal plan for the low carb lifestyle is actually quite simple, and the more you do it the easier it gets. We're here to help with some tips to help you get started in creating an effective meal plan that can easily be customized from week to week, and includes a variety of meal types. We will also provide some handy tricks that you can use to help keep things flexible and fun. Let's get started!
Start with the Basics
When you start crafting your low carb meal plan, it helps to start with the most basic elements, and then build from there. First, you're going to want to use an easy-to-follow meal plan template that you can keep visible in your kitchen. Most meal planning templates follow a similar format to a weekly calendar, like this one for example: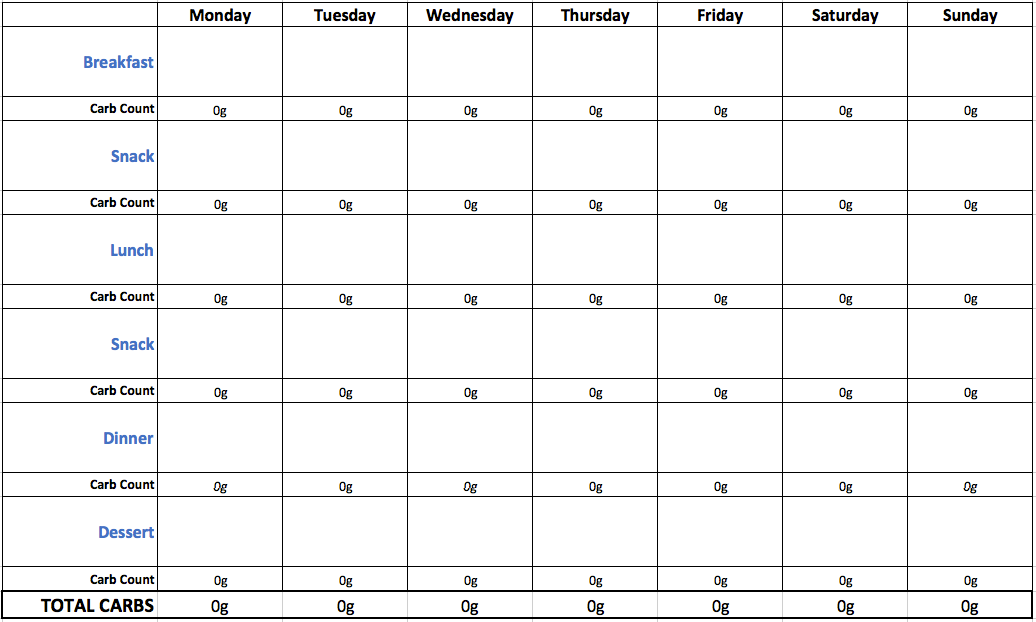 In this template, there are rows for you to jot down the basics of each meal, as well as two snacks daily, and even a dessert. Of course, you don't need to use these extra rows if you don't want to, but it's nice to have the option to track everything in one place. One addition that you'll notice on this meal plan template that some other templates might not include, is the row for Carb Count below each meal and the row for Total Carbs at the bottom. This will allow you to see at a glance how the carb count for your daily food intake is broken down by each row, and how much flex you have in your daily allowance. This is handy if you find that some meals are more satisfying or filling than others, or if you need to swap things around through the week due to time restrictions or other reasons.
It bears reinforcing that one of the simplest ways to make sure you stay on track with your diet is to put your carb counts front and center, so you can always know what's coming next and how your daily intake adds up. Keeping these numbers highly visible throughout your day to day routine keeps your goals at the top of your mind, and helps you stay focused. Check out our Easy Guide to Counting Carbs for more info and tips you can use to help plan your low carb meals.
Simplify Everything
Keeping things simple doesn't mean keeping things boring, or repetitive. It just means figuring out how to create smart shortcuts and workarounds to save time and make things easier. There are a lot of great tips out there for how to save time with day to day food preparation, and we've gathered a few of our favourite simplification tricks to share.
1 – Write in your main proteins first, and build the big meals around them.
Dinners are often times the meal that busy families struggle with the most. One way to make dinner selection easier is to begin by picking a different protein source as the starting point for your dinners, and then building the rest of the meal around them. For example, for the first three nights in the week, slot in chicken, beef, and pork as your main source of protein in the dinner section. Then, choose either a style of cooking, such as stir fry or roasting, or the accompanying vegetables and sides to build out each dinner and add some variety. Start the week with a chicken stir fry on Monday, then switch to a pork tenderloin with sautéed vegetables on Tuesday, and then move on to a low carb meatloaf for Wednesday.
2 – Standardize Portion Sizes for Snacks and Side Dishes
One of the things that many low carb dieters find challenging when they first start out is knowing what size of portion will equate to a certain amount of carbs. It's easier with some foods, such as a chicken breast or handful of vegetables, and harder with others, like snack foods or condiments. A simple way to make sure you are keeping track of portion sizes is to spend a little time and work out standardized portions using a kitchen scale and some bowls or containers of varying sizes. For example, if you've got a box of low carb snack crackers, weigh out a single serving according to the nutrition guide and find a bowl or container that is just big enough to hold it.
Using this technique to standardize portions for a wide variety of snacks and side dishes, and keeping that list handy in your kitchen for reference, will help ensure that you know exactly how many carbs to include on your meal plan counts. You'll never have to wonder about how many carbs are in your lunch kit again, because you'll have those portions memorized in no time.
3 – Incorporate Some Flexibility
Creating a solid meal plan will definitely help take some of the pressure off of your weekly routine, but let's be honest, sometimes you'll find that the meal you planned out several days ago just doesn't suit your mood when the day finally rolls around. This is why incorporating a bit of flexibility in to your meal plan can help things not feel quite so rigid. There's a few ways to do this, but one way that we've found is to come up with a couple of 'backup' meal ideas that can be swapped in at a moments notice if the need arises. For example, if you had a big roast chicken dinner planned for Thursday, but if time runs short after work or one of the kids goes to a friends place for dinner, you might not want to or need to prepare such a big meal. In this case, it might just be a more suitable choice to boil up some Miracle Noodles and make a nice fresh veggie stir fry.
We'd recommend adding an extra section on your meal plan for fast and easy 'backup' meal choices that still fit with your carb counting goals. This way, when things don't go as planned, you'll be prepared and still stay on track.
Get Creative and Try New Things
Now that you've got a handful of tips at your disposal to help make your meal planning process easier, it's time to talk about making your meal plan a bit more fun and creative. There's lots of different things you can do to add a bit more variety to your low carb lifestyle, and working some exciting new ideas in to your meal plans can help break up your routine and keep things fun. Here's a couple of ideas that you may want to try!
Do an International Theme Week
The world has so many amazing types of cuisine to choose from, why not work in a theme week? You could go all in on Mexican and Southwest, with low carb huevos rancheros, fajitas, tacos, enchiladas and more. Or look to the east and try a variety of Asian cuisine, like sushi, pho, and other dishes. Whatever kind of foods you choose to try, do some research for fast and easy low carb recipes. That way you won't turn what should be a fun adventure in to a frustrating struggle with complicated meals.
Let the Kids Plan a Meal or Two
Feeding a family is a never-ending battle when there's always someone who wants to do something different. Why not hand the reins over to the kids to pick a meal or two each week? Give them a few guidelines to follow, like a particular meat to start with, and work with them to build a great low carb meal of their own. You'd be surprised at what they'll come up with, and getting them more involved with healthy eating choices is never a bad idea.
Conclusion
Planning a week of healthy and delicious low carb meals can be a real challenge, especially at the beginning of starting a low carb lifestyle. There are plenty of other resources that you can draw from to help make things easier, including this handy premade low carb meal plan from Libby over at DitchTheCarbs.com. It's got a full week of a nice variety of low carb meals planned out, and includes links to all the recipes for easy reference.
We certainly hope that this collection of tips has helped you kick things off with a bang, and that even crafty low carb veterans have perhaps picked up a trick or two. Staying on track with the low carb diet is easy with a little bit of planning along with the right tools, and having a well-structured meal planning process definitely goes a long way. Good luck, and have fun!