Premium Sugar-Free Polaner Ripe Fruit Preserves
Sugar-Free Real Fruit Spreads Bursting with Flavour

Bringing the delicious natural sweetness of fresh fruit to tables all over the world, Polaner brand fruit preserves are renowned for their quality and incredible flavour. Discover what makes Polaner fruit spreads different, and why so many people living the low carb lifestyle choose Polaner over any other brand of preserves.
Making the shift to a low carb lifestyle can help improve your general health and elevate your state of well-being in many ways. Cutting out extra sugars and carbohydrates, along with an increase in protein and greater emphasis on nutrition, works to provide benefits in the form of weight control, increased energy, and longer-lasting energy.
Many people have misconceptions at the beginning about what you can and can't eat while living low carb, they quickly learn that there's virtually no change to the kinds of foods that can be enjoyed. It just takes some simple substitutions to keep sugar out of the equation. While regular fruit preserves and jams are typically high in added sugar, Polaner offers a diverse range of delicious fruit spreads and preserves that are sugar free and packed with delectable ripe fruit flavour.
Let's take a closer look at this innovative brand and discover the story behind their commitment to providing great-tasting sugar free fruit spreads made only from the best quality ingredients.
The Polaner Preserves Story
With a heritage that spans back over 120 years, Polaner's origin story begins in a small kitchen in Newark, NJ. Max and Lena Polaner's fresh fruit and vegetable market already had a reputation for providing great quality produce, and it seemed like a natural move to start offering fruit preserves. Thanks to the authentic flavours of their own family recipes, Polaner preserves quickly became one of their most in-demand products.
The Polaner family continues to ensure that their brand of real fruit preserves sticks to the foundational principles set by Max and Lena all those years ago. Only the best ingredients are acceptable, and the taste definitely proves it. Over the years, more variety has been added to the Polaner product line, including their special line of sugar-free fruit spreads. Here at The low Carb Grocery, Polaner sugar-free fruit preserves are one of the favourite products we've introduced recently.

Top-Quality Spreads Made from Ripe Fruit & Infused with Fiber
One thing that makes all Polaner sugar-free fruit preserves different from the others is that they infuse each jar with added fiber. One tablespoon serving of Polaner sugar-free fruit spread contains 3 grams of dietary fiber, making them a great way to boost your daily fiber intake and enjoy the natural sweetness of ripe fruit at the same time. Plus, Polaner sugar-free preserves are available in a wide range of flavours.
Polaner Sugar-Free Orange Marmalade – Spread on a nicely toasted slice of low carb bread, Polaner orange marmalade combines natural sweetness with just a little citrusy tartness that bring the whole thing together. You might not know this, but orange marmalade is a great base for all kinds of cooking sauces, including glazes for ham or chicken, dipping sauces for shrimp, or beef marinades.
Polaner Concord Grape Sugar-Free Jam – Concord grapes are one of the unmistakable tastes of summer. Crisp, fresh, and bursting with juicy sweetness, the flavour of real Concord grapes is captures in each spoonful of Polaner's sugar-free jam. It's the perfect spread to enjoy with summery breakfasts, lunches, or dinners. Grape jam can be used in a wide variety of recipes, including sweet meatball sauces, dessert bars, and much more.
Polaner Strawberry Sugar-Free Preserves – The flavour of perfectly ripened strawberries in every jar. There's a thousand uses for strawberry preserves, in everything from light and fresh desserts to cocktails and smoothies. From something as simple as a low carb PB&J sandwich to the best sugar-free strawberry shortcake you've ever had, Polaner sugar-free strawberry preserves will help make your foods even better.
Polaner Apricot Sugar-Free Preserves – Recipes that use apricots have surged in popularity as people are giving this delicious fruit more attention. With a delicate sweetness and a distinctive flavour that's unlike most other fruits, Polaner apricot preserves bring an enticing taste profile to recipes that call for a bit of fruit like some chicken wing sauces or glazes for pork roasts. One taste and you'll definitely know what all the fuss is about.
Polaner Raspberry Sugar-Free Preserves – Raspberry smoothies are one of our favourite nutritious beverages to enjoy on warm summer days, or anytime really. When you want to infuse delicious raspberry flavour into your recipes, Polaner sugar-free raspberry preserves are a great way to do it. Plus, there's an amazing recipe for baked brie with raspberry jam that we'll get to a little later in this article. Trust us when we say you're going to want to try it!
Polaner Blackberry Sugar-Free Preserves – Like apricots, blackberries are taking their rightful place on the main stage of fruit-focused recipes. Seems like there's no end to the types of foods that can be made better using the great taste of blackberries, and Polaner's sugar-free blackberry preserves make this easier than ever. Aside from the countless dessert recipes featuring blackberry jam, it can also be used in glazes and marinades, smoothies, and even homemade hot sauce. That last one might sound weird, but it works!
Now that you've seen the different flavours of Polaner preserves that you'll find here at The Low Carb Grocery, let's check out some scrumptious recipes you can use to put them to good use! Straight from the source at Polaner, these recipes are tried and tested, and verified to be great. Some of these recipes may specify the regular version of Polaner All Fruit spreads in their ingredient lists, but there are low carb sugar-free versions of each one. Simply swap the normal preserves out for the sugar-free option. Nothing else needs to change, making it super-easy to get these recipes prepared and ready to enjoy. Now, let's get to the good stuff!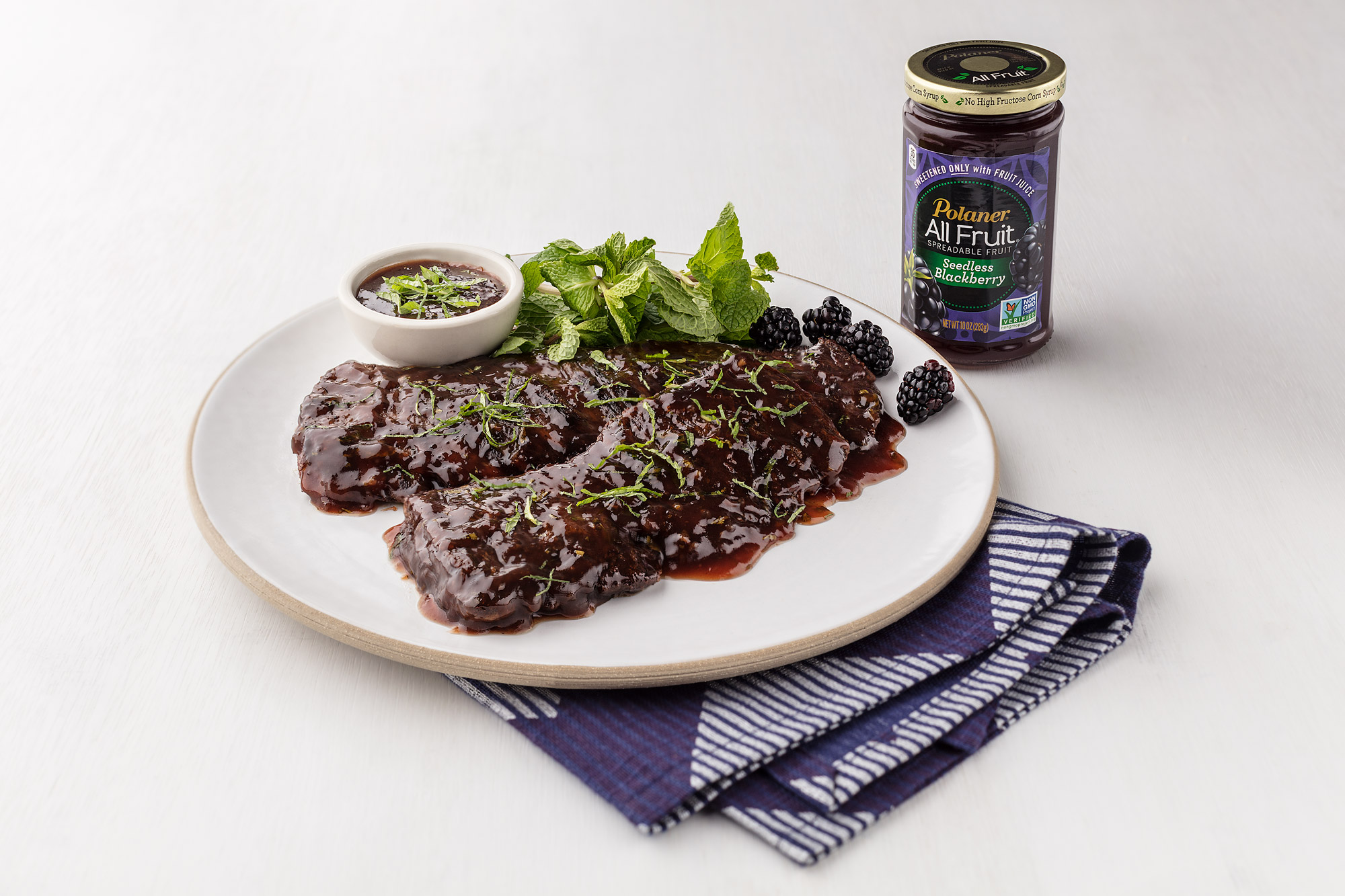 Use Polaner Sugar Free Preserves in Delicious Low Carb Recipes
Pork Tenderloin with Blackberry Balsamic Glaze – Pork is one of those meats that just naturally lends itself to fruit glazes and marinades. In this easy recipe, the balanced flavour of blackberry preserves works together with the taste of balsamic vinegar and a simple set of herbs and seasonings to elevate your pork tenderloin to a whole new level.
Apricot Chicken Wings & Dipping Sauce – Savoury and sweet chicken wings are a smash hit at any potluck dinner or backyard barbecue. In this recipe, crispy baked chicken wings pair beautifully with warmed Polaner Sugar-Free apricot spread, and can be lightly dipped or aggressively dunked in the accompanying apricot sauce, depending on how saucy you like your wings.
Easy Raspberry Smoothie – Smoothies aren't hard to make, especially when you've got all the right ingredients ready and waiting. In this one, you won't need to worry about having fresh raspberries on hand, as Polaner sugar-free raspberry preserves will do the job perfectly! You'll just need a frozen banana, milk, and some Greek yogurt, and you'll have a fresh and fruity smoothie to enjoy in just minutes.
Raspberry Baked Brie – If you've ever had a baked brie before, you'll know how unbelievably good it tastes. When you add the wonderful taste of Polaner sugar-free raspberry preserves into the mix, you're in for a real treat! Instead of regular toasted crusty bread, simply swap in your favourite low carb crisps or melba toasts. This baked brie with sugar-free raspberry preserves is a simple low carb appetizer that makes a big impression!
Skirt Steak with Blackberry Sauce – Closing out this list of delicious recipes is a steak that you'll want to make again and again. Starting with a tender cut of skirt steak, this recipe blends the sweetness of Polaner sugar-free blackberry preserves with the diverse flavours of garlic, ginger, soy sauce, lime juice, balsamic vinegar, cayenne pepper, and fresh mint. The result is a bold and complex taste experience that will blow your mind. It's just so good!
Bring the Flavour of Polaner Sugar Free Preserves to Your Kitchen
Polaner is proof that the low carb lifestyle can include every kind of food you desire with no compromise on taste or quality. Each jar of Polaner sugar free preserves is a testament to the 120+ year heritage that continues to bring the best in fruit spreads to the kitchens of health-conscious consumers from coast to coast.
Shop the full range of Polaner Sugar Free Preserves here at The Low Carb Grocery today!
More Low Carb Lifestyle Articles