Delicious Low Carb African Recipes
The Unique & Intriguing Flavours of African Cuisine
There's a world of flavours out there to discover, and this time we're checking out the exciting continent of Africa! There's lots to say about the bold blends of spices and seasonings that make African cooking so distinctive, and we've got a great collection of interesting new recipes and low carb versions of traditional African dishes that will show you exactly what we mean.
Low carb cooking isn't something that's exclusive to any particular culture or region of the world. No matter where you go, you will always be able to discover unique dishes that are high in protein, nutrient-rich, and incredibly delicious. This time, we're taking a culinary journey to the exciting continent of Africa to explore a wide range of captivating flavours and interesting cooking techniques that you won't find anywhere else.
Africa is such a big place, there are multiple different regions within it, each with their own diverse preferences towards certain meats, vegetables, spices, and cooking methods. Let's begin by taking a closer look at what kinds of ingredients make African dishes special in each of these regions.
What Makes African Cuisine Different?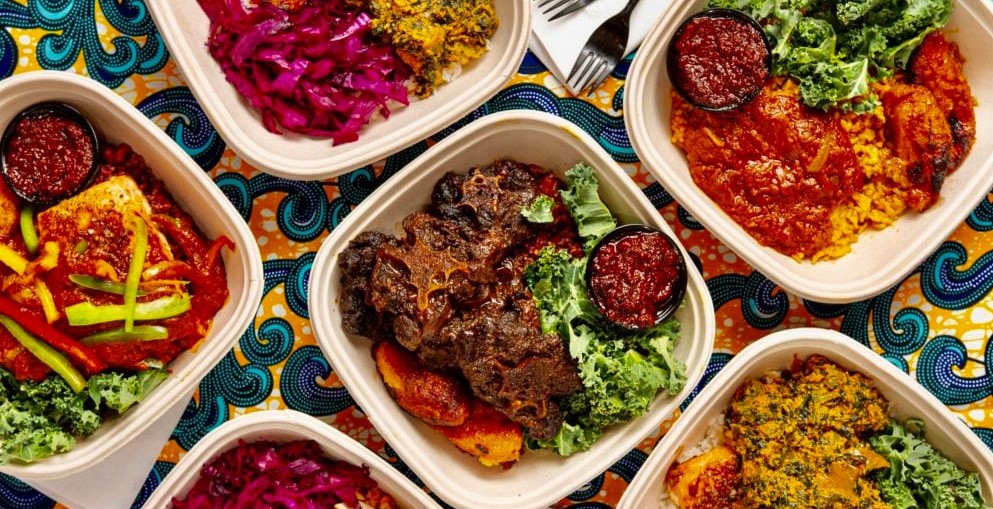 Photograph by Rochalle Stewart.
Northern Africa – In the northern countries of Africa, many dishes are centered around seafood, as well as goat, lamb, and beef. Other common ingredients used in this region include olives, almonds, dates, and a variety of vegetables. Some of the most popular dishes from Northern Africa include couscous, slow-cooked stews, and egg-based recipes. Robust spices such as cumin, paprika, coriander, turmeric, and a variety of chilies feature prominently in many Northern African recipes.
Central Africa – Countries found in the central region of Africa often have recipes that utilize beef and chicken, but can also feature a diverse array of protein from unusual sources such as crocodiles or warthogs. Plantains are another very common ingredient in cuisine from this area, and can be prepared in many different ways thanks to their versatility. Peanut or vegetable-based stews are popular, often seasoned with spices such as bay leaves, cumin, peppercorns, garlic, and ginger.
Western Africa – As you move to the west in Africa, you'll begin to see an increased presence of ingredients such as rice, beans, and root vegetables. Goat, chicken, and beef are popular meats used in many Western Africa recipes, but perhaps the most distinctive item in the area is fufu. Fufu is a traditional African food made by boiling starchy vegetables and mashing them into a round shape, and served alongside various types of meats and vegetables.
Eastern Africa – While other regions of Africa feature meats prominently, Eastern African cuisine leans more towards corn and rice as main ingredients. This is largely due to traditions in the area of raising livestock to be used as currency rather than using their meats as a source of food. Some common recipes from this area include ugali (a starchy corn dish often served with stew) and doro wat, a chicken dish from Ethiopia. Popular spices used in Eastern African cooking include cinnamon, curry, and saffron.
Southern Africa – The southern area of Africa is known for its blend of a variety of different food influences taken from multiple cultures inhabiting the region, as well as from European and Asian immigrants. A version of barbecue unique to South Africa is one of the most famous dishes, featuring a selection of grilled meats including goat, mutton, and beef. Milk and beer are also considered staples of South African cuisine, as are vegetables like pumpkins, beans, and varieties of lettuce.
With so many variations in cooking styles and ingredients, you'll never get bored when exploring the different recipes that originate from Africa! To prove this beyond a shadow of a doubt, we've collected a delectable selection of recipes that highlight the best in African dishes, including several traditional foods, as well as some interesting low carb meals inspired by the unmistakable flavours of this continent.
Delicious Low Carb African Recipes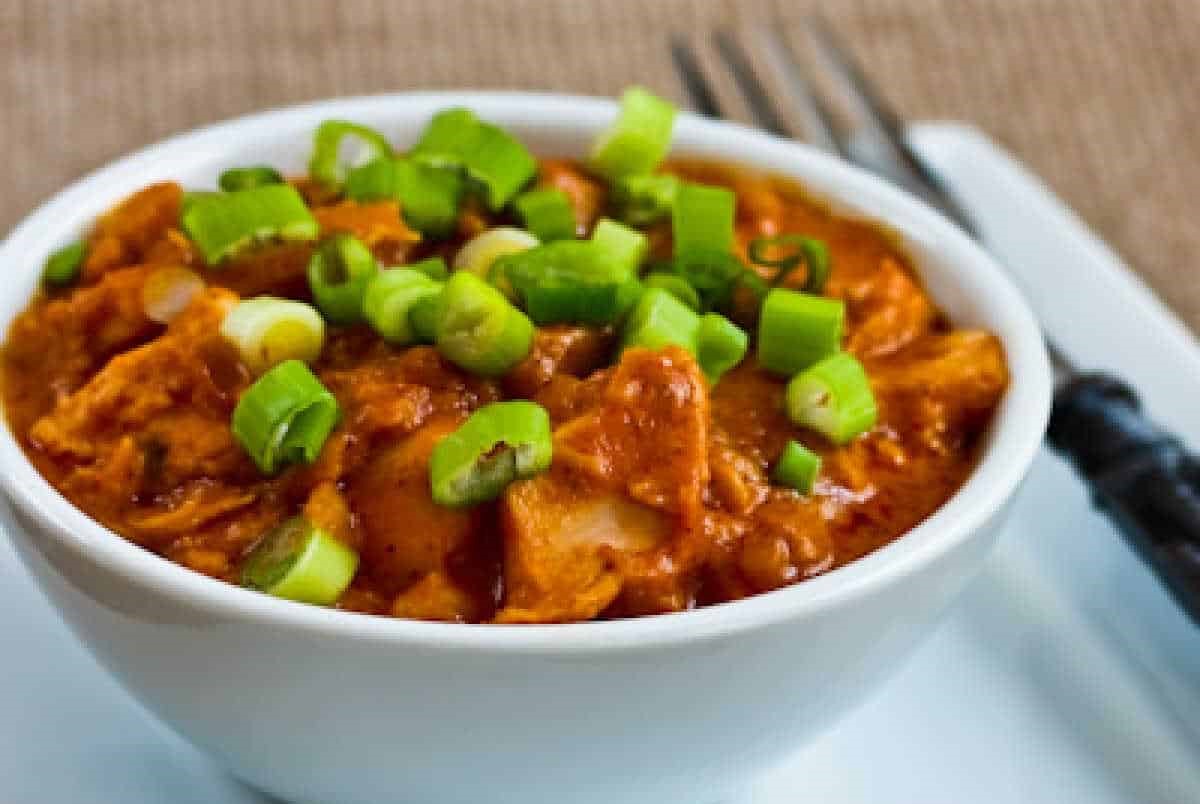 Photograph by Kalyns Kitchen.
Delicious Low Carb African Recipes
West African Chicken Stew – Blending together tender rotisserie chicken with ingredients like ginger, jalapenos, and peanut butter, this rich and hearty stew is sure to satisfy even the biggest appetites! This particular recipe is a twist on a traditional dish from Ghana. The author recommends using a natural peanut butter with no sugar added in order to ensure the carb counts stay low, while keeping all the wonderful flavour and texture that make this meal so delicious.
East African Kuku Choma – We will start in the east, with a mouth-watering grilled chicken recipe that turns out perfect every time. Using a seasoning blend containing paprika, rosemary, brown sugar, garlic, lemon juice and rind, and bird eye chili for some heat, a marinade is prepared that permeates the entire chicken with wonderful flavours.
Nigerian Catfish Pepper Soup – Making our way over to Nigeria, this amazing soup will definitely amaze you! It's hot & spicy, with plenty of savoury aromas to enjoy. This fish soup is made even more special with roasted Ehu seeds, also known as African nutmeg. Ehu seeds are very aromatic, and are said to provide many therapeutic health benefits such as easing headaches and muscle soreness.
African Okro Soup – Okra is a very different kind of vegetable, and one that doesn't get enough attention. It's extremely nutritious, and has a unique flavour that works quite well with the spices and seasonings that are common in African cooking. This recipe combines okra with shrimp, catfish, and goat meat for a high-protein soup that's easy to customize to suit your own taste. Break out your soup pot, and get things simmering!
Beef & Vegetable Mishkaki – Kabobs are a common method of preparing meats and vegetables in many different cultures around the world. This African-inspired recipe for kabobs, also known as mishkaki, uses tender cubes of beef marinated in a mixture of cumin, salt, black pepper, turmeric, garlic, lemon juice, chili flakes, and olive oil. For best flavour, it's recommended to let the beef marinate overnight. Good things come to those who wait!
Poulet Yassa Senegalese Chicken – This rich and flavourful chicken dish from Senegal is sure to become one of your family's new favourites! Marinated with garlic, Dijon mustard, spices, and lemon juice, the chicken is simmered in a hot skillet with broth and caramelized onions. The result is the most tender chicken, infused throughout with delicious spices and a hint of smokiness. This is simply one of the best chicken recipes ever!
Cucumber African Abacha Salad – On the lighter side, this clever spin on traditional African Abacha salad swaps out the cassava tubers with cucumbers for a deliciously spiced salad that's low in carbs and packed with powerful flavours. Protein in the salad comes from smoked mackerel, and the overall taste profile is enhanced with the addition of crisp red onion rings. Give this dish a try and you won't be disappointed!
African Cabbage Stew with Ground Beef – We are huge fans of recipes that deliver incredible flavours, pack in plenty of nutrition, and can be made fast and easy without spending a fortune. This hearty cabbage and beef stew is the perfect weeknight meal that the entire family will devour with zero complaints. Featuring a distinctive African spice blend and lots of veggies, this low carb stew checks off all the right boxes. If you make a double batch, the leftovers freeze well and make for easy and nutritious meals whenever you're short on time.
Refresh Your Low Carb Meal Plan with Flavourful African Recipes
We all know that it's easy for a weekly meal plan to get repetitive after a while. If you're getting tired of the same old routine, these recipes are the perfect addition to your low carb meal rotation! They're tasty, family-friendly, and don't feature any ingredients that are too bizarre or hard to find. We're particularly fond of the Senegalese chicken and the cabbage & beef stew, but we're pretty confident that you'll find all of these dishes to be exactly what you're looking for to change things up in your low carb kitchen!
More Low Carb Lifestyle Articles