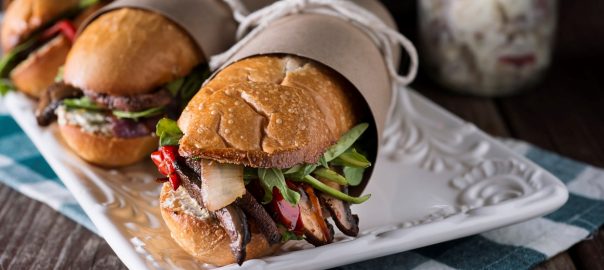 Sandwich & Wraps – The Low Carb Way
Delicious Low Carb Sandwiches & Wrap Alternatives
Sandwiches and wraps can still be enjoyed no matter what your dietary restrictions are. Learn about the different ways to customize your favourite lunchtime meals whether you are on a low carb, gluten-free, plant-based or other diet/program.
There's no need to give up sandwiches and wraps at lunchtime, even if you are on a low carb diet. Not only are they fast and easy to make, but they taste great and can be made in any number of combinations according to your circumstances and preferences. And, there are a number of alternative ways to make them to suit different lifestyles and diets. That's the beauty of the sandwich – its versatility and endless possibilities!
Low Carb Concerns?
Fortunately for low carb dieters, the deli counter is one place where you can definitely count on what you're buying to fit your diet. Meats and cheeses are great low carb and keto-friendly toppings to add to your sandwiches or wraps. Balance it out with some fibre-rich vegetables and an oil-based sauce to ensure that you stay in ketosis. Oh – and the bread? Read on to learn how to navigate the question of what to put your keto sandwich innards between.
Choosing low carb meats is not hard; high-fat meats will ensure that you to stay in ketosis, such as pork or beef. Or, you can opt for a lighter meat like chicken or turkey and add fats in other elements such as avocado, oil-based dressings, or cheese. Either way, make sure to look for natural, non-GMO and farm-raised meat that is free from artificial preservatives and any other additives. Natural types of preservatives include salt and/or celery. The key is to find good quality meat, because this is what matters. Low quality meat raised with added hormones and chemical preservatives strip the original product of its nutrients and can have very damaging effects on the body including – but not limited to – inflammation, weakening the immune system, lowering fertility, and increasing your risk of chronic diseases. Also be sure to avoid any deli meats with glazes or spice rubs that may have added sugars as these can cause you to unknowingly raise your net carb count.
The main issue with eating sandwiches and wraps while trying to stay in ketosis is the bread or bun replacement. Luckily, there are a number of low carb bread options available that still taste great! Many are made from almond flour, which adds a great boost of Vitamin E and healthy fats to your 'wich. Alternatively, they can be made with flaxseed meal, coconut flour or other types of nut and seed meals that all provide high amounts of fibre, healthy fats and essential vitamins and minerals.
Gluten-Free Concerns?
It can also be hard to find the right gluten-free bread or wraps for your sandwiches. Luckily, some of the keto-friendly options mentioned above fit into this category, too. Some other gluten-free brands of breads and wraps that we love are Slice of Life Carb Wise Bread and Live Organic Food Raw Wraps.
The Low Carb Grocery carries a number of gluten-free products. Just look for the purple "Gluten-Free" tag on our product web pages:

Keto diets are naturally low in gluten, as wheat and grains are the main carb culprits! Even if you are not gluten-intolerant, it can be a good idea to try out some of these amazing gluten-free alternatives, or they could naturally fit into your diet. Some people report better digestion and increased energy levels by eliminating gluten from their diet. Being gluten-free can also have other indirect benefits. By not consuming wheat or grains, you are inadvertently forced to consume more fruits, vegetables, seeds and nuts in their place. These alternatives also usually have higher fibre content, which is why they help with digestion and feelings of fullness for long-lasting energy throughout the day.
Plant-Based Concerns?
There are a lot of plant-based options for sandwiches and wraps. In fact, you can usually find products that are suited for a number of overlapping diets and lifestyles. A lot of keto-friendly, paleo-friendly and gluten-free products can be made from plant-based ingredients.
The good thing about plant-based alternatives is that they usually add other nutritional benefits to your meal, including important vitamins and minerals as well as healthy omega-3 fatty acids. These are often found in different kinds of nuts and seeds, which, when ground into a fine powder, are a great substitution for traditional white or wheat flours.
The main issue when trying to build a plant-based sandwich or wrap is finding replacements for the fillers such as the typical deli meats and cheeses. Not to fear – there are many plant-based options to choose from!
These days it is not hard to find plant-based alternatives for meat. Some good replacements include tofu, tempeh, large mushrooms such as portobello, and quinoa, lentil or bean-based vegan patties. All of these are not only rich in protein (that is just as beneficial for building muscle tissue as animal protein) but also tend to be higher in fibre which can help you feel fuller, longer. If you are following a low carb diet, protein-rich legumes could be high in net carbs – so be sure to double check before you indulge in a veggie burger and accidentally fall out of ketosis.
As far as vegan cheeses, you can usually find nut-based versions at most specialty retailers. These are a more sustainable dairy alternative and there are a number of allergen-friendly options to find. You can also add other creamy elements to your sandwich or wrap that can replicate some of the same sensations as cheese. For example, avocados, tahini (sesame paste), vegan mayonnaise, hummus, very soft tofu or nutritional yeast can add that familiar texture and flavour of cheese, while also being high in other nutritional benefits.
Make Your Own at Home!
Still concerned about your low carb bread options? Try making your own! It's not as hard as it sounds, and you can totally customize it to your personal preferences and dietary needs.
Anthony's Goods provides a range of products that can be used for making your own bread (and other baked goods!) from the comfort of your own home. All of their products are guaranteed either premium quality or organic, and cover a range of cooking and baking needs.
Baking at home is one of the best ways to ensure that the food you are eating is clean, free from any artificial ingredients and tailored to your specific dietary needs. Plus, it can be really fun! Read on to learn how to make your own homemade low carb bread:
Start with a base of one or all of these: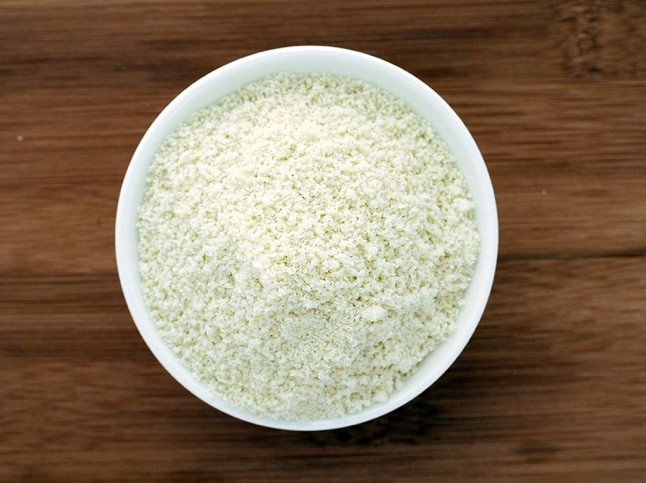 + baking powder and a pinch of salt!
Add the following fibre boosts:
Mix the dry ingredients with a healthy oil or fat to make it all stick together:
Avocado oil
Olive oil
Coconut oil (melted)
Egg whites
Grass-fed butter (melted)
Finally, add your own personal touch with any or all of these:
Bake in a glass baking dish or deep baking pan lined with parchment paper at 350˚ for 10-15 minutes, or until you see a golden-brown colour and small cracks on the top of the bread. Test ready-ness with a toothpick by sticking it into the centre of the bread. It should come out clean with very little to no crumbs when the bread is done baking.
If all this sounds too hard, you're still in luck. KZ Clean Eating offers a grain-free, high protein bread mix that comes ready to bake with its own tin container. All you have to do is add water, bake and enjoy fresh, warm homemade bread (it still counts, right?).
Stay Connected 
If you try making your own low carb bread at home, we'd love to know your recipes and tips! Share photos and recipes of your delicious homemade bread on Facebook or tag us on Instagram! We also love to stay connected with our Weekly Newsletters for updates on the latest products and special sales. And please leave us a Google Review with your feedback!