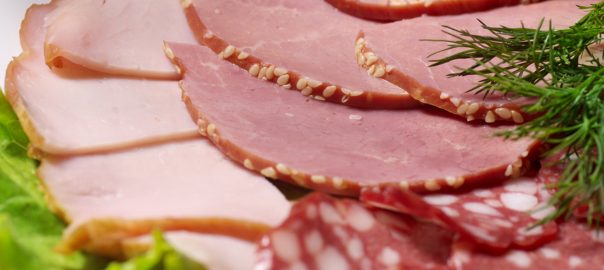 Deli Meats for Low Carb Diets
Delicious Deli Meats for Low Carb Dieters
There's a reason why sandwiches and wraps are such a popular item for lunch. Not only are they fast and easy to make, but they taste great, can be made in a million different combinations, and are totally customizable to your personal preferences. That's the great thing about sandwiches & wraps; you can make them however you want, and no two ever need to be the same if you don't want them to be.
There are many kinds of sandwiches to choose from, like the classic peanut butter and jelly, a nice toasty grilled cheese, tuna & mayo, to name a few, but the most wide-spread kind of sandwich or wrap is the type made with sliced deli meat.
Deli meats are a staple of lunch counters, restaurants, and grocery stores all across the world, and are available in dozens of different varieties to appeal to a broad range of tastes. In this article, we'll review the main differences between the different kinds of meats that are common at most deli counters to help you choose the right meat for your low carb diet.
---
Exclusive Blog Reader Discount!   

$15 off sub-total $100.00* + Free Shipping!


Just enter the following code during checkout:

ALZDTC
Minimum purchase of $100.00 required

To qualify for free shipping – orders subtotal must be greater than, or equal to $100 (up to 10Kg)

This offer may not be combined with other offers, limit 1 per customer
---
Low Carb Concerns?
Fortunately for low carb dieters, the deli counter is one of the few places where you can pretty much choose whatever you want, and you can count on it being suitable for the low carb diet. Deli meats rarely contain any carbs, thanks to the fact that they are made from simple ingredients like meat, seasonings, and salt.
Occasionally you may find small amounts of carbs or sugars in the form of glazes or similar flavourings on some deli meats, like a honey glazed or Vermont-style ham for example, but even these will be very minimal in carb count, so be aware of the ingredients used for the types of deli-meats you select.
Pork Deli Meats
Pork deli meats are usually prepared by either salting and curing the meat to create ham, prosciutto or pancetta, or as a roasted pork which is typically seasoned on the outside with a variety of ingredients such as herbs or mustards. Most ham and pork deli meats will be served cold and sliced thin to be used in a wide range of ways, not just limited to sandwiches or wraps. Prosciutto for example, can often be found on charcuterie plates accompanied by a selection of other deli meats and assorted cheeses. Black forest ham works very well as an ingredient for many different types of appetizers, too.
Beef Deli Meats
Beef deli meats include such popular varieties as corned beef, pastrami, and Montreal smoked meat. They are typically made from a cut of beef such as brisket that has been roasted and then seasoned to achieve different flavours. Smoking is used to add additional character and flavour to some types of beef deli meat, and they can also be coated on the outside with spices, such as peppercorns. Beef deli meats are delicious when served either hot or cold, with many people preferring them to be served hot as it tends to enhance the flavours and provide a different type of sandwich experience.
Chicken and Turkey Deli Meats
Most poultry that you'll find at the deli counter will be either chicken or turkey, prepared most commonly in one of three ways. Chicken and turkey deli meat can be prepared by standard oven roasting, slow rotisserie cooking, or by smoking to achieve different tastes and textures. Chicken and turkey deli meats can be served hot, but are most commonly served cold, either sliced or shaved very thin.
Most chicken and turkey deli meats are made from white meat, which results in very high protein content and low fat.
Sausage, Salami, and Others
Listing all the different types of sausages and salami would be a daunting task, so we're just going to focus on the main types that you'll find most often. These types of deli meats are made from several types and cuts of meat depending on their preparation methods. For example, soft mortadella is made from minced pork and pork fat, while the firmer capocollo is made from dry cured pork shoulder.
Chorizo is a Spanish style of sausage that is often included as a spicy ingredient in some recipes, but is just as good on its own as part of a meat and cheese plate.
Pepperoni and salami can be made from either beef or pork, and are frequently used on submarine sandwiches as part of an assortment of cold cuts to give the sandwich zesty flavour.
Recipe Ideas for Deli Meats
Even though deli meats are most commonly found between two slices of low carb white or whole wheat bread and buns, or wrapped up in low carb tortilla shells, there are several other ways that you can use them to prepare healthy and delicious low carb meals.
We found this fantastic article on 5 Delicious Low Carb Ways to Enjoy Deli Meat by Amy at SavvySavingCouple.net, and she's included some fun and easy ideas the whole family will love to try as a tasty snack or as part of a healthy summer lunch.
Also, you should check out another one of our articles, Tips for Great Low Carb Sandwiches, for more advice on how to make a fantastic deli sandwich, along with other delicious recipes to try. In that article, you'll find helpful recommendations for low carb breads and other alternatives, as well as some tasty sandwich toppings you'll definitely want to try.
While you're at it, don't be afraid to try some interesting and unusual combos of your own making. Getting creative with your sandwiches or wraps and experimenting with new flavours can be a lot of fun, and you never know, you just might end up creating something that catches on and becomes world famous!
Conclusion
Navigating the deli counter shouldn't be a chore, and with these tips we hope that you're looking forward to your next trip to your local deli to discover some different types of meats that perhaps you've never tried. With so many types of delicious meats to choose from, there's bound to be a few that will become some of your new favourite sandwich and wrap ingredients. Have fun, and happy eating!
---
Exclusive Blog Reader Discount!   

$15 off sub-total $100.00* + Free Shipping!


Just enter the following code during checkout:

ALZDTC
Minimum purchase of $100.00 required

To qualify for free shipping – orders subtotal must be greater than, or equal to $100 (up to 10Kg)

This offer may not be combined with other offers, limit 1 per customer
---
WEST COAST OFFICE
8610 Glenlyon Parkway
Unit #137, Burnaby
British Columbia
V5J 0B6 Canada
Phone
(604) 568-5671
CENTRAL/EAST OFFICE
170 Esna Park Drive, Unit #8
Markham, Ontario
L3R 1E3 Canada
Phone
+1-888-484-7479 or
(905) 752-1284
© 2019 Low Carb Grocery. All Rights Reserved.