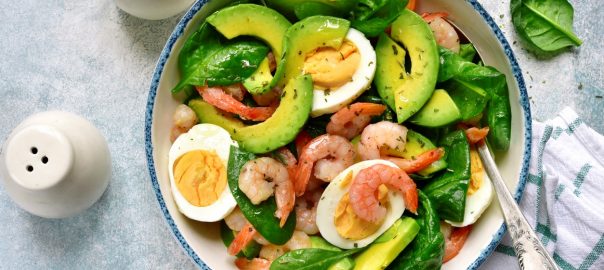 Keto-Friendly Salad Tips & Recipes
Low Carb Keto Salad Ingredients  
You might question whether salads are okay to eat on a low carb diet, as some vegetables and salad dressings can be high in carbs. Read this guide to learn how to make your salads keto-friendly!
Salads are the perfect lunchtime meal for any diet, including keto. They are totally customizable to your preferences and needs, and there's lots of ways you can make them low in carbs, too. Salads are a great way to get enough fibre in your day and break up some of those heavier meals that are known to the keto diet.
One way to turn your salads from boring to boundless is with different salad dressings. These can transform the same simple ingredients into a completely different meal. Here are some of our top picks for keto-friendly salad dressings:
These keto- and paleo-friendly dressings can also double as marinades. Cook your meat and dress your salad with these sauces for a truly cohesive, restaurant-quality dish! Bonus – they are also free from soy and canola oil.
Choose from a variety of delicious flavours such as Green Goddess, Caesar, Greek, or Ranch! Each serving contains just 0.5g to 2g net carbs, depending on the flavour you choose.
With 0g net carbs, this is your ultimate choice for a keto-friendly dressing! It also means you have some net carbs to spare in the rest of your salad, if you choose. These dressings are made in Ontario with all-natural ingredients such as first pressed pure olive oil, premium vinegars, and fresh herbs and spices. Have homemade dressing in the convenience of a resealable glass bottle right at your fingertips! Try our favourite flavours: Wicked Caesar and Greek Lightning! (available in store only).
Not only are these dressings zero calories, but they are also 0g net carbs! Walden Farms has created a line of unique and versatile flavours such as Balsamic Vinaigrette, Asian Dressing, Creamy Bacon and Chipotle Ranch! If you can't decide on just one, try our sampler pack! These single-serve packets are also perfect for on the go and taking your lunch to work.
Home Made Salad Dressings
Making your own keto-friendly dressing at home is another great option, because you can control every aspect of it to fit your dietary needs. It's easy to skip on the added sugars that you find in most grocery store brands, and you can choose flavours that you enjoy. The Low Carb Grocery carries Canada's largest selection of low-carb, sugar-free, sodium-free and low-calorie sauces, dressings and ingredients that are perfect for making your own salad dressings at home. Try out a new recipe today!
Here's how you can make your own dressing at home in just a few simple steps.
1. Start with a base of oil:
Olive oil
Avocado oil
Flax oil for an extra boost of omega-3s
Sunflower oil
Sesame oil for an Asian-inspired dressing
2. Add a splash of vinegar: balsamic, apple cider vinaigrette, white or sherry are all great choices. Or, add soy sauce or tamari and some citrus juice (low in carbs!) to make an Asian-style dressing. Coconut aminos, made from the "sap" of coconut trees, are a great low-glycemic and soy-free alternative to soy sauce.
3. Get creative with flavours and seasonings. You can add garlic (fresh or powdered seasoning), red chilli flakes, black or pink peppercorns (crushed), or ginger. Adding fresh herbs such as dill, basil, thyme, rosemary, oregano and sage will brighten up your salad and balance out the fat or protein elements. We love The Garlic Box's Roasted Garlic Sea Salt as a 2-in-1 addition to homemade salad dressings, or even just sprinkled over salads:
If you want a more fruity or sweet-leaning salad dressings, try using Flavorall liquid stevia drops! Mix these drops with a low carb yogurt or light olive oil, lemon juice and seasonings for a well-rounded salad dressing perfect for spring or summer. Check out this keto-friendly raspberry vinaigrette recipe we found, made with Swerve Confectioners natural sweetener. Substitute a portion of the fresh raspberries in this recipe with Flavorall Radiant Raspberry Drops for less carbs and big flavour!
The possibilities are really endless when you're making your own dressing. Make enough for the week so you always have fresh, homemade dressing in your fridge.
Now let's get into the salad recipes…
Green Salads 
Most greens are keto-friendly and rich in fibre to keep you feeling full and promote healthy digestion. Start with a base of any or all of the following nutrient-rich greens: spinach, kale, chard, romaine or leaf lettuce. Mixing in fresh herb leaves, such as basil or mint is a great way to add flavour and vibrancy to an otherwise dull salad. Broccoli is also a great low carb base for a hearty, protein-rich salad that will keep you feeling full for hours. Check out this recipe for easy Keto Broccoli Salad.
Next, add some protein – remember, this doesn't just have to come from meat or cheese. Nuts, seeds and avocados all contain low to moderate amounts of protein and higher amounts of fat, making them perfect for keto. These are also better for heart health as they contain omega-3 fatty acids. Eggs are also a great addition as they contain essential nutrients that are hard to find from other food sources. Try this Keto Cobb Salad recipe with ranch dressing!
Finally, drizzle with your dressing of choice for a final dose of fats and enjoy!
If you feel like you're missing a "carb-y" element in your salad try some of these suggestions:
Cut your low carb bread into bite-size cubes.
Drizzle melted butter, olive oil or coconut oil over the cubes.
Season with garlic, parsley, oregano (optional), salt, pepper and parmesan cheese (optional).
Toss everything together and place on a flat baking sheet lined with parchment paper.
Bake at 400˚F for 12-15 minutes or until golden brown.
Alternative Salads
Greens don't have to be your go-to salad base. There are many other salads you can make that are keto-friendly using other foods as your base. Check out our list of unconventional keto-friendly salads that you can try to switch up your salad routine!
Kelp Noodle Salad 
Kelp Noodles are low in calories and carbs, and they are gluten-free. Make a spin on pasta salad with these nutrient-dense noodles. Kelp noodles contain over 70 minerals including iodine, potassium, magnesium and calcium! These minerals can help with metabolism and improve thyroid function. Truly a superfood, you will also find more than 21 amino acids, various vitamins and enzymes that aid with healthy digestion. Try out this visually stunning, vegan, gluten-free and keto-friendly recipe for Crunchy Asian Kelp Noodle Salad. Substitute tempeh for a protein of your choice and add extra oils to increase the fat content to make this fit your macronutrient profile.
You can follow this and similar recipes using Konjac Noodles, in case you can't find kelp noodles at your local supermarket. They are similar in texture and mild in taste meaning you can create virtually any recipe with them!
Cucumber Avocado Tomato Salad
This chunky salad fits into any diet and is perfect as a side dish or on its own. Check out this recipe we found for this bright and satisfying Mediterranean-style salad, best enjoyed family-style! It is super simple and quick to prepare, and only requires a few ingredients that you probably already have in your fridge. Make your own dressing or pair this salad with one of our low carb Greek dressings!
Variations of this recipe might include other low carb veggies such as zucchini, eggplant, bell peppers, artichokes or hearts of palm. Try grilling them for a tasty and comforting warm salad.
Chicken, Tuna or Egg Salad 
Why not eat your protein in salad-form? These classic dishes are an unconventional approach to the traditional green salad and are a great way to ensure you are getting enough protein and fats in your diet. They will keep you full and there are many ways to customize them to your liking! Add vegetables to the mix in small chunks for some balance in textures and flavours and a boost of fibre. Try out any or all of these recipes:
Turn any of these into a delicious sandwich with one of our low carb breads, wraps or pitas!
Connect with the LCG 
If you tried any of the recipes in this article, share it with us on Facebook or tag us on Instagram! We also love to stay connected with our Weekly Newsletters for updates on the latest products and special sales. Also, please leave us a Google Review with your Low Carb Grocery experiences!