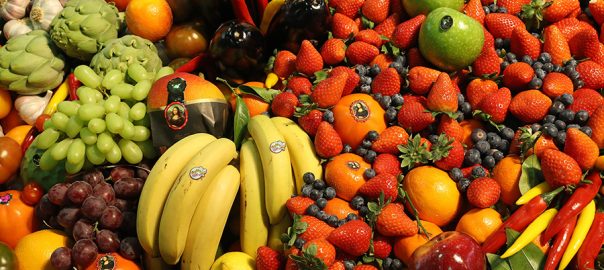 Guide to Fresh Seasonal Fruits in Canada
Seasonal Fruit Guide – When to Choose the Best Fruits
When you browse the fruit section of your local supermarket or grocery store, you'll likely see many of the same options no matter what time of year it may be. You'll also see many fruits come and go from the aisles as the months change through the year, as local suppliers conduct their harvests over the different growing seasons.
When you're shopping for fruit, it helps to know what times of year are best to find certain types of fruits, whether they be imported from far away or grown locally. These seasonal trends have a big impact on the freshness of the fruit that you have to choose from, as well as the different types of taste characteristics of the fruit. Knowing when the best time of year to buy fruit is will also help your fruit last longer once you get it home and ensure that it will have even better taste in your recipes.
This guide helps break down the types of fruit that are at their best at the various seasons of the year, especially when made available from local farmers. For this reason, we've kept our focus on the types of fruits that are generally grown across Canada.
Spring Fruits – April – June
Although spring is still very early in terms of most types of fruit harvests, especially in many parts of Canada, there are still some kinds of fruits that grow relatively quickly once the weather begins to get warm. Here are some examples of fruits that can be found to be very fresh towards the end of spring in late May and in to June in some of the most southern parts of Canada.
Cherries
Apples
Strawberries
Rhubarb
Summer Fruits – July – September
Summer, of course, is prime season for growing a wide variety of fruits. We're sure that the selection at your grocery store of locally-harvested fruits will definitely be at its peak in the summer, and you'll be able to find some of the best tasting fruits at local farmers markets and specialty fruit stands. Here are just a few of the delicious fresh fruits that you can expect to be at their best from Canadian farmers in the summer months.
Apricots
Blueberries
Grapes
Peaches
Pears
Raspberries
Strawberries
Watermelon
Plums
Nectarines
Autumn Fruits – October – December
Many of the fruits that come in to season in the late months of the summer continue their growing season in to the early fall as well. These tend to be the larger or heartier fruits that require more time before they are ready to harvest, as well as those fruits such as many types of berries that can be harvested more than once throughout the summer and autumn. Here are some of the most common fruits you'll find in season during the fall.
Cranberries
Apples
Pears
Raspberries
Strawberries
Plums
Winter Fruits – January – March
While it may seem like a bit of a stretch to consider some fruits as 'in season' during the winter months of January, February, and March, you can still find a couple of popular Canadian-grown fruits on the supermarket shelves during this time.
Additional Guides for Fruit Shoppers
There are many other resources that you can use to get even more detail on what fruits will be in season in your particular area. For example, Foodland Ontario has put together a helpful page on their website that lists the seasonality of Ontario-grown produce. The BC Association of Farmers' Markets has a similar page on their site, listing the common availability of seasonal produce in British Columbia.
Use these resources and those from other provincial farmers organizations as a reference to get even more information on what kinds of fresh fruits and vegetables you can find in your local area.
The Best Fruits for the Low Carb Diet
Knowing the best time of year for buying fresh fruit is certainly helpful, no matter what diet you're on. However, for low carb dieters it's also essential to know how to pick the best fruits based on their carb counts and sugar content as well. Fortunately we've got a helpful guide to The Best and Worst Fruits and Vegetables that is designed to help low carb dieters make good choices when shopping in the produce aisle.
Better Fruit Means Better Taste
Once you start getting more in-tune with the seasonality of fruit in your local area, you'll start to discover the little differences that fresh fruit can make in your meal plans and recipes. Whether you're planning on making a delicious and healthy smoothie or are in need of some fresh berries for a decadent low carb dessert, you're going to want the freshest fruit you can find. Things will taste better, your fruit will last longer, and you'll be more satisfied with your shopping trips as a result.
We certainly hope that this guide to finding the best seasonal fruits has been helpful for you and wish you all the best of luck when hunting for the best fruit at your local markets!