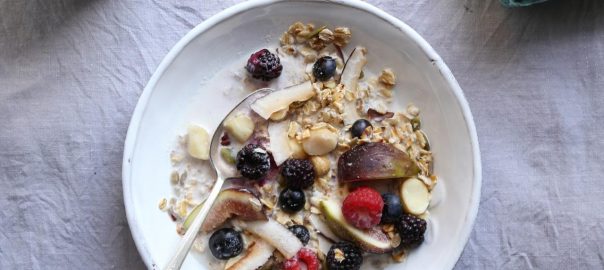 Hot and Cold Low Carb Cereal
The Beginners Guide to Hot and Cold Low Carb Cereal
Did you give up breakfast cereal when you first started your low carb diet? Many people do, simply because the typical cereals that you'd find at any supermarket are inherently loaded with carbs and sugars, making them a poor fit as part of the low carb lifestyle. However, you may be surprised to learn that there are dozens of fantastic low carb cereal options available that can put it back on your menu, and taste great!
In this article, we're going to explore low carb cereals and take a look at some of the best hot and cold cereals that are available. You'll learn what makes low carb cereals different from traditional cereals, and what ingredients to watch out for the next time you scan through the nutrition facts and ingredient labels. First, let's take a look at the basics of low carb cereals.
Low Carb Cereal Basics
Generally speaking, the vast majority of common breakfast cereals are made from some type of grain. Some of the most popular cereals are made from wheat, rice, oats, and corn. These grains all contain carbohydrates and as such, need to be carefully moderated as part of the low carb diet. In many cereals also contain added sugar, either in the form of sweeteners and flavour additives or through fruit-based ingredients. These factors make the cereal aisle a bit of a minefield for low carb dieters, as even the cereals that are stereotypically considered to be healthier options can end up being bad choices for low carb dieters if they contain a high amount of natural sugars.
Ingredient labels should be carefully inspected to be sure that even if a cereal looks healthy on the box, that it will work with a low carb diet. A box that shouts 'High in Fiber' doesn't mean much if it's also loaded with added sugar. Fortunately for low carb dieters, there are many brands of cereal that have low carb products to choose from. Some of these cereals are made from similar ingredients, just without all the sugars or additives, or they can be made from alternative ingredients such as soy.
Another important thing to note is that the cereal itself is not the only concern for low carb dieters. Milk also contains sugar, in the form of lactose, that needs to be monitored, too. 100 grams of 1% milk contains an estimated 5g of lactose, so to help keep the carb counts as low as possible, you would be wise to choose an alternative option such as almond milk.
Whether you enjoy the cool crunch of cold cereal with milk, or the warm comfort that comes with a nice hot cereal, you can rest assured that there are low carb options for all tastes and preferences. Let's take a look at some of the most popular and tasty low carb cereal products that are available to choose from.
Best Low Carb Cold Cereals
Kay's Naturals French Vanilla Cereal
When you choose a cereal for breakfast in the morning, you want one that doesn't just taste great but will also fill you up and give you long-lasting control over hunger. This delicious cereal from Kay's Naturals has a subtle vanilla flavour, a great crunch, and will definitely satisfy your hunger. It's gluten free, low in sugar, and low in carbs. Other flavours include Apple Cinnamon and Honey Almond. Shop all Kay's Naturals cereals here.
Nutritious Living Hi-Lo Maple Pecan Cereal
Now, here is a cereal that our customers can't stop raving about! Hi-Lo cereal from Nutritious Living is designed to be the perfect fit for diets requiring blood sugar control and careful carb management. High in fiber, low in carbs, and big on taste, these cereals have a hearty crunch and are available in a range of flavours. Choose from Original, Maple Pecan, Strawberry, and Vanilla Almond. Shop all Hi-Lo cereals here.
Best Low Carb Hot Cereals
Dixie Diner Carb Counters Peaches N Cream Hot Cereal
When you're looking for a different way to start your day, this delicious warm cereal from Dixie Diner is definitely a great choice. Ready in 5 minutes with hot water, you'll love the sweet taste and the hearty blend of oats and soy that satisfies your appetite and keeps you full all morning. Our customers recommend mixing with a splash of cream or soy milk, or topping with a sprinkle of cinnamon for an added bit of flair. Shop all Dixie Diner cereals here.
LC Foods Toasted Almonds & Coconut Hot Cereal
For a paleo-friendly option that is low carb, gluten free, and very high in fiber, look no further than this tasty hot cereal from LC Foods. This is a great cereal that you can add fruit or nuts to in order to customize the taste and add some more variety to your mornings. There's no sugar added, and it's definitely a solid way to start your morning and give you energy for the rest of your day.
This list is just a start, however. There are dozens more great cereals to check out at The Low Carb Grocery. Check out our full selection of hot and cold low carb cereals here.
Conclusion
If you've been missing out on cereal since you started your low carb diet, there's no need to deny yourself this breakfast option any more. There are plenty of great tasting low carb cereals you can use as part of your weekly meal plan to keep things healthy and satisfying. Cereals are a quick and easy way to have a healthy breakfast when you've got a busy schedule, so it's always handy to have a few options in your kitchen to choose from. From hot cereals that are perfect for a chilly winter morning, to a nice bowl of crunchy cold cereal to start a sunny summer weekend, you're sure to find a cereal to fit your mood, as well as your lifestyle.