Glutenull Bakery – Gluten-Free Foods
Discover Vegan & Gluten-Free Snacks from GluteNull Bakery
GluteNull Bakery has served delicious, artisanal baked goods that meet the needs of vegan, gluten-free and low carb lifestyles for 10 years and counting. Discover why below!
Disclaimer: The information in this article is not intended to replace personalized medical advice. A low carb diet may not be suitable for you. Consult your health care provider before making any changes to your lifestyle or use this information at your own risk.
GluteNull Bakery is a certified gluten-free bakery located in Port Coquitlam, British Columbia. They have been serving Canadians nutritious and delicious treats since 2011 and have been total game changers in the gluten-free, vegan and refined sugar-free market for baked goods. Read this article to learn why we and our customers love GluteNull Bakery product! Plus, stay tuned for a special discount on GluteNull products.
About GluteNull Bakery
GluteNull Bakery was founded in 2011 by Otari Kobalia, who emigrated from his home country of Georgia to Canada in 1996. A mathematician by trade, he started experimenting with other creative avenues of work and soon found his love and passion for baking gluten-free foods. He saw that the market was in need for gluten-free foods that were healthy and natural, but still delicious. He also wanted to incorporate some of his family recipes from back home and share them with his new friends and neighbours. So, after working in the baking industry for more than 10 years, he opened GluteNull Bakery.
Otari has come up with dozens of recipes that are not only gluten-free, but also yeast-free, dairy-free, egg-free, vegan, non-GMO verified, and Organic certified. Under all of these certifications, one might wonder how he still makes great-tasting products! The secret ingredient in every recipe is all-natural ingredients and absolutely no refined sugars, artificial preservatives or flavours. By embracing the naturally delicious flavours of whole foods and avoiding "crutch" ingredients like eggs, dairy and sugar, Otari has mastered his craft while also creating foods that are healthy and wholesome. As a vegetarian since 1980, he has also learned that the Earth is rich with "super foods" that provide us with nutrients and long-lasting energy, and we should embrace these! After developing his palate for wholesome foods, he was able to introduce his customers to the world of natural, nourishing, ethical and delicious baked treats.
Instead of refined sugars, GluteNull Bakery uses low glycemic organic agave syrup and natural sugar-free sweeteners. These provide just enough sweetness and do not spike blood sugar levels as much as regular table sugar. Many GluteNull products are also low enough in carbohydrates to be enjoyed by people on a low carb diet or keto diet! The absence of any processed or refined ingredients also aligns with the all-natural, whole foods approach to the Paleo diet.
Discover GluteNull Bakery foods below and shop our inventory!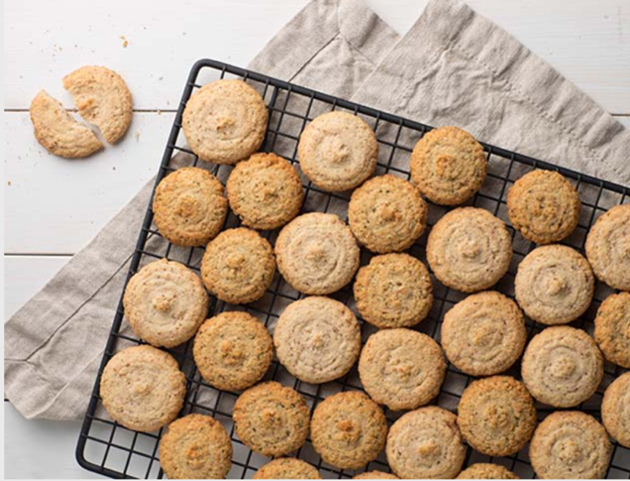 Keto Cookies 
GluteNull Bakery Keto Cookies are formulated with keto dieters in mind! They are available in four delicious flavours:
If you love the taste and nutritious benefits of almonds, you'll love these cookies! Made with almond flour, coconut flour and sweetened with Swerve natural sugar replacement, these cookies are an unaltered homage to the simple goodness of almonds. They contain less than 2g net carbs per cookie and provide 6.5g of healthy fats! Enjoy them on their own or take things up a notch with a smear of almond butter on top!
Hemp seeds are truly one of nature's super foods! Not only are they loaded with omega-3 fatty acids, but they also contain a variety of vitamins and essential nutrients, such as iron, zinc and magnesium. The first ingredient in these Keto Hemp Cookies is hemp, of course! They also contain coconut flour, almonds, walnuts and a hint of fresh lemon. Enjoy these cookies with a warm beverage or on the go for a quick energy boost. They also contain less than 1g net carbs, 2g of protein and just 45 calories per cookie.
The name for these cookies comes from the French word for flax seed, lin, combined with "chocolate" – which describes these delicious bites perfectly! Made with a high fibre blend of coconut flour and ground flaxseed and drizzled with sugar-free chocolate, these cookies are little pieces of heaven! They also have a nice crunch from almonds and walnuts, which provide additional healthy fats.
These cookies are great when you are in the mood for something a little sweet and indulgent but want to enjoy something that is guilt-free! With just 1.5g net carbs and 40 calories per cookie, have one or have a few! These go perfectly with a warm cup of tea or coffee.
These light and lemony cookies have a perfect amount of sweetness! They are just a little bit indulgent, but still provide lots of nutritious benefits. Made from coconut flour, coconut oil, almonds, walnuts and fresh lemon, they are simple and delicious. Plus, with just over 1g net carbs per cookie, they can be enjoyed any time of day you want a sweet treat!
GluteNull Bakery also recently released Chocolate Chip Cookies with Diced Almonds, which are low in carbs (6g net carbs per cookie) but may not fit into a rigorous ketogenic diet. Once again, they are made with all-natural ingredients that are high fibre and rich in healthy fats, vitamins and minerals. Enjoy a unique spin on the classic chocolate chip cookie, featuring almonds, dark chocolate chips and coconut nectar. These are an ideal after school snack for kids, too! Each cookie contains 6g of healthy fats, 1g of fibre and 2g of protein with just 4g of sugar from natural sources.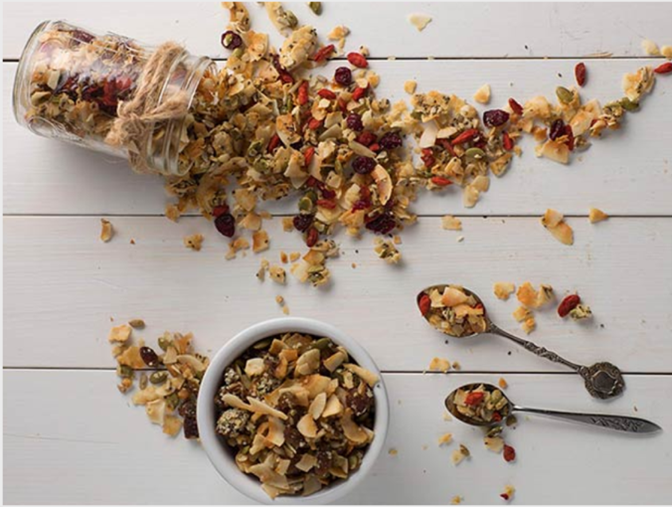 Granola is a great way to start the morning or have as a snack on the go. However, most granolas are made from an oat or grain base, making them difficult for low carb or gluten-free dieters. GluteNull has come up with a recipe for keto-friendly granola that checks all the boxes on our low carb checklist! Check it out below. 
This grain-free, gluten-free, low carb granola from GluteNull Bakery is nothing but satisfying! With chunks of real dried unsweetened cherries and a hint of vanilla, this cereal is absolutely delicious. It also contains diced almonds, pumpkin seeds, sunflower seeds and ground flax seeds for extra nutrients, healthy fats and fibre. With just 5g net carbs per handful (roughly), this granola also provides 6g of healthy fats and 4g of protein to help keep you full and fueled.
You can also get creative with this blend of nuts, seeds and dried fruits by incorporating it into your own homemade baked goods! Try making protein cookies, low carb breads or cakes, or dark chocolate bark with this granola. Or, simply enjoy it with a plant-based milk or yogurt.
Get Your Glutenull Products Today!
We hope that you enjoyed learning about GluteNull Bakery and feel encouraged to try their products if you haven't already! As a special thank you to our readers, we would like to offer an exclusive discount on GluteNull products.
Also, if you have some fun or quirky ways you like to use GluteNull products, or just want to chat more about low-carb and sugar-free products, head over to our Facebook and Instagram pages to join the discussion. We'd also love to hear about your experiences with us through a Google Review.
And don't forget to subscribe to our email newsletter for weekly sales and top keto news!