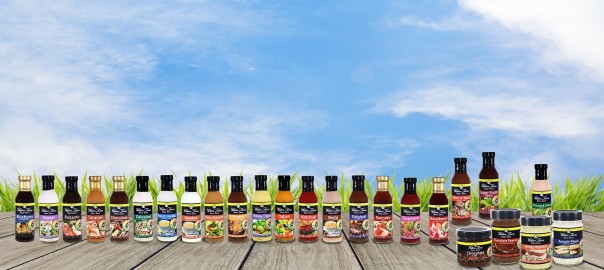 Introduction to Walden Farms Low Carb Products
Introduction to Walden Farms Low Carb Products
Walden Farms is one of North America's most popular and innovative health food manufacturers, and with good reason. Walden Farms products are top quality and made with only the finest ingredients, to achieve a wide variety of healthy foods perfectly suited to diets requiring controlled amounts of carbs, sugars, fats, gluten, or calories.
History of Walden Farms
Founded in 1972, Walden Farms was one of the first companies to develop salad dressings that had reduced calories and reduced fat in an effort to improve the health and well-being of their customers, without making sacrifices to taste or flavour.
As the success of Walden Farms grew, their product line expanded to include a broader range of categories for an increasingly diverse customer base. Products were introduced that were designed to help customers control their intake of carbohydrates, sugar, and gluten in addition to fat and calories.
Popular Walden Farms Product Categories
Dressings
Delicious salad dressings are the secret to Walden Farms' success story. Since day 1, Walden Farms dressings have been praised for their great taste and texture, and are available in all the classic varieties, as well as some special creations that are exclusive to Walden Farms. Some of the most popular dressings available are the classic Italian with Sun Dried Tomato, the sweet Honey Balsamic Vinaigrette, and the zesty Thousand Island. Browse our entire selection of Walden Farms dressings here for even more delicious options.
Spreads, Jams, and Jellies
If you've been looking for a peanut butter alternative or something new and different to spread on your morning toast, you've got to check out Walden Farms spreads, jams, and jellies. Our customers agree that these products are simply delicious, and the huge selection of flavours mean that there's bound to be something for everyone. Some of the most popular spreads from Walden Farms are their delicious Apple Butter Spread, Cinnamon Raisin Peanut Spread, and their Strawberry Fruit Spread. Browse the full range of Walden Farms spread products.
Dips
Traditional dips that you'd find at your regular supermarket are loaded with calories, carbs, sugars, and fats. Walden Farms dips, however, are healthy options that are loaded with only one thing; taste. From big bold flavours like blue cheese, to sweeter varieties like chocolate and caramel, Walden Farms dips are a tasty way to enjoy your chips or veggies with a bit of extra flavour and zest. We recommend the Bacon Dip and the French Onion Dip. Our customers just love them! Browse our entire selection of Walden Farms dips.
Sauces & Condiments
Walden Farms products also include a wide range of sauces and condiments for all kinds of cuisine and food types. If you're mixing up some pancakes or making waffles this weekend, you'll want to make sure you have a bottle of Walden Farms Sugar Free Pancake Syrup on hand to top them off. And your next turkey sandwich won't be complete without the creamy taste of Walden Farms Honey Mustard Mayo. Lastly, make your next shrimp cocktail even better with the tangy taste of Walden Farms Seafood Sauce. There's plenty of other sauces and condiments to choose from, including pasta sauces, dessert toppings, barbecue sauce, and more.
Even More from Walden Farms
There's always something new to discover from Walden Farms. We're sure that once you start exploring the huge selection of Walden Farms products at The Low Carb Grocery, you'll be inspired to try some of these new tastes with your salads, desserts, sandwiches, breakfasts, and dinners. With Walden Farms, you can be sure you're getting the best quality low carb products with a taste that's tough to beat.
Shop the entire selection of Walden Farms products here at The Low Carb Grocery.