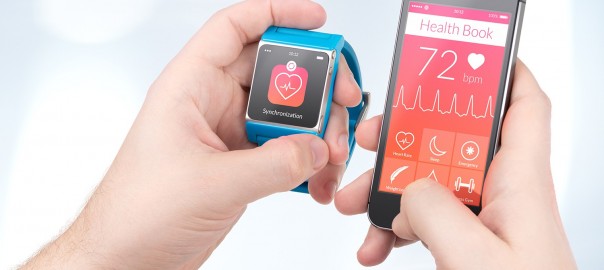 Cool Tech and Essential Apps for the Low Carb Lifestyle
Helpful Tech for the Low Carb Lifestyle
Adopting the low carb lifestyle requires you to learn some new techniques for tracking and measuring the foods you eat, and incorporating more exercise in to a routine that's probably already very busy can be a daunting task. Fortunately, these tasks can be made much easier with a little help from some modern technology.
There are dozens of apps available for smartphones that are geared towards healthy living, including meal planners, recipe guides, fitness trackers, and more. Sorting through this mountain of apps to find the really good ones can take time, so we've decided to help you out with some top recommendations you should download to your smartphone today.
We've also gathered a couple of examples of some cool tech gadgets that can really help you with your healthy living efforts. If you're ready to start, let's dive in with a selection of great smartphone apps!
Apps
This app was created specifically for people on the low carb diet, and includes a ton of utility to enhance the low carb lifestyle. In addition to a beautifully simple carb counter, this app also features helpful resources and educational information so you can stay informed and up to date. It has a massive recipe archive which you can search and sort by ingredients or your personal preferences, and has really handy meal planning and shopping list tools so you can save time and make sure you never miss a product ever again.
Carb Manager also includes in-depth reporting and analysis of your progress, and helps make sure that you know precisely how your food choices add up, and the impact that you are having towards your goals. It's been proven that people to diligently track their food intake achieve better results, and this app makes it easy to do just that.
Virtuagym Calorie, Carb & Fat Counter
This app from Virtuagym is available for iOS and Android devices, and includes a huge database of foods that is validated by professional nutritionists. Using this app, you can save custom configurations for meals you eat regularly, add in your own foods, get regular reports that are easy to read and understand, plan your own nutrition goals, and track your progress.
This app also comes pre-loaded with a variety of diet plans, including high protein and low carb, as well as fitness-specific versions like cardio or muscle building. Virtuagym's Calorie, Carb & Fat Counter apps is one of the top-rated apps in the health category. If you're looking for a simple and effective carb counting tool, this app is a great choice.
This app from Under Armour includes a complete set of tools for tracking food intake, weight changes, exercise progress, and even water consumption. This app has dozens of features in it, such as the ability to select from dozens of exercise types, set and monitor goals, engage with other users in the community section, and more. MyFitnessPal is very easy to use, and it acts as a complete food and fitness journal that you can use to track your progress right from the start.
Download it today on your iOS or Android smartphone and start logging your food intake and daily activity. You may be surprised at just how fast everything adds up, and it will become quite clear whether you're lagging behind, or are staying on track with your healthy living goals.
MyFitnessPal also has a great blog that is updated regularly, and contains a ton of awesome tips and information to help keep you motivated. Check out their Fitness blog for great tips for your next workout, and to explore new exercise routines that you may want to incorporate into your fitness regime.
In addition to the utility provided by these apps, you can also enhance your healthy living activities with high-tech gadgets. Here are a few of the most popular ones you should consider.
Tech Devices
These awesome little gadgets from FitBit are incredibly popular, and with good reason. Available in several different styles and colours, FitBit activity trackers are just as much of a fashion accessory as they are a healthy living tool. These little devices are packed with sensors that monitor your every movement, keeping a precise tally of just how much activity you are getting every day. They transmit the data wirelessly directly to your smartphone, and you can see it all from the FitBit app.
FitBit trackers are available in many different styles, including tiny clip-on trackers, wristbands, and some even double as wristwatches. Once you start keeping track of your movement using an activity tracker, you start to think of new ways to beat your high score. This can be great encouragement for you to get out more and explore new types of exercises and activities.
Once you start using tech like your smartphone and activity trackers like the FitBit, you'll really have some eye-opening moments on how your fitness routine and food intake really stack up day after day. As WorkingMother.com blogger Ellenore Angelidis wrote in this great blog post about her FitBit experience, you learn a lot about yourself and how your lifestyle needs to change to achieve your goals.
iHealthSmart Wireless Blood Sugar Monitor
Low carb diets are often recommended for people who suffer from diabetes, as the diet affects the level of glucose in the blood. This clever device from iHealthSmart makes monitoring blood sugar levels easy, and provides a simple way to track your blood sugar data, set reminders, and can even generate reports that you can digitally send to your healthcare providers and family members. Its compact design makes it easy to keep in your pocket or purse, and allows you to test anywhere, any time.
Conclusion
The key to success on any diet is consistency and dedication, both of which are made much easier with the right tools. By equipping yourself with the right apps and tech, you can help make sure that your low carb diet not only stays on track, but also accelerates your results and helps you achieve your goals.
We hope that you've found this article helpful, and that you enjoy exploring the benefits that these apps and devices can deliver!