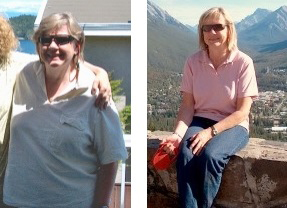 Between a demanding job, and raising two boys as a single parent, I found myself at 255 pounds and feeling awful about the way I looked, but more importantly, the way I felt. The physical restrictions my weight placed on my life, affected me mentally as well.
When I stopped finding decent clothes that fit, I had low self esteem and didn't want to go out with friends. When my weight affected my energy levels, I found I could no longer do the things I loved, like hiking. I felt unworthy, depressed, and most of all unhealthy. I wanted my social life back, I wanted to live an active lifestyle and I was shocked realizing how much my weight was taking away from my life.
When I first heard about low-carb dieting, I knew I could do it. Every low carb dieter knows there's more to it than just restricting carbs, it's about eating the right carbs. The low carb dieting "fad" soon washed away because the diet was targeted as being unhealthy. Soon everyone was telling me what a mistake I was making being on it. The problem was that too few people really understood what it was all about, or they simply weren't willing to make the long term commitment on it to see real change. With all the negativity I received I decided to stop talking about it, and keep on doing it because I knew I wasn't looking for a quick fix, but a complete change in my eating habits.
Healthy fats are necessary, and more often than not sugar is the real culprit behind excess weight. People believed, and still believe, that low carb eating means eating lots of fat and red meat, but it isn't true. Unfortunately, as the low carb fad was coming to an end, so was my supply of low carb food. Stores stopped carrying low carb muffins, breads, and bars. That's why I'm so happy I found the Low Carb Grocery! I found them online because of the lack of products in other supermarkets. I found the website so easy to navigate and the products were delivered fresh and in a timely manner. I am so grateful I found this website so that I could continue low carb eating. I love the cinnamon raisin bread toasted with chocolate hazelnut spread – it's almost like eating a chocolate covered doughnut!
I lost the weight, slowly but steadily over 2 years, in a way that felt right for me. 90 pounds lost and 15 years later – I'm proud of where I've gotten, and how long I've been here. My own doctor told me I have the cholesterol readings of a 19 year old! My blood pressure is lower, I'm no longer borderline diabetic, and most importantly I feel healthy. Looking back I wish I had started sooner, I knew what I was eating was wrong for me, and I gained nothing but weight from it.
I think commitment is the most vital aspect of any journey. It's very important to say "I am doing this" and not "I will give it a try". Just that change in attitude can make a huge difference. Don't be discouraged by what others say, in the end you know what's best for you. Don't be afraid to ask yourself questions. Read, watch, and educate yourself because the answers are out there. The more you research the more you'll know!
-Gillian H.