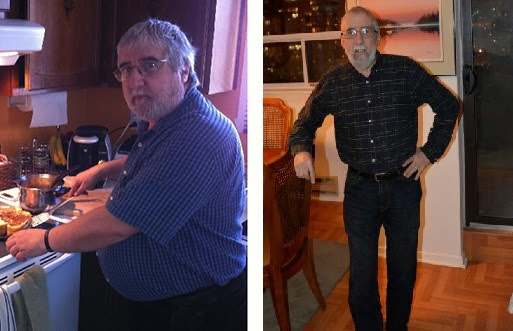 The day I decided to lose weight was the day I learned I had Type 2 diabetes. I had done a blood test as part of a government of Ontario study, and my glucose levels were extremely high. After seeing my doctor and a few more tests her conclusion was simple; "Yep, you've got diabetes".
At my highest I was around 220 pounds, but it didn't feel that high. I was always outgoing and never felt self-conscious. I accepted that my body type was "bulky", and didn't notice anything wrong with the way I looked, felt, or ate. It wasn't until my diagnoses that I realized just what bad shape I had put myself into. I hated knowing I had diabetes and knowing I would have to take more medication than I already did. I also have Multiple Sclerosis, and while there was nothing I could do about the MS, there was something I could do about the diabetes.
The beginning was a very exciting stage. I was like a sponge and soaked up all the information I could find on diabetes. I saw results right away, 8 pounds in just my first week. I kept myself motivated by keeping a daily chart of what I ate, and my weight loss progress. Seeing things written down in front of me helped me to stay organized, and track my success.
As in all things, we are our own worst enemy but I fought hard to prevent myself from slipping back into old ways. Breaking plateaus seem to always be a battle of mind. At 165 pounds it seemed as though my body would not let go of any more weight. For 3 months I was stuck. By the end, that little voice in the back of my head telling me it was obvious this was the end of the road kept getting louder and louder. I persisted, and made it through. The promise I made myself at the beginning of my journey was an important one, and one I was intent on keeping. Though I can be lazy and unmotivated, I am also incredibly stubborn and I didn't let the plateau challenge get the better of me.
My stubbornness paid off. Towards the end of my journey I found The Low Carb Grocery and it felt like a gleaming light at the end of a dark tunnel. I could treat myself to chocolate and ice cream again, without feeling guilty! After 7 months of no bread, the Low Carb Grocery brought it back, and pasta too! When I can, I treat myself to a great meal using sausage meat, Walden Farm's tomato and basil sauce, and Carba Nada pasta.
It has now been 9 months since I started this journey, and I am now 150 pounds. At first, my goal was 140 lbs but I have taken a good look at myself in the mirror and I believe I am now thin enough – what do you think? My success includes being able to stop taking Metformin twice a day for my diabetes. Even without the medication, I managed to keep my blood glucose average at 4.7 everyday just by keeping my carbs under control. Excess carbs lead to health problems, plain and simple. I'm proof low carb dieting works!
-Nicol S.
Read More Stories
[slideshow_deploy id='487′]