Betty
Low Carb Bread
Betty light Bread has been a long-time favourite among our customers! It is proudly made in Canada in Saint-Jérôme, Québec and suitable for low carb diets. Each slice contains just 45 calories and 5.5g of net carbs. It is also a good source of fibre and protein, which helps keep you regular and satiated for longer.
Betty Light Bread is made with specially formulated whole wheat flour, unlike other low carb breads made from soy or other alternative flours. This makes it taste just like the traditional wheat bread you love, but allows you to enjoy it while following a carb-restricted diet! It also contains other healthful ingredients such as pea hull fibre and wheat gluten (a source of protein). The result is a light and fluffy bread that is great for building low carb sandwiches, or making toast, croutons and breadcrumbs!
Betty breads are made at Auger Boulangerie, located in Saint-Jérôme, Québec. This bakery was founded in 1949 by Adrien Auger, when conventional sliced bread was the norm. Mr. Auger and his partners decided to take a strategic approach to make their products more innovative and surpass the expectations of customers by using a more natural "non-flour" from wheat grown in Quebec, which none of their competitors were doing. With Betty bread, they offered the same light texture of conventional sliced bread, but their product was superior in taste, health, and environmental impact and supported the local economy. Sustainable development and food sovereignty has always been at the core of Mr. Auger's philosophy. By adopting this philosophy, Betty breads are healthier for customers and support the local community – and at Auger Boulangerie, they are very proud of these accomplishments!
Try Betty Light Bread for yourself and see why so many of our customers love this product!
Featured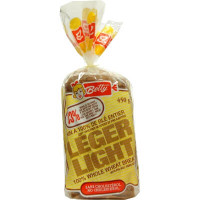 Add to Favourites
Betty
$4.49
Freeze Upon Receipt
1 in Cart
Featured
Betty
$4.49
Freeze Upon Receipt
$4.49
1 in Cart


$4.49

Load More...