Carb0licious
Low Carb Melba Toast Crackers
Carb-0-licious offers a line of low carb and diabetic-friendly Melba Toast crackers. These crunchy low carb snack chips are perfect for dipping, topping or even crumbling over salads! They are also a perfect addition to charcuterie boards and cheese platters. Shaped like thin slices of baguette bread and baked to a crisp, they are as versatile as they are delicious!
Carb-0-licious Melba Toasts are made with wholesome ingredients including flaxseed meal, almond meal, vital wheat gluten (a rich source of protein) and whole eggs. Per 4 slices of Carb-0-licious Melba Toasts, you get 7g of protein, 2g of fibre and just 1g of net carbs! They are also low in calories, with each serving size containing only 70 calories. Plus, they contain 3.5g of healthy fats, making them a great choice for those following low carb high fat (LCHF) and ketogenic diets. Healthy fats are an important part of any diet, especially when obtained from whole food and plant sources. Try Carb-0-licious Melba Toasts in two classic flavours, including
Plain
and
Onion & Garlic
. Plus, shop our inventory of
low carb dips and spreads
to pair with these tasty toasts!
Carb-0-licious started as a small, family-owned bakery located in Brooklyn, New York. One day, an old friend walked into the bakery unrecognized at first because he had lost over 50 pounds! When he explained that he had achieved such significant weight loss by following a low carb diet, the owners of the bakery took note of such an idea. They were inspired by his success and enthusiasm, so they looked for ways to incorporate low carb principles into their bakery menu. They worked to adapt their classic, well-loved recipes into a range of diet-friendly options for customers on carb-restricted diets. Today, all of their products are low in carbohydrates and diabetic-friendly. Their baked goods are made from scratch; everything they prepare is hands-on! They mix their own dough, watch it rise, and bake their products oven fresh and ready to order.
Starting from humble beginnings, Carb-0-licious has grown to be one of our customers' favourite brands of low carb snacks. Their Melba Toasts have received 5-star reviews from low carb dieters, although they can be enjoyed by anyone. Take home a bag of Carb-0-licious Melba Toasts for any salty, crunchy, and/or crispy cravings!
Featured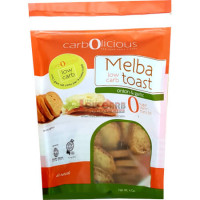 Add to Favourites
Carbolicious
$11.39
1 in Cart
Featured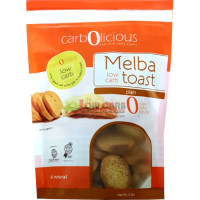 Add to Favourites
Carbolicious
$11.39
1 in Cart
Featured
$11.39
1 in Cart


$11.39

Featured
$11.39
1 in Cart


$11.39

Load More...