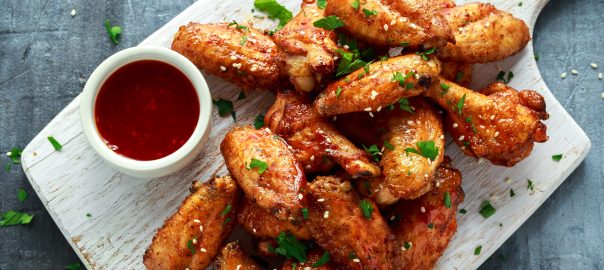 Hot & Spicy Low Carb
Spicy Low Carb Meals, Hot Sauces & Seasonings
Canadian winters are long and frosty, but having the right meal on your table can make the cold feel like it's a million miles away. Blending rich and bold flavours with the smoldering heat of different kinds of chili peppers, hot sauces, and spicy seasonings can make any cold winter day melt away into an invigorating taste experience. Here, we share our favourite hot and spicy low carb products & a collection of recipes that will heat you up!
Ask anyone how hot and spicy they like their food, and you'll undoubtedly get a wide range of reactions. Some people stick to the mild end of the spectrum, some like to play around with medium spice levels, and others fearlessly charge ahead to the scorching heat at the top of the Scoville scale. Whatever your spice preference, there's always something new to discover in the world of spices, sauces, and spicy food recipes.
Hot foods and spicy recipes are a great fit for the low carb lifestyle, as many of them are often already low in carbs and require little or no alterations to make them low carb and keto friendly. Hot sauces and spicy seasonings are also usually low in carbs and sugars, making it super easy to heat up your favourite foods and take the flavour to a whole new level. In fact, some of the best spicy food products available are from very popular low carb health food brands!
Before we get all fired up with some exciting hot and spicy low carb recipes, let's take a quick look at some of the hottest sauces and sizzling seasonings that are turning up temperatures in our customers' kitchens across Canada.
Deliciously Fiery Low Carb Hot Sauces
Sinai Gourmet Habanero Hot Pepper Coulis
Habanero peppers are no joke. They pack a real fiery punch that is perfect for a wide range of recipes, and features heavily in cuisine from the Caribbean, Mexico and many other countries around the world. This particular sauce is made right here in Canada, and Sinai Gourmet has created something very special in their blend of habanero peppers, fresh herbs, lime juice, and garlic. A little of this sauce goes a long way, and the flavour is just amazing. Try it on burgers, sandwiches, chicken wings, or really anything else you want to add some serious heat to!
Jok'N'Al Low Calorie Chili Pepper Sauce
This Asian-inspired sauce has a million uses and a perfect balance of heat and sweetness that will have you using it again and again. Jok'N'Al Low Calorie Chili Pepper Sauce is big on flavour and super low in carbs, making it the ideal accent to a wide variety of foods. Try drizzling this sauce over a slice of grilled chicken pizza, use it as a stir fry sauce to add some heat to your veggies, or coat your wings in it for an amazing taste experience. It's also fantastic as a dipping sauce for low carb coconut shrimp!
Crazy Mooskies Crazy Hot BBQ Sauce
For lovers of great barbecue who want to dial the heat up, Crazy Mooskies has just the thing. Their Crazy Hot BBQ Sauce is loaded with bold BBQ flavour, the right amount of sweetness, and smoking hot scotch bonnet peppers. It's sugar-free, low calorie, low sodium, and great for the low carb lifestyle and keto diet. Your BBQ chicken, ribs, and pork dinners will never be the same. Try some on your low carb hamburger along with a slice of smoked cheese and some crispy onions for a tasty roadhouse-style burger that will make you sweat!
Spicy Low Carb Seasonings to Crank Up the Heat
Cajun cooking is renowned for having a wonderful balance of hearty flavour, rich aromatics, and spicy heat. The spice lords over at Hot Mama's have brought the authentic taste of real Cajun seasonings to you in their no-salt Cajun spice rub. This seasoning blend is amazing on everything, from steaks and chicken on the grill, to roasts in the oven, and even soups and stews. The medium heat of cayenne peppers is definitely there, but not so intense as to overpower the other flavours of brown sugar, allspice, garlic, and more. It's delicious stuff!
The Garlic Box Garlic & Horseradish Seasoning
Ok, we know that this product says it's meant for potatoes (which aren't exactly low carb), but what we've discovered is that it this seasoning works amazingly well on all kinds of low carb mashed vegetables like cauliflower, turnips, spaghetti squash, and rutabaga. It's definitely horseradish-forward, so if you love the unusual heat profile that horseradish brings to the table, you'll absolutely adore this seasoning. Plus, the infusion of roasted garlic really elevates the overall taste experience of your side dishes.
With a name like 'Fire in the Kitchen', you better believe that this brand knows a thing or two about spice! In their one-of-a-kind Fire Rub seasoning blend, they use the smoky hot flavour of chipotle peppers to add an enticing aromatic accent. This rub is so versatile, you can use it on chicken, pork, beef, and virtually any other kind of meat you can think of. Whether you're grilling, roasting, frying, or smoking your meats, Fire Rub is going to become your go-to meat seasoning for all types of spicy recipes.
With all these incredible products to experiment with, we bet you're keen to get started on preparing a nice hot and spicy meal to help beat back the winter blahs. Here's a quick selection of recipes that are sure to deliver exactly what you're looking for!
Hot & Spicy Low Carb Recipes to Melt Away Cold Winter Days
Let's start out with a recipe that won't totally set your mouth on fire, but rather warms your soul from the inside with a gentle and flavourful heat. Poblano peppers are the perfect entry into the world of spicy foods, since they've got a flavour profile that compliments rich and creamy sauces while keeping the overall heat level very mild. This is a simple recipe for roasted poblano pepper strips simmered in a rich cheese and onion sauce. Try it as a taco topping, or serve up as a healthy winter appetizer to be scooped on to small low carb soft tortillas.
Chili is one of those wintertime favourites that fills the house with aromas that get everyone hungry while it simmers in the slow cooker. Making low carb chili is easy, and usually means you just need to skip the beans, but that also means you can sub in more of your preferred vegetables like red or orange peppers. Chili is also a great meal for people who love to experiment with different levels of heat, as you can change out the type of pepper used to create entirely new taste experiences. Want something milder? Dial back the amount of cayenne or go with a gentler chili pepper variety. Feeling brave and want to crank the heat up? Habaneros will certainly do the job, or you can just add some hot sauce to your bowl to meet your own heat preference.
Low Carb Spicy Pork and Rice with Cheese
Turning our attention to this pork recipe, we just know that it's going to be in big demand for the entire family. In less than 25 minutes, this hearty stick-to-your-ribs comfort food will be on your table and warming everyone up at the end of a long cold day. It's a delicious and nutritious meal, rich in protein and vitamins, and booming with flavour. You can easily tweak the amount of cayenne pepper up or down to find the right heat level for your preferences, making this recipe perfect for kids who might prefer a milder level of warmth.
Sticky Garlic Fire Low Carb Chicken
Is this the best recipe for spicy chicken ever? It just might be! Start by marinating the chicken in the fridge overnight in a rich low carb mixture of brown sugar substitute, Worcestershire sauce, plenty of garlic, Asian-style ground chili paste, and a handful of other spices. Pan fry the chicken, deglaze the pan with the leftover marinade to create a thick and sticky sauce, and then simmer the chicken to finish. You will not believe just how good a recipe this simple can taste! Trust us when we say this one is sure to become one of your all-time favourite spicy low carb meals.
Get Cooking & Enjoy the Fire of These Hot & Spicy Low Carb Sauces, Seasonings, and Recipes
Is it getting hot in here, or is it just us? After all this talk of spicy sauces, delicious chicken, savoury chili, and bold seasonings, our stomachs are starting to rumble and we're craving something really hot. Flip your weekly meal plan around with some exciting new spicy low carb flavours and kick your winter chill to the curb!
Shop our entire range of low carb sauces, seasonings, and condiments here at The Low Carb Grocery.