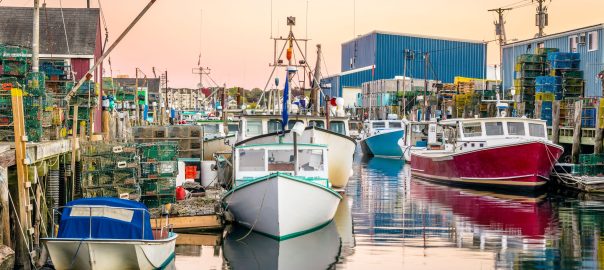 Cooking Shellfish
Low Carb & Keto Recipes for Lobster, Crab & Shellfish
If you have been feeling like your usual low carb beef, chicken, and pork recipes are getting a bit boring lately, perhaps it's time to crack into some healthy low carb meals featuring a variety of fresh and delicious shellfish! Cooking with seafood like lobster, crab, shrimp, and clams can be a little intimidating, but it's a lot easier than you might think. Here are some helpful cooking tips for shellfish, along with a collection of amazing recipe ideas.
It's true when they say that variety is the spice of life, so why limit yourself to the same three proteins week after week after week? Sure, there's a lot of creative meals you can make with some chicken breast or pound of ground beef, but having other meats to select from can help keep things exciting and different when dinner time rolls around. We're big fans of shellfish and are always impressed at the amazing variety of recipes that can be made using the most popular seafood ingredients. Let's take a quick look at the top shellfish types that Canadians love to cook with.
What Are the Most Popular Kinds of Shellfish?
Lobster
When most people hear the word shellfish, the first thing they think of is usually a big red lobster. Lobster has a reputation of being a super-fancy food, and along with that there comes the myth that it's always really expensive. Sure, fresh lobsters that you see hanging out in the fish market tanks are going to be a little pricey, however that's not the whole story. In reality, lobster meat is a lot more affordable than most people think. Lobster claw meat and lobster tails are easily found in freezer sections, and prices are often quite reasonable.
Crab
With a soft texture and delicate sweetness, crab meat is extremely popular in a variety of different cuisines around the world. There are many different types of crab, such as king crab, Dungeness crab, soft shell crab, and snow crab. Crab is often served as crab legs, which must be cracked open and the meat pulled out at the table. Crab meat is also used to make a diverse array of dishes such as seafood salad and crab cakes, and is popular in making multiple types of sushi.
Shrimp
Perhaps the most popular type of seafood due to its combination of affordability, versatility, and great taste, shrimp are a favourite food for people of all ages. Kids love tasty little popcorn shrimp bites, while adults crave shrimp in all kinds of dishes, from shrimp with cocktail sauce to decadent pasta, and everything in between. Shrimp come in a wide range of sizes, from very small shrimp less than an inch across, to colossal shrimp and prawns that are as big as your hand!
Mussels, Clams & Scallops
Many people wonder what the difference is between shellfish like mussels, clams, and scallops. While similar in appearance, their taste profile and cooking methods are very different. Scallops are popular because they are the most 'fish-like' in taste and texture. Scallops are often prepared seared or grilled, and are very popular when prepared with bacon. Clams are delicious when fried, grilled, or breaded, and are commonly used to prepare hearty soups and chowders. Mussels are very absorbent, and will become infused with sauces and marinades quite easily. Mussels are generally prepared by boiling or steaming them, and are often eaten on their own in a rich broth, or used in many types of pasta dishes.
What Makes Shellfish a Good Fit for the Low Carb Lifestyle?
Shellfish like lobster, crab, shrimp, and the others we talked about are a great addition to any low carb meal plan. In addition to being very high in protein, shellfish are also rich in essential nutrients, vitamins and minerals. Shellfish are also an excellent source of omega-3 fats, which are important for maintaining a healthy body with many benefits including inflammation control and hormone regulation.
Aside from the health benefits of shellfish meat itself, it is also worth noting that many types of shellfish need very little in terms of seasoning or garnish. They taste great just on their own! For example, all you need to enjoy freshly cooked lobster is some melted butter and fresh squeezed lemon, and shrimp are absolutely delicious when sautéed with a little garlic and some zesty spices. These types of fresh and light seafood dishes are low in carbs and very flavourful.
Essential Cooking Tips for Preparing Shellfish
Cooking shellfish requires a little different technique than what's needed for other types of protein like beef and chicken. The most important thing to keep in mind is whether you are going to be cooking with fresh shellfish, or frozen. By definition, 'fresh' shellfish like oysters, clams and mussels will still be alive and will need to be stored very carefully before cooking. This means not sealing them away in airtight containers or plastic bags, as this will cause them to suffocate. To be sure how to properly store the shellfish you buy, it's easiest to check with the staff at the market you buy them at to get the best advice.
Speaking of the best advice, you'd be hard pressed to find anyone who knows how to buy great shellfish better than the incomparable chef Gordon Ramsay. In this video, he walks you through how to buy a variety of shellfish for optimum freshness and great taste.
In terms of cooking shellfish, one of the most common mistakes people make is overcooking. Shrimp, scallops, clams and mussels cook very quickly, and are easy to overcook if you're not paying very close attention. Of course, shellfish are not something you want to undercook either, so it's a fine line you have to walk to get the best results. For example, average-sized shrimp take just about 2 minutes per side to sauté in a hot pan. Medium-size scallops can sear on a grill in about the same amount of time. Steaming mussels is usually done in about 5 minutes. In general, you're going to want to follow the cooking times listed on the recipe you're using to the letter in order to get great tasting shellfish.
Now, let's talk about lobster. Simply due to the size of a lobster tail, it's going to take a little longer than a shrimp or scallop. A good ballpark for cooking times is 1-2 minutes for each ounce. This means a 5 ounce lobster tail can take between 6-10 minutes to cook. Any longer than that, and it'll get tough very quickly. If you're going to cook a whole fresh lobster, there's no better how-to guide than this helpful video produced by the University of Maine. As you may suspect, they know a thing or two about lobster in Maine, so you can definitely trust the info here!
Now, with those tips in your back pocket, it's time to get to the list of incredible shellfish recipes that will have you eager to head to your local fish market and make plans for a fantastic fresh low carb meal.
Fresh, Flavourful and Healthy Low Carb Shellfish Recipes
We love comfort food recipes that flip the script and use different kinds of ingredients, and this is definitely one of those! Full of rich, hearty flavours, this is one casserole that really makes great use of lobster to create a meal that the entire family will be on board with.
Crab cakes are a classic seafood recipe that we all love, but the breadcrumbs often used in most recipes need to be swapped out with alternatives in order to bring the carb counts down. This recipe uses almond flour in place of regular bread crumbs to bring the crispiness that you want in a crab cake.
There's just something about the flavour combination of garlic and shrimp that you can't deny is pretty special. This aromatic recipe brings together shrimp, garlic, fresh spinach, and vibrant seasonings to create a captivating seafood taste experience that will have you craving it again and again.
Seared sea scallops are a favourite of ours. When paired in this recipe with creamed spinach and the flavours of nutmeg, garlic, dry sherry, parmesan, and onion, the taste of fresh scallops is exceptional. This particular recipe is easy to make, but looks and tastes like it was prepared by a world-famous chef at a trendy bistro.
New England is famous for lobster, and perhaps even more famous for creating the iconic lobster roll sandwich. Blending perfectly-cooked lobster meat with a creamy sauce made from lemon juice, avocado mayonnaise, butter, and cracked black pepper, the filling is then scooped onto romaine leaves to give this version a low carb spin.
Light and fresh is the best way to describe this healthy crab salad. Flaky fresh crab meat is combined with avocado oil mayo, chopped celery, and a simple seasoning blend that is the perfect side dish or appetizer that's high in protein and tastes delightful.
This recipe for fried shrimp is as easy to make as it is incredibly delicious. In just 15 minutes, you'll have a pile of super-crispy fried shrimp that are perfect for dipping in a zesty cocktail sauce. The breading can be made using a variety of low carb alternatives like almond flour, coconut flour, crushed pork rinds, or whey protein.
This seafood version of traditional coconut curry stew is full of bold flavours and rich aromatics that will fill your home with warmth. The presentation of this stew is nothing short of stunning, with the open mussels welcoming you to experience a taste sensation like no other. It's just so good!
Add More Shellfish to Your Low Carb Lifestyle & Experience a New World of Flavours!
Shake up your weekly meal plans with some of these ocean-inspired recipes and try something new this week. Once you start experimenting with a greater variety of seafood types and recipe styles, you'll be amazed at the diverse array of taste experiences you'll discover. There's a big wide world of shellfish creations to discover, and hopefully this list encourages you to get your feet wet and try something new. Enjoy!