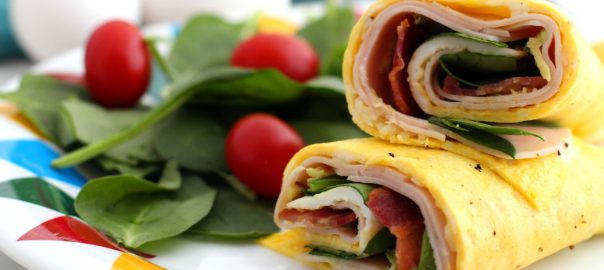 Low Carbohydrate Wraps
Simple, Delicious, and Nutritious Low Carb Wraps To Kick Up Your Lunch Game
Want something new and fresh to have for lunch today? We've got just the thing! Wraps are fast and easy to make, and the flavour combinations are endless. We've compiled a list of our most popular low carb wraps, and crafted some unique and original low carb recipes you can use to wrap up a great lunch time and time again.
When it comes to making a great tasting lunch, you really can't go wrong with a wrap. There are few foods out there that can match the incredibly diverse utility of a soft tortilla shell, and fortunately for low carbers there are plenty of amazing options available in the world of healthy low carb wraps and tortillas. In fact, we've gathered up all our favourite low carb tortilla and wrap brands to show you just how much variety there really is. These healthy and delicious wraps check off all the right criteria in what you want in a tortilla, and then some.
What Makes A Great Low Carb Lunch Wrap?
The best wraps have a certain set of characteristics that make them so tasty and easy to work with. For starters, you want your low carb tortilla to be nice and soft, with nice flexibility and a little bit of a stretch to it so that it won't rip when you are preparing a meal with them. They're not too thick so that they dominate the texture experience of the food, but not so thin that they rip or allow sauces to rapidly soak through. They've got a great flavour that is immediately detectable, but subtle enough that it won't dominate the taste of all the other ingredients. And of course, they're low enough in carbs that you can easily work them into any low carb meal plan without needing to recalculate every carb count.
Here are the most popular low carb wraps and soft tortillas available here at The Low Carb Grocery that fit every one of those criteria, and can be used to create each of the delectable lunch wrap recipes that we've compiled for you below.
The Best Low Carb Wraps and Soft Tortillas
Mama Lupe's Low Carb Tortillas – Without a doubt, these are one of the most popular products we carry, and with good reason. Mama Lupe has nailed the perfect low carb tortilla, and with over 100+ rave reviews from our customers, we're not just saying that. They're soft and delicious with just 3 net carbs per tortilla, and are so versatile that you can use them to create incredible lunch wraps, low carb burritos, thin crust pizzas, and you can even slice them up and bake or fry them to make homemade tortilla chips for your favourite dips and salsas.
Mr. Tortilla Low Carb Mini-Tortillas – If you're a fan of soft tacos, Mr. Tortilla is about to become your new best friend. These tasty little mini tortilla shells are the perfect size to make a plate full of soft tacos that definitely won't last long before they're gone! Mr. Tortilla wraps are super low in carbs, at just 1 net carb per tortilla, so you can indulge and not have to worry about your daily counts. Choose from one of three great flavours (Pico de Gallo, 3 Chiles, or Multigrain), and load them up with a variety of fillings to enjoy all kinds of new flavour combos.
NuCo Organic Coconut Low Carb Wraps – With just three simple ingredients, NuCo organic coconut wraps are hugely popular among low carbers, as well as keto and paleo dieters. They're also certified vegan and gluten-free, making them even more appealing for many customers. Thanks to the main ingredient being organic coconut, NuCo wraps are rich in nutrients and healthy fats, and come in at just 4 net carbs per wrap. Plus, they've got a unique tropical taste that only coconut can bring to your recipes. Just one try, and we're sure you'll love them!
Joseph's Bakery Whole Wheat Low Carb Wraps – Joseph's Bakery has a well-deserved reputation for making some of the tastiest low carb baked goods you can find anywhere, and this totally shines through in their amazing low carb wraps. Joseph's Bakery whole wheat low carb wraps have everything you want in a tortilla at just 8 net carbs per wrap. Soft, flexible, delicious, and versatile, these wraps are great for all your favourite low carb Mexican recipes, and the perfect way to make a variety of healthy lunch wraps that you'll crave over and over again.
Speaking of lunch wraps that you'll crave, here's a handful of fast, easy, and ridiculously tasty recipe ideas that will have you counting the seconds until your next lunch break. Check these delectable low carb wrap recipes out!
Wrap Up These Amazing Low Carb Lunch Ideas

Classic Grilled Chicken Caesar Low Carb Wrap
You just can't miss with the tried-and-true classic taste of a chicken Caesar wrap. This low carb version combines all the essential fresh ingredients with the saltiness of bacon and a lively taste experience from the rich and creamy low carb Caesar dressing, and it can be ready in just minutes from a prepared grilled chicken breast.
What you'll need:
How to make it:
Shred or tear up the romaine, slice up the cremini mushrooms, and thinly slice the grilled chicken

Toss the lettuce, mushrooms, bacon bits, and chicken together in a bowl with your desired amount of Walden Farms low carb Caesar dressing.

Lay out a Joseph's Bakery whole wheat low carb wrap and pile on the chicken Caesar salad from the bowl.

Season with fresh ground black pepper and top with shredded parmesan cheese.

Wrap it up and you're good to go!
Spicy Low Carb Shrimp Soft Tacos
Who doesn't love a great shrimp taco? This recipe features high-protein, low carbs, fresh ingredients, and robust flavours. No matter how many of these delicious tacos you make, we're betting that it won't be enough. For spice heads, the habanero sauce will bring the heat, or choose the poblano sauce for a milder warmth.
What you'll need:
How to make it:
Heat a pan over medium heat and add butter or olive oil when hot. Saute the shrimp for approx. 2 mins or until fully pink. Season with salt and fresh cracked pepper.

In a small bowl, prepare a fresh lime crema by mixing sour cream, salt, pepper, and a squeeze of lime juice.

Set out three Mr. Tortilla mini tortillas of your choice of flavour, and divide the sautéed shrimp, chopped avocado and cherry tomatoes on each tortilla.

Top soft tacos with lime crema and your choice of Sinai Gourmet poblano maple coulis (mild) or habanero maple coulis (hot).

Garnish with fresh cilantro and a squeeze of lime juice, and enjoy!
Ultimate BLT Low Carb Lunch Wrap
As simple as the traditional BLT is, you just can't deny how absolutely tasty it is. There's something about smoky bacon, crisp and cool lettuce, and juicy ripe tomato that just works so unbelievably well, there's no need to reinvent it. This recipe cuts right to the chase and focuses everything on showcasing those core ingredients.
What you'll need:
How to make it:
Preheat your oven to 350º and line a baking sheet with parchment paper. Lay bacon out in a single layer on the parchment paper, and bake for 25-30 minutes until cooked through (thickness of the bacon will influence cooking times). Check at 25 minutes and adjust timing if you prefer chewy bacon or crispy bacon, but watch carefully for those last few minutes, as bacon can go from crispy to burnt pretty quickly!

Remove bacon from the oven and transfer to a paper towel lined plate to absorb excess fat and grease. Chop bacon into large chunks or leave in long strips if preferred.

Wash green leaf lettuce and tear into smaller pieces, wash and chop beefsteak tomatoes into ½" pieces.

Lay out NuCo organic coconut wrap onto a plate and spread on some Primal Kitchen paleo garlic aioli. Top with a slice of swiss cheese, bacon, lettuce, and tomato.

Season with salt and pepper, fold it up, and devour it!
Bold Southwest Breakfast-For-Lunch Wrap
If you ask us, all-day breakfast is just an all-around great idea. Inspired by that though, this breakfast-for-lunch wrap brings together bold southwest flavours, sizzling sautéed veggies, and protein-rich eggs to make a healthy meal that will nourish your body and satisfy even the biggest of appetites.
What you'll need:
How to make it:
Cook up your eggs! We like this recipe best when it's made using light and fluffy scrambled eggs, but you can use fried, poached, or virtually any other method of preparing your eggs. We recommend using whatever type of eggs suit your personal preference.

Fry breakfast sausages in a pan or bake in the oven until cooked through, then slice lengthwise.

Thinly slice bell peppers and onion. Heat a pan and add butter or olive oil when hot. Saute peppers and onions until they just start to soften, leaving them firm and crunchy in the middle. Sprinkle liberally with Hot Mama's southwest spice blend and toss.

Take a Mama Lupe's low carb tortilla and lay on a plate. Top with shredded cheddar cheese, eggs, sausages, and sautéed vegetables. Season with salt and pepper.

Wrap it all up and dig in!
Explore Exciting New Lunch Experiences With Low Carb Wraps from The Low Carb Grocery
Well, our mouths are surely watering now! It's time to break away from boring lunches and start experimenting with all the different flavour combinations that you can wrap up and enjoy using healthy and delicious low carb tortillas, soft taco shells, and wraps from The Low Carb Grocery. We hope that you enjoy these recipe ideas, and that they've maybe even inspired you to start concocting your own unique lunchtime taste combos!