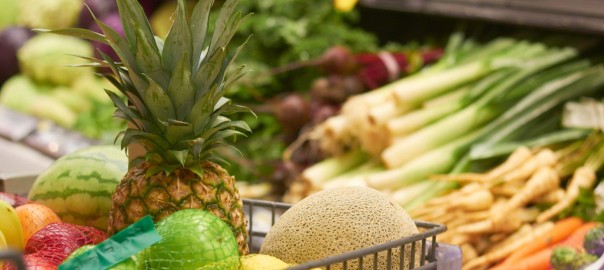 The Complete Low Carb Shopping List
The Complete Low Carb Shopping List
When you've got the perfect meal plan all lined up for the week, the last thing you want is to find out that you're missing one essential ingredient or product that you forgot to pick up on your last trip to the grocery store. Nobody likes to waste time with multiple trips to and from the supermarket, so how do you plan out your weekly shopping list so that you can make sure that you've got everything you need? It's pretty simple actually, and this article will give you a bunch of tips you can use to make sure that you stay efficient during your shopping trips, and make your low carb meal plan a success. Here we go!
Plan Your Stops
Regardless of what kind of low carb diet you may be on, there's really only two stops that are required to make to ensure you've got everything that you may need to complete your meal plan, and make sure that you're not wasting time running all over the city.
Stop 1 – The Low Carb Grocery
When crafting your shopping list, start first with all of the things that you need to be absolutely sure fit a low carb meal plan, and there's no better place to go than one of our store locations. You can find us in several locations in the Greater Toronto Area including Markham, Mississauga, and Etobicoke, as well as Newmarket, ON and Burnaby, BC. Our brick and mortar locations carry all the low carb items you'll find online, so if you're in one of these cities, add it to your shopping runs to complete your weekly or monthly meal plans.
Here are the key product categories that need to make their way on your Low Carb Grocery shopping list:
Grains, Breads, and Cereals – The low carb section at a typical grocery store won't have nearly the selection and variety of a specialty store. This is where you'll find all of the following products:
| | |
| --- | --- |
| • Bread, Pita & Wraps | • Biscotti |
| • Bagels, Buns & Rolls | • Donuts |
| • Muffin, Cake & Brownie | • Macaroons |
| • Cookies | • Cheesecake |
| • Hot & Cold Cereals | • Pancake & Waffle Mix |
| • Granola | • Breakfast Bars |
Any of your meal plan ingredients or products that fit these categories are available instore or online, and you can be confident that they are the best possible choice for your low carb lifestyle.
Spreads, Dips, Dressings, and Condiments – Products like this can often be a hidden source of carbs, as it can be easy to forget just how much sugar and other ingredients can be found in things like ketchup or peanut butter.  All of these types of products can be found in wide varieties at The Low Carb Grocery.
| | |
| --- | --- |
| • Nut & Butter Spreads | • Hot Sauce |
| • Jams, Jellies, & Fruit Spreads | • Ketchup, Mustard, & Relish |
| • Mayo & Dips | • Salsa |
| • Salad Dressings | • BBQ Sauces |
| • Seasonings & Spice Rubs | • Asian or Mexican Sauces |
| | |
The carbs found in the typical supermarket brands of these products can really add up fast, so if you use any of these types of products, be sure to get the low carb versions instore or online to keep your low carb diet on track.
Pasta, Noodles, and Sauces – Low carb pasta is something you won't find typical supermarkets. Fortunately, specialty stores like The Low Carb Grocery have a huge variety of noodles and pasta products. Your list should include any products that fit these categories:
| | |
| --- | --- |
| • Italian Noodles | • Pasta Sauces |
| • Asian Sauces | • Asian & Shirataki Noodles |
We carry all the top brands of low carb pasta and noodles, so you know you'll be getting quality products with all the great taste.
Bars, Protein, Shakes and Supplements – No need to go to a fitness health food or supplement store to stock up on these items, we have them all. If your meal plan includes any of the following products, add them to your shopping list:
| | |
| --- | --- |
| • Weight Loss Shakes | • Meal Replacement Bars |
| • Whey, Egg or Vegetable Protein | • Ready-to-Drink Shakes |
| • Cleansing & Detox | • Vitamins & Minerals |
| • Greens | • Energy Supplements |
Stocking up on these products can be handy, as you always seem to run out at inconvenient times. On those days where time is running short, having a meal replacement bar, or ready to drink shake on hand, can be a real-life saver.
Cooking, Baking, and Sweets – For the sweet tooth, if you don't want to have to give up your sweet treats, we have everything you need. From cakes and cookies to ice cream and candies, as well as everything you need to make your own from scratch, these items can all be added to your shopping list:
| | |
| --- | --- |
| • Candy, Caramel, & Toffee | • Marshmallows, Pudding & Jell-O |
| • Chocolate | • Ice Pops & Ice Cream |
| • Cookie, Brownie, & Muffin Mix | • Flour & Baking Mix |
| • Cooking Oils | • Dessert Fillings & Toppings |
| • Soup & Broth | • Baking Aids & Ingredients |
All of these products are handy to have on hand for when you need them, as most of them are non-perishable and can keep for a very long time.
Those are the main products from your meal plan that you'll need to buy online or instore at The Low Carb Grocery.
For people living in Toronto, Newmarket, or Burnaby, you can choose from visiting us in-store, or eliminate a stop and order everything online. We provide free shipping for all orders over $100.00.
Now, let's take a look at the things you'll need to get at your local supermarket.
Stop 2 – Your Local Supermarket
Most of what you'll need to get here focuses around fresh foods and perishables. Many of these fresh ingredients you'll need to complete your meal plan aren't available at specialty stores like The Low Carb Grocery, so you'll need to visit your favorite local supermarket, butcher, fish monger, or other specialty market for these ingredients.
Meat & Fish – A core part of any low carb diet, a wide variety of low carb compliant meat, fish & seafood are available at your local supermarket, or butcher if you have one in your area. Find one that offers quality essential proteins like beef, chicken, pork, fish, seafood, and others.
A great option is Costco for buying larger quantities at a time and freezing them in meal-size portions. This helps reduce the number of trips you need to make each month and can save money, while offering higher quality ingredients.
Research the cut of meat or fish your recipes are calling for, and select the best possible ingredient you can afford. Pay attention to fat content for beef, pork & chicken – try to stick to leaner cuts, apart from steaks, which should contain some level of fat marbling, this adds both flavor and keeps the meat tender.
Vegetables and Fruits – Before you buy anything in this category, start by reviewing our guide on low carb fruits and vegetables, as they aren't all low carb and you need to know which ingredients are right for low carb diets. Once you're aware what's safe and what isn't, a farmer's market is normally the best place to get the freshest fruits and vegetables. Most will also offer the best option to buy local. Locally grown is always fresher, which tastes better, too. If you can't find a farmer's market, your closest supermarket will have to do. In Ontario, there's a range of supermarkets – some catering to price, other's catering to better quality ingredients and better service. This is true for most of Canada as well. Wherever you are, buy from the grocery store that offers the best selection and normally has the freshest ingredients. While fresh vegetables and fruits generally don't keep much longer than a week, no matter where you buy them, fresh is always better than frozen.
As you can see, by simply breaking your meal plan into some basic categories, it's easy to plan and purchase all your ingredients to complete your low carb meal plans.
For those low carb dieters who may not have the luxury of having one of our locations nearby, you can get all the same great low carb products online and have them delivered right to your door. Once you've created your account, you can save your frequent orders, making repeat purchases even more convenient!
We also have a weekly newsletter as well, with specials and other deals, so you might want to sign-up for that as well as you create your account.
We hope you found these tips helpful, and happy shopping!