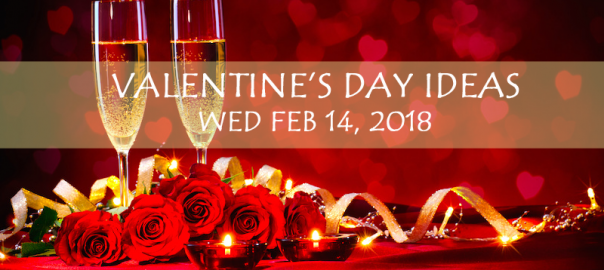 11 Unique Ideas to Celebrate Valentine's Day 2018
11 Unique Ideas to Celebrate Valentine's Day
For 2018 – Valentine's Day falls on Wednesday, February 14th.
Valentine's Day is almost here, and you may have already started planning a special day to show your special someone just how much you care about them. For some of us, however, it can be a real struggle to come up with new ways to make Valentine's Day exciting and special. Well, fear not! We've compiled a fantastic list of fun and unique ways to spend Valentine's Day with your partner that they are sure to love! And if there's one day when it's ok to break your low carb diet, it's Valentine's Day.
Let's get started with our list of 11 unique ideas you can use to celebrate Valentine's Day this year.
#1 – Take Time Off
With Valentine's Day falling mid-week this year, Wednesday, February 14th, one of the best ideas you can have would be planning to take time off work.  Spend some quality time together, even if it's just the Wednesday. Time and attention is the most precious gift you can give to your partner, so plan a day excursion, and get out and do something you both love.
If you can afford to take more time off – and can manage the costs, one of the most exciting and romantic things you could do is take a trip somewhere you both love.  From pretty much every major city in Canada, Mexico makes for a relatively affordable locale, and let's face it, who doesn't want a break from the snow and cold by the middle of February?  Choose a nice, well-reviewed, romantic all-inclusive resort where you can relax, enjoy outdoor activities, great food, and down time together. Many resorts have special activities and meals planned for the day to help ensure you and your loved one enjoy the day.
Before you book anything, make sure your partner can take the time off – you don't want to get stuck with a romantic trip that you can't even use!
Spend the Day on the Slopes
If skiing or snowboarding is your favourite thing to do in the winter, then there's no better way to spend a chilly Valentine's Day than carving some tracks at the local ski hill. Of course, skiing and snowboarding may not be for everyone, so why not give snow tubing a try! Many snow resorts now offer snow tubing as an alternative way to enjoy the slopes, and it's definitely a fun way to spend a day outside. Whatever you end up doing out on the snow, don't forget to swing by the lodge bar afterwards for a proper après-ski beverage to warm up.
Road Trip to a New Restaurant
You may have tried every restaurant in your town, but that shouldn't stop you from exploring something new this Valentine's Day. Do some looking around on sites like Yelp, or ask for recommendations for unique and unusual restaurants in nearby towns that aren't too far away. Go on a road trip with your honey, and enjoy a new dining experience in a nearby city. Earn some bonus points for romance if you take the scenic route or explore some touristy places you've never seen before. See where the road takes you, and don't forget to keep track of your discoveries in a special journal just for compiling great restaurants. Any major bookstore will have fancy journals you can buy, and picking one out gives you one more thing you can do together to complete the trip.
Local Culture Experience
Every city has elements of local culture that many of us don't take full advantage of. Perhaps it's a local heritage museum, a downtown theater, or stand-up comedy place. Maybe you've got a local art gallery or nature preserve that you've always wanted to see. Take a look through some local travel guides and discover some interesting new places in your own backyard. Take the day to play tourist and explore your local area. Who knows, you may discover your new favourite spot to picnic, or learn a bit more about your town's history.
Wine and Cheese Tasting
What would Valentine's Day be without a glass of a nice vintage red wine? Well, take that to the next level with your very own wine and cheese tasting event. Go to your local gourmet cheese shop and find a selection of unusual cheeses to try. Pick a variety of types and styles so you get different taste experiences to match with some new wines. Pick a soft cheese like a double-crème brie, a firm cheese like a well-aged cheddar, and something bold like a fragrant blue cheese. Everyone's tastes are different, so pick a couple of favourites and then mix in some new ones that you've never tried. Then do some quick research on sites like VinePair.com, which has a great guide to Pairing Wine and Cheese, and find a couple of bottles to sample with your cheeses. Finish the experience with a nice charcuterie plate of cured meats and some fresh fruit, and you've got a great way to spend Valentine's Day.
Nostalgia-Filled Movie Night
Go back in time, WAY back, with a movie night dedicated to your favourite movies from 'back in the day'. Pick a couple of movies from each of your childhoods, get cozy on the couch, and let the clock spin back. Complete the experience with some snacks and drinks that you used to enjoy as kids, and spend the night laughing and remembering those great moments from your youth. It's a fun way to reconnect with a piece your own personal history and share it with your partner on the most romantic day of the year. Netflix has a massive selection of new and old movies to choose from, so start browsing!
Get Artistic with a Paint Night
You may not be the next Van Gogh or Jackson Pollack, but you'd be surprised at just how easy and fun it is to create your very own beautiful canvas painting. There are many art studios that offer casual paint classes for adults, as well as for kids, that are easy to follow and definitely a lot of fun. Some even offer special events for things like Valentine's Day that include a glass of wine to go with your artistic experience, so check around your local area and see what you can discover. If there's no studios nearby, don't let that stop you. Swing by your local arts and crafts shop and pick up everything you and your Valentine need, from canvas to paints and brushes, and make your own studio at home. Just be sure to put down some drop cloths for those errant paint splatters!
Pajama and Board Games Day
Who says that Valentine's needs to be expensive or complicated? This idea is for those of us who just need a lazy day to lounge around in comfy clothes and have some laughs. Get out your fuzziest pajamas, get a nice cup of coffee (maybe even Irish it up a bit), and break out all your classic board games for a day-long tournament! Although, we'd suggest keeping things light and avoid any of those complicated and overly-lengthy board games that can get frustrating the longer you play them. Card games, puzzles, goofy guessing games, and drawing games are all perfect, or you could go digital with your favourite multi-player video game. Whatever you choose, keep the pressure minimal and keep things fun!
Make the Ultimate Music Playlist
Music fans will love this idea! With all the digital music tools we have available, it's easier than ever to discover all kinds of new music, or reconnect with the tunes from days gone by. Valentine's Day is a perfect time to set up some great new music playlists that you can curate together with your partner. Maybe you go the obvious route and craft a collection of romantic songs, or maybe you go retro and pull together all your favourite tunes from high school. Check out historical music charts from your younger days to find all those songs you've forgotten about, and scan through the latest and greatest new music to uncover new artists from your favourite genres. We love to use Spotify as a place to discover all kinds of music, and organize our favourite tunes in to playlists that can easily be shared on many popular social networks. Check it out!
Explore the Stars and Tell their Stories
If you can manage it, and the skies are clear, take a drive to a secluded spot away from all the city lights and go stargazing with your partner. There are lots of cool astronomy apps you can download, like Planets for example (Download on the Apple App Store and Google Play Store). The Planets app uses the GPS and internet connection on your smartphone to display all the constellations visible in the sky in real-time. But don't stop there! Once you find a few visible constellations, look up their ancient origin stories and learn about what their names mean. Orion the Hunter is an easy one to spot, as are Ursa Major and Ursa Minor (Big Dipper and Little Dipper), but see if you can also locate Cassiopeia or Draco, too. They really are beautiful to see once you know where to look, and even more interesting once you know their stories.
Valentine's Day Recipe Challenge
Here's where you can put your culinary skills to a very delicious test with your partner. Put forth a challenge to them that you each must make a dessert to share, and they have to be made from scratch. They take turns tasting, and see whose creation reigns supreme! There's nothing wrong with a little friendly competition, and this is one way to have a lot of fun with it, too. If you're looking for some help to get started, head on over to our article on Low Sugar and Sugar Free Desserts for some great tips and tricks as well as some amazing recipes to try.
Conclusion
We certainly hope that these ideas have given you some inspiration to try something new this year for Valentine's Day. It's always nice to take the time to show the love of our lives just how much we appreciate them, and finding new and exciting ways to express our love helps to keep the spark alive and well. It also happens to be a lot of fun, too, so get creative and enjoy this special time with your partner.
Happy Valentine's Day, everyone!