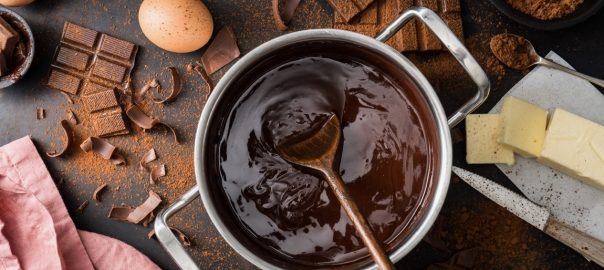 Guide to Low Carb and Sugar Free Desserts
Low Carb & Low/Sugar-Free Dessert Guide
There are many low carb dessert options for low carb dieters with a sweet tooth! Explore recipes and shoppable items in this article!
Finding great alternatives to your favourite desserts that are low carb, low sugar, or sugar-free can be easy if you know what to look for. There are simple recipe modifications you can make, and tons of dessert products suited exactly for the low carb dieters' needs! In this article, we will help you find products and share delicious recipes that are perfect for low carb, low sugar, and sugar free diets.
Carb Culprits
Sugar can be listed under many names, which is why it is important to understand what to look for when reading ingredient lists. Common forms of sugar that will appear on food labels usually have names that end in "–ose". For example, glucose, fructose, dextrose, lactose, galactose, maltose, and sucrose are all forms of sugar that should be avoided on a carb-restricting diet. Corn syrup (or high-fructose corn syrup) is also made from sugar and is a common type of sweetener used in foods and beverages. Finally, beware of dairy products, such as cream cheese, yogurt and dairy-based desserts that contain added sugars or may already be high in naturally occurring sugars such as lactose. Always double check your nutrition facts labels!
Low Carb Baking Alternatives
When it comes to making your own baked goods and other sweet treats at home, there are a number of low carb alternatives to traditional baking ingredients. The Low Carb Grocery carries a wide range of flour substitutes, natural sweeteners and other low carb and keto-friendly baking ingredients that are great for baking low carb at home! Read on to learn how to use the different options to get the best results.
Sugar Replacements
Luckily for low carb dieters, there are a number of natural, low glycemic and low caloric sweeteners. These sugar alternatives can easily mimic the sweet taste of sugar, without the impact on blood sugar levels and other negative health consequences. For a complete breakdown of all the different types of natural sweeteners, check out our article about Sugar Substitutes.
Most of these natural sweeteners behave similarly to sugar when used in baking and cooking. It is up to you to decide on the best one for your specific needs and preferences! Some sweeteners have slight differences in taste or sweetness levels. Most are available in liquid or granular form which can be suited to different recipes.
Flour Replacements
Most baked goods involve the use of wheat flour, which should be avoided on a low carb diet. Instead, there are many flour alternatives made from nuts, seeds and other plant-based sources. These not only boost the nutritional value of your baked goods, but they can also impart subtle and unique flavours that can elevate your desserts! Here are two of the most common low carb flour options:
Almond Flour is low carb, packed with healthy fats and other nutrients and has a slightly sweet, nutty flavour. It is traditionally used to make delicate French desserts like macarons and flourless cakes (financiers). Here is a recipe for Keto French Macarons if you are up to challenging yourself to making this skilful dessert! Also try this Keto French Almond Cake that only requires a few simple ingredients.
Coconut Flour is another great, low carb flour alternative that is packed with nutrients and especially fibre. If it is made from pure, virgin coconut meat it usually has little to no taste and can be incorporated in any recipe that traditionally uses wheat flour. It can promote stable blood sugar levels, healthy digestion, heart health, weight loss and even fight some infections! However, coconut flour doesn't bake quite like wheat flour. It can become dense and soak up a lot of moisture when baked. So, it is recommended to add 2 extra tablespoons of liquid for every 2 tablespoons of coconut flour, or use it in combination with other low carb flours. Try this Keto Coconut Flour Chocolate Cake – moist and decadent, just like it should be! Or try these chewy Keto Chocolate Chip Cookies made with a blend of almond and coconut flour.
We also carry low carb flours made from lupin beans, vegetable fibres, konjac glucomannan, tapioca or blends of various plant-based meals. You can even try making your own flour blend at home and incorporate extra nutritious ingredients such as flaxseed meal or ground chia seeds for heart healthy omega-3s, psyllium husk powder or oat fibre for a boost of dietary fibre or a protein powder of choice to make your desserts more functional and filling.
Low Carb Dessert Recipes
We've gathered a few more low-carb, low sugar, and sugar-free dessert recipes that we are sure you'll find easy to make and incredibly satisfying! The advantage of making your own desserts is that you can control exactly what goes into it and modify recipes according to your specific dietary needs.
Easy to Make
These recipes are great to whip up on the weekend, so you have sweet low carb treats available all week and for the whole family! If you're not an expert in the kitchen, these are easy to make and require just a few simple ingredients.
Keto Cinnamon Roll Cheesecake Bites
When you can't decide between cheesecake or cinnamon rolls, these scrumptious cinnamon roll cheesecake bites combine the best of both worlds – minus the carbs! This recipe is sugar-free and uses Swerve Sweeteners as a sugar substitute. You can refrigerate or freeze them so they're ready whenever cravings strike!
This keto fudge is made with coconut oil and a powdered sweetener, which works better than granular sweeteners to get that smooth, fudgy consistency. This recipe requires no baking at all – just 5 simple ingredients and 10 minutes of prep time before popping your fudge in the fridge to set.
When You Have a Bit More Time…
If you are a bit more ambitious and enjoy baking at home, try out some of these recipes below.
Brownies are one of the easiest things to bake; simply combine the wet and dry ingredients and bake a whole batch for the week. With just 1g net carb per brownie, these are perfect for low carb dieters. Made with almond flour and sweetened with erythritol.
These keto cinnamon sugar donuts might remind you of something you used to get only at a summer carnival. Now you can make them in your own kitchen – and eat them for breakfast, snack or dessert! This recipe recommends a blend of super-fine blanched almond flour, such as this one from Anthony's Goods, and coconut flour. It involves a few more ingredients and equipment than the other recipes – but the result will definitely be worth it!
Show-Stopper Recipes
If a birthday or special occasion is just around the corner and you want to pull out all the stops – but still stick to your keto or low carb diet – check out the dessert recipes below that are sure to impress a crowd!
Low Carb Carrot Cake with Cream Cheese Frosting
Carrot cake is almost always a hit with everyone, plus you can technically say you're eating your veggies! This recipe is made with almond and coconut flour for an added boost of fibre, and monk fruit sweetener (they used Lakanto brand) making it low in sugar.
If you're more of a pie lover, try this recipe for keto pecan pie that's sure to be a hit, especially around the holidays. For the crust, they have used a mixture of almond and coconut flour that creates a light texture. Plus, the addition of almond butter makes this recipe truly unique!
For the Non-Bakers
If you prefer quick and easy solutions to your sweet cravings, The Low Carb Grocery carries a number of low carb treats that are totally guilt-free and indulgent!
We also have a large selection of low carb, low sugar and sugar-free Caramel & Toffee, Ice Cream Mixes, Candy and Pudding & Jello for all of your sweet cravings!

Healthy Inspiration!
We hope that these tips and recipes have inspired you to try something new for dessert the next time you crave something sweet, host an event, or simply want to surprise your family with an exciting new recipe. Choosing healthy and delicious desserts that are compliant with a low carb diet can be easy and fun, and we hope that you enjoy putting these sweet suggestions to good use.
Tag us on Instagram with your thoughts, or leave us a comment on Facebook. We also connect with our friends in our Weekly Newsletters where we share updates on the latest products and special sales. And if you've already ordered from us in the past, please leave a Google Review with your experience!