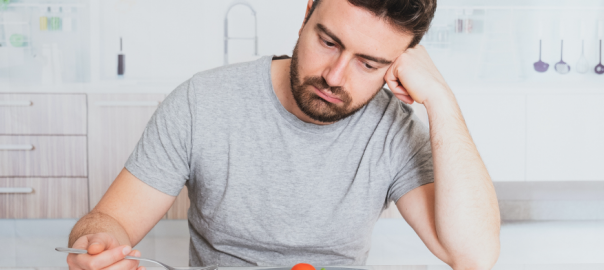 How to Not Get Bored on Keto Diets
Tips and Tricks for Maintaining a Low-Carb, High-Fat Diet – Without Getting Bored!
As you start the transition into ketosis, you may be thinking of all the exciting foods that you are no longer allowed to eat. This can feel limiting, especially if you are used to a high carb, low-fat diet and are just beginning to make the switch. Or perhaps you have been doing keto for a long time, and are seeing results, but you're starting to get bored with the same foods day-in, day-out.
Shift your mindset and view your new diet as an opportunity to get creative! Strict diets, such as the ketogenic or low carb diets, tend to have certain foods commonly associated with them. You've probably heard that you can load up on butter, bacon, steak and cheese, but even these can become boring over time if that's all you're eating. Remember that your diet can evolve and improve over time, especially with trial and error. You have to find what works best for you and your body, as it will not be the same for everyone.
So, if you are currently having trouble maintaining your keto diet, try some of these suggestions below to elevate your plate!
Find keto-friendly snacks to change your daily intake.
Keto-friendly snacks are a great way to give yourself some variety and choice in your diet.
The Low Carb Grocery carries a number of keto-friendly snacks. Here are some of our favourites:
Just be sure to keep track of your macronutrients throughout the day, including snacks, so you don't accidentally fall out of ketosis.
Find new recipes and cookbooks online.
Pinterest is a great source of inspiration, and keto cookbooks are becoming more mainstream and easier to find. Internet recipes are probably the easiest way to get new ideas; search for recipes that include items you already have lying around. If you have a hard time coming up with new recipes, take it from others who have been in your shoes before!
Challenge yourself and have fun in the kitchen. You never know, trying out recipes might just become your new hobby. You can learn a lot about your body, develop new skills, and greatly expand your palette along the way!
Use herbs and spices to transform any meal in a number of ways.
You might not always take a walk down the herb and spice aisle on your weekly trips to the grocery store, but take a look next time you're there and find some inspiration for your next dish! Herbs and spices not only make your meals more interesting, but they can add a number of nutritional benefits as well. For example, cinnamon can lower blood sugar levels and help metabolize carbs, sage can improve neural function, turmeric is anti-inflammatory (don't forget to activate it with black pepper!), and basil can help your body deal with stress.
Along the same lines, try adding different sauces and salad dressings to your meats and salads – the flavour possibilities are endless!
Swap out your favourite high-carb ingredients for low-carb alternatives.
You have probably prepared yourself to say good riddance to all the sugar, flour, and other high carb baking ingredients that you used to enjoy before you started the keto diet. But these foods don't have to be completely lost – recipes can easily be modified to reduce the net carb count while still producing yummy and satisfying treats!
Sweeteners – there are a number of great sweeteners for baking on the market that have been designed to mimic traditional sugar. Although the taste may not be exactly the same, it can be fun to get creative experimenting with new things in the kitchen. Perhaps you'll come up with your own recipe for the best low carb cookies! You can also learn about all the different sugar substitutes that we carry in our "Know Your Sugar Substitutes" blog here.
Flours – coconut flour and almond flour are probably your best bets for baking on the keto diet. Both of these flours add a tasty, unique flavour to your creations, and can even be incorporated in soups and other dishes as a thickening agent. Get creative with the items in your pantry!
Eat foods that are in season.
Eating foods that are in season means that you will get the best produce for that time of year. Seasonal foods will change every few months, allowing you to continually test out new recipes. Plus, foods that are in-season tend to have better prices. You might also try something you've never tried before!
This will mainly apply to fruits and vegetables – which are very important to include in a keto diet. Your body needs essential vitamins and minerals found in fresh produce in order to carry out important functions, and their high fibre content will keep you feeling full longer. Fruits can be trickier to incorporate successfully into a keto diet, but here's a list of low carb vegetables that are available by season:
Winter – think warm, comforting recipes.
Brussels sprouts (3.5g net carbs per ½ cup)
Broccoli (4g net carbs per cup)
Cauliflower (3g net carbs per cup)
Spaghetti Squash (5.5g net carbs per cup)
Kale (0.3g net carbs per cup)
Spring – think fresh and Asian-inspired dishes.
Radishes (0.5g net carbs per 6 radishes)
Spinach (0.4 net carbs per cup)
Bok Choy (0.8 net carbs per cup)
Asparagus (2g net carbs per 6 stalks)
Artichokes (4 net carbs per medium-sized artichoke)
Summer – think Mediterranean-inspired dishes.
Zucchini (3 net carbs per cup)
Bell Peppers (3g net carbs per ½ cup)
Cucumbers (3g net carbs per cup)
Eggplant (3g net carbs per ½ cup)
Okra (2g net carbs per ½ cup)
Autumn – think holiday-inspired recipes.
Fennel (4g net carbs per cup)
Red Cabbage (2.5g net carbs per cup)
Arugula (0.5g net carbs per cup)
Mushrooms (1.5g net carbs per cup)
Pumpkin (4.5g net carbs per ½ cup)
Rotate your recipes
We are all creatures of habit, so it can be easy to fall into a meal routine. Try to avoid having the same meal every Tuesday night to keep your brain and your belly stimulated.
Embrace leftovers.
Not only can leftovers reduce cooking times the next day, but there are many ways to repurpose them by cutting, cooking and seasoning them differently. You can turn last night's chicken or beef dinner into a casserole, soup, shepherd's pie or breakfast hash the next day. You can also cook extra veggies to add them to future meals. Don't just eat the same things over and over again – get creative and try to transform your leftovers into a brand-new dish!
Drizzle healthy oils over your meals.
The best part about the keto diet is that fat helps flavour your foods, and you are free to add it to any and every meal! Fats themselves don't usually carry intense flavours, but they can enhance the smell and texture of your foods, which satisfies our senses. Fats dissolve and concentrate the flavour- and odour-producing chemicals in foods, which can enhance taste and smell. Fats also feel smooth and melty in our mouths, which most people would agree is a pleasant sensation (think of the sensations you experience when you eat chocolate or nut butter). Finally, fats can also help distribute the seasonings on your food, making sure each bite is equally delicious!
Try experimenting with different oils for slightly different results; there are a number of healthy options:
Olive oil
Sunflower oil
Avocado oil
Grass-fed butter
To learn all the ins and outs of fats, try reading our "Good vs. Bad Fats: Know The Difference" blog here.
Treat yourself to eating out once in a while.
Whether this is a "cheat meal" or not, eating out is a great way to reduce boredom and help you feel less restricted by your diet. Most restaurants will have a keto-friendly option on the menu, or you can ask for substitutions to make your meal lower carb (i.e. ask for more veggies or avocado instead of the carb portion).
Sometimes you can become bored or frustrated with a new diet simply because you need a rest from cooking your own meals. By treating yourself occasionally, not only can you give yourself a break, but you can also get recipe inspiration from the restaurants you visit.
Diet with a friend or a spouse!
Getting a friend or spouse to join you in starting a new diet can help with motivation and you can tackle and enjoy new recipes together!
Some great recipes to test out and share with others could include:
If you've discovered any new keto-friendly recipes and foods recently, we'd love to know! Leave a comment on our Facebook page under this blog post to share what you've been loving. Also, check out our Instagram and stay connected with our Weekly Newsletters to get updates on the latest products and special sales. And lastly, if you've had any direct experience with The Low Carb Grocery, excellent or poor, please leave us a Google review here!