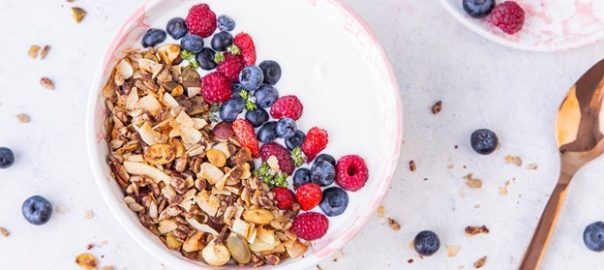 Low Carb & Keto-Friendly Granola
The Best Low Carb and Keto-Friendly Granolas
Discover these tasty and nutritious low carb and keto-friendly granolas that will help you meet your macronutrient and micronutrient goals!
There are a lot of low carb granolas and cereals out there and it can be hard to determine which ones really are keto-friendly, delicious, nutritious – or all of the above. That's why we have narrowed down some of our favourite granolas that we think will not only blow you away in terms of taste but will also help support your health and weight loss goals!
These granolas have been carefully selected based on quality, taste, and nutritional benefits, which is why we don't feel hesitant calling them "the best"! Keep reading to learn why we love Rawcology Superfood Granolas, KZ Clean Eating Chunky Müsli and Good To Go Keto-Certified Granolas.
Once you've finished reading, grab a bag of whichever one sounds the best to you with an exclusive discount code available only to our readers!
Disclaimer: The information in this article is not intended to replace personalized medical advice. A low carb diet may not be suitable for you. Consult your health care provider before making any changes to your lifestyle or use this information at your own risk.

Rawcology Superfood Granola
Eating well is easy with Rawcology Organic Raw Crunch Granolas. These low carb grain-free granolas are made with organic ingredients and superfoods that offer many surprising benefits. Read about these benefits below!
Raw cacao is packed with powerful antioxidant compounds called flavonoids. These nutrients have been shown to help lower blood pressure, improve blood flow and even increase insulin sensitivity, which can reduce the risk of developing diabetes. While chocolate bars may be off limits for your diet, this grain-free, naturally sweetened chocolate granola can definitely make the cut!
Wild blueberry powder and acai berry powder are two superfood ingredients found in this granola. Both of these berries help boost immunity, reduce the risk of diabetes, and strengthen metabolism thanks to their high antioxidant content. Antioxidants help rid the body of damaging particles that can build up due to natural metabolic processes and exposure to environmental toxins including pollutants, chemical food additives, cigarette smoke and alcohol. So, reach for this granola anytime you feel you're in need of a delicious detox!
Feeling sluggish? Try Rawcology Banana Granola with energy-boosting maca powder! Maca is an adaptogenic plant, meaning it helps the body adapt to stress and other environmental changes by rebalancing our hormones. In many scientific studies, maca has been shown to have positive effects on fertility, strength and physical endurance, mood, memory, and even libido. It has a distinctively nutty and slightly caramel-like flavour, and paired with real banana puree, this granola tastes like banana bread!
If you're looking for a boost of vitamin C and other immune-strengthening nutrients, Rawcology Lemon Ginger Granola with Camu Camu has got you covered! Camu camu is a type of berry native to the Amazon rainforest that has one of the highest concentrations of vitamin C found in nature. Enjoy a bowl of this granola when you are feeling under the weather or simply looking for a tasty snack or meal that packs a powerful nutritional punch.
KZ Clean Eating Grain-Free Müsli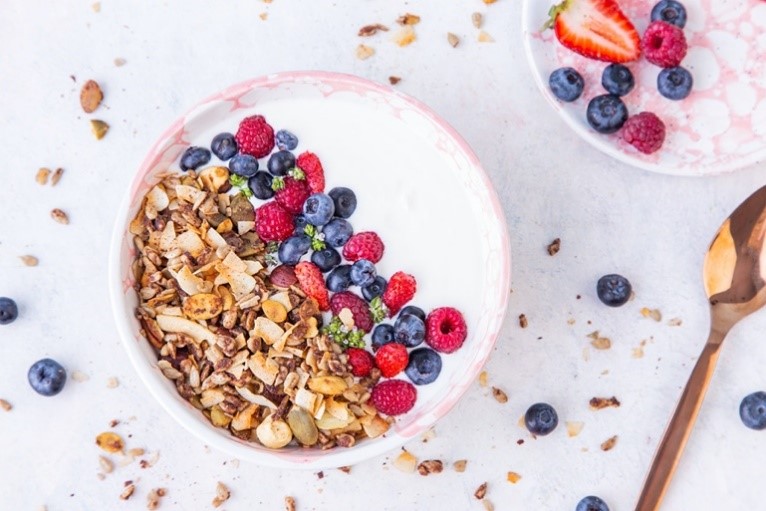 KZ Clean Eating has been a long-time favourite brand of our customers! Their simple ingredient keto-friendly cereals and granolas, crackers and crispbreads, and bread mix have kept low carb dieters on track of their goals and satisfied with their dietary options throughout their health and weight loss journeys.
Try KZ Clean Eating Chunky Müsli Breakfast Cereal in one of three delicious flavours: original breakfast müsli (flavoured with cinnamon and vanilla), chocolate & strawberry or new blueberry & vanilla! All of these grain-free granolas are made with non-GMO ingredients, contain no added sugars and are naturally sweetened with erythritol and/or xylitol. Ingredients include coconut chips, pumpkin and sunflower seeds, hazelnuts, pecans, walnuts and brazil nuts. This delicious medley not only makes for a tasty bite, but also provides loads of nutrients including healthy fats, fibre, vitamins, and minerals that will keep you feeling – and looking – your best!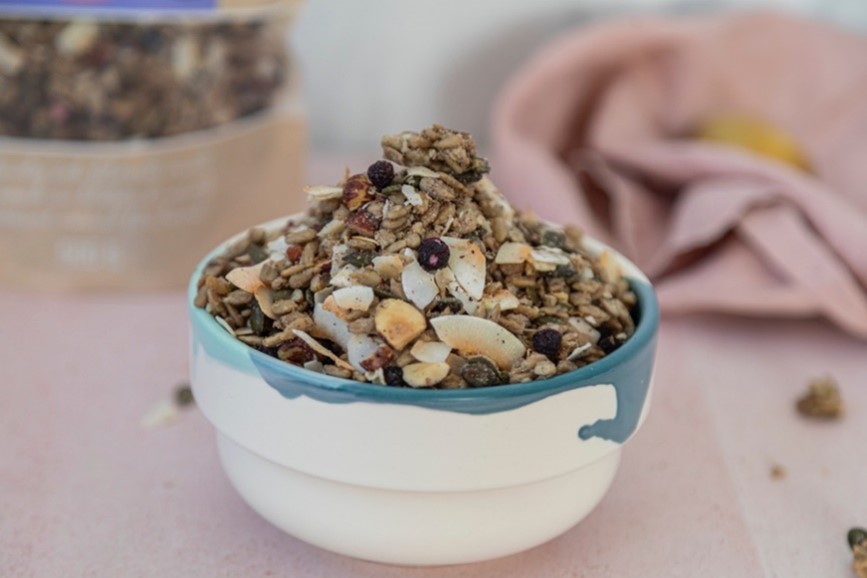 Pictured: New Blueberry & Vanilla Chunky Müsli!
Good To Go Keto-Certified Granola
Good To Go Granolas taste absolutely delicious – but this isn't the only reason we love them (although it's reason enough!). This granola is also fortified with vitamins and minerals from vegetable extracts, making it deceptively wholesome and nourishing! Not only can you enjoy a tasty bowl of granola, but you can also get up to 20% of your daily recommended intake of Vitamin A, C, D, E, B6 and more. Each serving also contains just 6g of net carbs, 6g of protein, and 24-26g of healthy plant-based fats to keep you on track of your macros.
.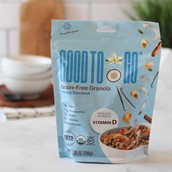 Coconut flakes coated in organic vanilla extract and a hint of cinnamon pair perfectly with a super seed blend and creamy cashews in Good To Go Vanilla Coconut Granola. Enjoy with milk, yogurt, or by the handful! It is also the perfect crunchy garnish for homemade desserts and smoothies.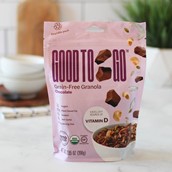 Chocolate lovers can also indulge guilt-free in crunchy morsels of chocolate-coated coconut flakes, nuts and seeds sweetened naturally with erythritol and stevia. Good To Go Chocolate Granola won't break your carb count, but it is sure to satisfy even the fiercest of cravings!
Stay Connected
We hope by now you've got your sights set on trying one of these granolas! If not, to show you just how strongly we believe these really are the best low carb and keto-friendly granolas out there, we would like to offer 10% off these favourites! Apply code GRANOLA10 at our online checkout to receive 10% off your purchase of any of the items mentioned in this article.
Valid online only or redeemed for in-store pickup option, which is available at online checkout. Limit one use per customer. Promotion may end without notice and/or while promotional quantities last. No substitutions or rainchecks, please. Valid until 2021-12-31.
Also remember to visit our Facebook and Instagram pages, so you can share your thoughts with our growing low carb, keto, and diabetic community. We'd also love to hear your direct feedback via Google Reviews. Plus, sign up for our email newsletters to receive important updates on our latest products and special sales