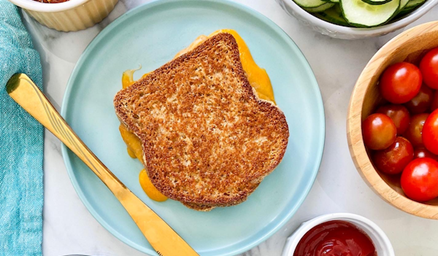 Recipes for Keto & Low Carb Sandwiches
Low Carb Keto Sandwich Ideas
Wondering how you can enjoy sandwiches on a low carb or ketogenic diet? Explore exciting recipes and must-have low carb breads and condiments in this article!
Disclaimer: The information in this article is not intended to replace personalized medical advice. A low carb diet may not be suitable for you. Consult your health care provider before making any changes to your lifestyle or use this information at your own risk.
There are three main components to any sandwich: the bread, the filling, and the sauce. Low carb diets can cause roadblocks in any one of these components, which can prevent you from enjoying the simple pleasures of a good sandwich. In this article, we share some of our favourite low carb and keto-friendly sandwich ideas and must-have products for making low carb sandwiches so you can enjoy delicious, diet-approved sandwiches any time cravings strike!
The Best Low Carb and Keto Breads
The most important part of any sandwich is the right bread. There are tons of low carb and keto-friendly breads out there, so it can be tough to choose! To make your decision a little bit easier, we've narrowed down some of our favourite brands of low carb breads, buns and wraps
Unbun

Unbun keto and paleo-certified products are low in carbohydrates and high in fat, fibre, and protein. They are completely grain-free and made with whole food ingredients including almond flour, coconut flour, psyllium husk fibre, pumpkin seed protein, extra virgin olive oil, ground flaxseed and egg whites. Thanks to these wholesome ingredients, Unbun Sliced Bread, Bagels, Buns and Tortillas offer a variety of health benefits so you can stay on track of your health and weight loss goals without giving up some of the foods you love.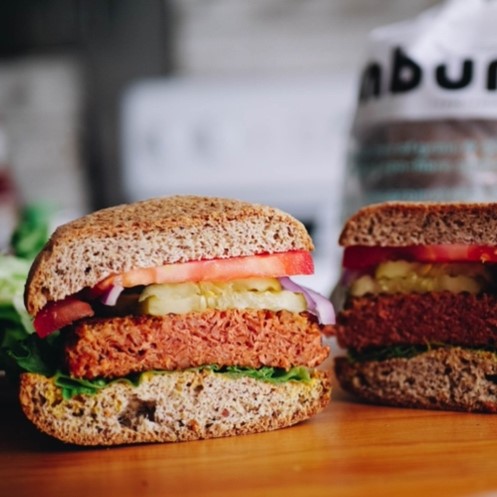 Pictured: Unbun Keto Buns
Best known for their all-natural, low carb approach to gluten-free baked goods, GluteNull Bakery recently proved to low carb dieters that cookies and granola aren't the only things they do well! Their latest product releases include low carb coconut ciabatta bread made from organic coconut flour, high fibre golden buns made with golden flaxseed, and keto-friendly almond fatty buns made from natural almond meal. Use any of these delicious breads to help you meet your dietary requirements without sacrificing flavour and wholesome nourishment!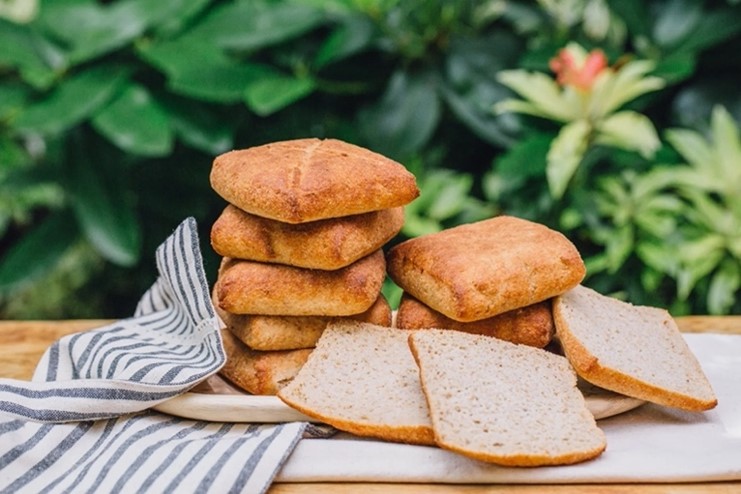 Pictured: Almond Fatty Buns
The closest thing to traditional sandwich bread that won't break your diet, Slice of Life Carb Wise Bread is not only celiac safe (gluten-free) and low in carbohydrates, but it is also made with healthful ingredients. You can feel good about making your sandwich with this bread knowing you're getting all the benefits of almond flour, psyllium husk fibre, flaxseeds, pumpkin seeds and egg whites. Two slices of Slice of Life Carb Wise Bread contain just 120 calories, 7g of healthy fats, 3g of net carbs and 10g of protein!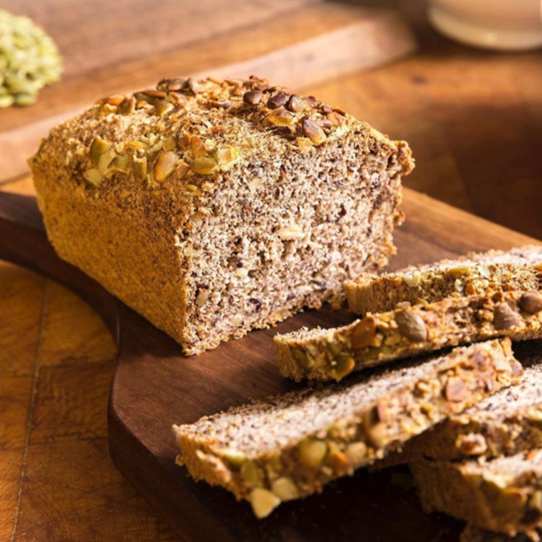 Pictured: Slice of Life Carb Wise Bread
Must-Have Low Carb Sandwich Condiments
Condiments can take a sandwich from good to great. But which ones are allowed on a low carb or ketogenic diet? The key is to avoid anything with added sugars, which can be found in many common condiments. The good news is that you can find a variety of sugar-free condiments at The Low Carb Grocery and the great news is that some of these condiments can even help you achieve your macronutrient targets! These high fat low carb condiments are sure to elevate your sandwiches, and have many other uses in your kitchen, as well.
Chosen Foods Keto Mayonnaise from Coconut Oil
This keto mayonnaise from Chosen Foods adds a healthy dose of ketosis-supporting medium chain triglycerides (MCTs) from coconut oil to your sandwich! MCTs are converted easily and rapidly into ketones by the body, so they are a fantastic addition to any keto-friendly sandwich. This rich and creamy mayonnaise is also made with cage-free eggs, organic vinegar, salt, spices and herbs that make for a refreshingly pure taste.
Pesto sauce takes any sandwich up ten notches! This all-natural, authentic pesto alla Genovese (AKA traditional pesto) from Paese Mio is made with simple ingredients including basil, extra virgin olive oil, Grano Padano cheese, cashews, pine nuts, and garlic. Each 2-tablespoon serving contains just 2g of net carbs and 13g of fat. Aside from slathering it on your sandwiches, you can also use this sauce as a dip or add it to low carb pasta dishes, omelettes, and grilled meat for extra richness and bold flavour.
Primal Kitchen offers a line of premium spreads that are perfect for sandwiches, burgers, dips and more! All of these spreads are made with low carb, keto-friendly and paleo-friendly and ingredients such as avocado oil and organic cage-free eggs. They are also free from added sugars, soy, and canola oil so you can feel good about adding these spreads to just about anything. Try paleo chipotle lime mayo, paleo garlic aioli and paleo mayo with avocado oil!
Hot sauce is a great addition to low carb and keto-friendly sandwiches. Not only does it make things a little more interesting, but adding some heat to your meals can also have surprising health benefits! Read our article about the benefits of incorporating spicy food into your diet, and browse our selection of low carb, low sodium and vinegar-free hot sauces on our website.
Sandwich Filling Ideas To Get You Out of a Rut
When you think about low carb or keto-friendly sandwiches, a few classics may easily come to mind: grilled cheese, BLT, pulled pork, ham and roast beef. While many of these sandwiches may be compliant with your low carb or ketogenic diet, they aren't the most nutritious choices, and they can get old pretty quick.
Below, we've listed some low carb and keto-friendly sandwich ideas that you may not have thought of before. These sandwiches are not only healthier, but they can also rescue you from a bout of keto boredom!

1. Keto Air Fried Chicken Sandwich
If you've got an air fryer at home, this recipe is a great way to make use of it! While fast food fried chicken sandwiches may be a distant memory, you can easily re-create a similar – and healthier – experience right at home. With none of the trans fats and all of the crispy goodness, this sandwich is definitely a crowd pleaser, so share it with the whole family!
We recommend using a low carb hamburger bun for this recipe, such as Unbun Keto Buns. This sandwich is also dressed with keto mayonnaise and garnished with pickles to add a bit of tanginess. Check out our selection of sugar-free pickles on our website, which you'll need if you want to avoid added sugars found in most store-bought pickles.  
2. Keto Bahn Mi
Originally created on the streets of Saigon, the bahn mi sandwich is a hybrid of Vietnamese and French cuisines. It features fresh pickled vegetables, cilantro, spicy chilis and a protein source (anything from tofu to pâté) served between a sliced French baguette. Unbun Keto Mini Baguettes are perfect for re-creating this deliciously well-balanced sandwich, and a low carb hot sauce is the ideal accompaniment. This recipe we've found also features a tasty and simple homemade sauce made from mayonnaise and soy sauce to add some extra fat and umami flavour to this sandwich. You could also use coconut aminos in place of soy sauce to make this sauce soy-free.
This keto-tarian (vegetarian keto) sandwich forgoes the meat but not the flavour! Butter, garlic and soy sauce-coated mushrooms and loads of cheese make this recipe absolutely mouth-watering. You may be wondering – are mushrooms low carb? In fact, yes, they are! Mushrooms are one of the lowest carb vegetables that you can enjoy on a keto diet; a one-cup serving contains just 2g of carbs, 1g of which is fibre. They are also rich in immune-boosting nutrients and can help reduce the risk of high cholesterol, heart disease and type 2 diabetes.
Slice of Life carb wise bread is the most similar to the bread used in this recipe. You could also use GluteNull bakery golden buns or almond fatty buns; the nutty flavour of either of these choices pairs well with earthy mushrooms and smoky cheese. While this sandwich doesn't need a sauce (thank you, cheese and butter!), you could always add a bit of herb-y pesto to take the flavours up a notch.
4. Green Goddess Sandwich (Low Carb)
If you feel like you've been missing your greens lately, this sandwich is for you – it's loaded with avocado, sliced cucumbers and shaved zucchini. The fresh herbs in the green goddess sauce add a real depth of flavour and a number of healing health benefits, too! This sandwich also includes microgreens such as alfalfa or broccoli sprouts, which are packed with nutrients. Thick slices of Havarti (or other) cheese and olive oil balance out this sandwich and provide you with the necessary fats for your diet. Serve this green goddess sandwich between slices of carb wise bread or Unbun sliced bread for best results!
Primal Kitchen carries a green goddess dressing that you could use instead of making your own, in case you don't have all of the ingredients on hand. This dressing is great for marinades and salads, too!
5. Shrimp Salad Sandwich (Low Carb)
Sick of tuna salad and chicken salad? Try this healthy shrimp salad recipe and make it low carb or keto-friendly by serving it up on delicious coconut ciabatta bread from GluteNull Bakery. This sandwich is perfect for warmer months and is super easy to throw together. Combine finely chopped pieces of shrimp and celery with a sauce made from Greek yogurt, Dijon mustard, fresh dill and optional hot sauce. This filling is low in carbohydrates, high in fat and you can even get your greens in! Shrimp is also low in calories, high in protein and offers a number of beneficial nutrients including selenium, vitamin B12 and zinc.
You could also serve this sandwich warm with freshly grilled shrimp atop the cool yogurt sauce. Try seasoning the shrimp with Fire in the Kitchen Spice Co.'s island curry rub for a Caribbean-inspired take on this sandwich!
6. Low Carb Chicken Fajitas (Wrap)
If you're looking for big flavour in a short amount of time, this chicken fajitas recipe is just what you need, and it's perfect for stuffing into Unbun Keto Tortillas! Traditionally, fajitas are thinly sliced pieces of meat (steak or chicken) that are seasoned with a delicious medley of spices and grilled alongside sizzling bell peppers and onions. If you don't have all of the spices mentioned in this recipe on hand, be sure to pick up one of these time-saving skillet sauce starters from La Tortilla Factory! Don't forget to make extras – these chicken fajitas make for amazing leftovers as the seasonings have a chance to marinate for longer. Enjoy chicken fajitas the next day on their own, in a salad or served over cauliflower rice.
Stay Connected
We hope that this article has given you some inspiration for your next low carb or keto-friendly sandwich, and some reassurance when it comes to your low carb bread and condiment options, too. If you would like to share your low carb sandwich creations with our online community, head over to our Facebook and Instagram pages or tag us in your posts @lowcarbgrocery! We'd also love to hear your direct feedback through a Google Review. And, remember to sign up to The Low Carb Grocery's email newsletters to receive updates on our latest product launches and special sales.