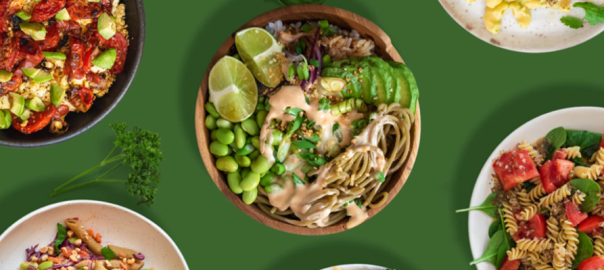 Chickapea Pasta Recipes
Low Carb Chickapea Pasta Recipes
Chickapea pasta made from organic chickpeas and lentils is a lower carb alternative to traditional pasta. Learn how to make delicious vegan, gluten-free dishes with this pasta substitute!
Chickapea Pasta is saving our health and our planet one forkful of delicious pasta at a time! Making delicious pasta from sustainably farmed, organic ingredients isn't the only way that Chickapea is creating a positive impact on the world. By working with their suppliers and community outreach programs, Chickapea is tackling big issues facing humanity such as climate change and food insecurity. Wondering how you can help? Simply enjoy your favourite comfort food! Grab a package of Vegan Mac N Cheese or explore some of the other delicious recipes we'll share in this article!
But first, let's talk a bit more about the behind-the-scenes work over at Chickapea. Here are some of the ways that this company is helping people across the nation, and our planet at large!
Disclaimer: The information in this article is not intended to replace personalized medical advice. A low carb diet may not be suitable for you. Consult your health care provider before making any changes to your lifestyle or use this information at your own risk.
Addressing climate change through sustainable, regenerative agriculture.
While rising global temperatures may be at the forefront of environmental concerns, another issue we are currently facing is a lack of biodiversity in our ecosystems. Biodiversity, the variety of life forms on Earth, is critical to ecological processes that sustain life and allow for natural evolution. When we think about food chains, every species at each level plays an important role in maintaining the delicate balance of Earth's natural systems – from moss growing on rocks all the way up to the apex predators at the top of the food chain. When one of these levels gets disrupted, as often the case through large scale agricultural practices and human destruction of wild habitats, the whole system falls out of balance, creating a cascade of consequences.
How Regenerative Farming Can Support Biodiversity
Chickapea pasta supplies its ingredients – organic chickpeas and lentils – from regenerative farms. Why? Because this type of farming has been shown to promote biodiversity, and thus help slow or reverse climate change. Regenerative farming involves crop cycling and practices that pull carbon out of the atmosphere and into the soil, where it belongs. This helps preserve the topsoil, which helps produce healthy food. It also protects our water sources and promotes biodiversity.
This might be a lot of information to take in all at once, but don't worry – leave it to the expert farmers supplying companies like Chickapea pasta! By choosing products from companies who care about real issues and are transparent about their efforts to support these causes, you can still contribute towards a positive future. 
Bringing organic produce to low-income communities in Canada.
There is joy in sharing a good meal – even if the person you are sharing it with lives across the country! Chickapea donates 2% of all sales revenue directly to organizations such as Community Food Centres Canada (CFCC). Each CFC provides high-impact food programs to low-income communities across Canada that allow people to grow, cook, share, and advocate for healthy, sustainable food! They also provide regenerative, organic produce to these communities, who are facing food insecurity. These efforts also have big social impacts, since low-income communities across Canada tend to be overwhelmingly and disproportionately populated by racial minorities.
Bringing healthy, delicious food to these communities helps breaks down some of the social and economic barriers faced by their residents. Food insecurity – the disruption of eating patterns caused by a lack of food quality, variety, and desirability – is not only linked to health outcomes (ranging from nutrient deficiency and obesity to birth defects), but also to social isolation, low working and learning capacities, and neighbourhood safety issues.
We all know that we are capable of so much more once we've had a big, healthy meal, and when we are connected to others. Having access to safe and adequate food in a dignified manner is a basic human right. Chickapea understands this, which is why we are proud to carry their products and support their causes!
Building health around the nation.
Plant-based diets have grown in popularity over the past several years. Increasing our intake of plant-based protein sources while reducing our intake of meat and fish can help preserve some of our natural ecosystems and have a huge impact on our health, too! A diet that involves a variety of fruits, vegetables, and legumes – such as chickpeas and lentils (the only two ingredients found in Chickapea pasta) – is one that supports our bodies' needs. The vitamins and minerals found abundantly in these plant-based foods are essential to supporting daily functions as well as lowering the rate of heart disease, diabetes, cancer, inflammation and obesity. Want to achieve better health? Eat more plants!
Discover Chickapea Pasta
Now that we've covered why we love Chickapea, we'll show you how to enjoy this delicious grain-free, plant-based pasta! Although the possibilities are virtually endless, here is one recipe we tried recently and felt the need to share.
Vegan Tuscan "Chicken" Spirals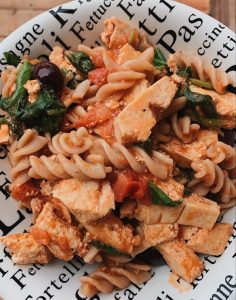 Prep Time: 5 minutes
Cook Time: 15 minutes
Serves: 1
Honouring the power of plants in this recipe, we wanted to show you how you can enjoy a meal made entirely from plant-based foods that are packed with clean protein, healthy fats, and slow-digesting carbs.
This balanced meal not only tastes great, but also supports healthy blood sugar levels, will keep you feeling full and satisfied for hours, and can even help you build some muscle! Who knew a bowl of pasta was capable of so much!?
Ingredients:
1 serving of Chickapea Spirals (1/3 of package)
½ block of organic extra firm tofu
¼ cup of crushed tomatoes or freshly chopped tomatoes
2 handfuls of spinach
Juice and zest of ½ a lemon
5-6 kalamata olives
Fresh basil
Extra virgin olive oil
Seasonings
Sea salt
Black pepper
Garlic powder
Cooking Instructions:
Boil a pot of water. Add your Chickapea Spirals and cook according to package instructions, about 6-7 minutes. (Note: you will notice some starches releasing from the pasta as it cooks, this is normal and will come in handy later!).
While your pasta is cooking, heat a non-stick skillet over medium heat. Add a splash of extra virgin olive oil and ½ of your tofu block to the pan.
Using a wooden spoon or spatula, break the tofu into bite-sized pieces to look just like chicken. Season with salt, pepper, and garlic powder. Let the tofu brown slightly by cooking for 4-5 minutes, stirring occasionally.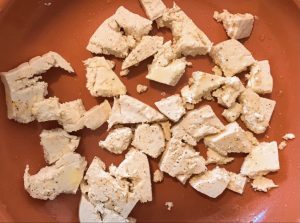 Next, add your crushed/chopped tomatoes to the skillet. Reduce the heat and let everything simmer for another 1-2 minutes.
Your pasta should be finished cooking at this point. Turn the heat off and add some of the pasta water to the skillet before draining. The water will help loosen the tomato sauce and the starches help everything bind together.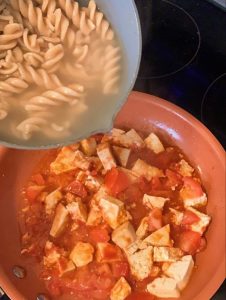 Reduce the heat on your skillet and add your spinach, lemon juice, and lemon zest. Stir until the spinach has wilted.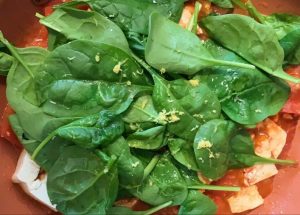 Drain your Chickapea Spirals and add them to the skillet.
Add your olives, fresh basil, a little more extra virgin olive oil, and toss everything together before serving.
Top with shredded vegan cheese (or Nutritional Yeast Flakes) or enjoy as is!
Buon Appetito! Enjoy this delicious Italian-inspired meal ready in about 20 minutes any time you're in the mood for some simple comfort food. This meal is packed with:
23g of plant-based protein from 1 serving of Chickapea pasta and another 30g from the suggested portion of extra firm organic tofu!
More than 20g of fibre per bowl.
All 9 essential amino acids from tofu – great for building muscle!
Omega-3 fatty acids and antioxidants from the olives and extra virgin olive oil.
Vitamins C, K, and A and other phytonutrients from the spinach and tomatoes.
B Vitamins from organic chickpeas and lentils.
Essential trace minerals including iron, folate, potassium, magnesium, phosphorus, copper, zinc, and selenium found in legumes grown in healthy soil!
More Ways to Enjoy Chickapea Pasta
Check out tons more delicious recipes on Chickapea's website! There are countless ways to enjoy this pasta, no matter your dietary or flavour preferences. We got our inspiration for this dish from their Tuscan Spiral Pasta recipe, which you can try making as well!
Here are a few more recipes we pulled from their website that sound absolutely delicious!

Pictured: Healthy recipes made with Chickapea Lasagne (left), Penne (middle), and Linguine (right)!
Be sure to enjoy these meals with friends and family, and don't forget to snap a picture and tag us @lowcarbgrocery and @chickapeapasta on Instagram so we can see your lovely creations!
Oh, and if you run into any recipe roadblocks that may require a low carb substitution, browse our website to find what you are looking for. We carry a large variety of sugar substitutes, cooking oils, and other low carb cooking & baking ingredients to help meet your specific dietary needs!
Share this Post!
We hope that you enjoyed reading this article and learned something new about how your food choices can truly make a world of a difference! If you would like to help us and Chickapea continue to spread the positivity, leave a comment under this post on our Facebook page and tag your friends and family!
And, as a special thank you to our low carb lifestylers, we are offering an exclusive discount on all Chickapea products at The Low Carb Grocery. Apply code CHICK20 at our online checkout to receive 20% off your purchase of any Chickapea pasta food items.
Valid online only or redeemed for in-store pickup option, which is available at online checkout. Promotion may end without notice and/or while promotional quantities last. No substitutions or rain checks, please. Valid until 2022-04-25.
Please also leave us your feedback with a Google Review. And remember to sign up for The Low Carb Grocery newsletter for the best deals on keto, low-carb, and sugar-free foods!