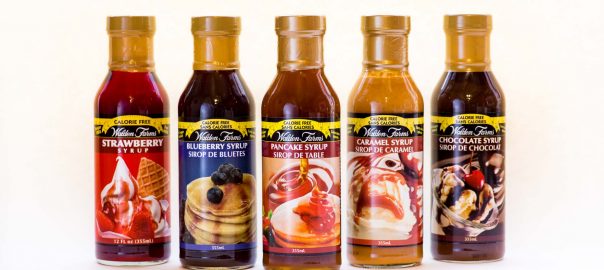 Make Pancakes & Waffles Great with Walden Farms Syrups
Make Pancakes & Waffles Great with Walden Farms Syrups
Product Insights: Walden Farms Syrups
We've already talked about all the great options that exist for low carb breakfasts, but today we're going to look a little closer at a couple of our favourites, namely pancakes and waffles!
These delicious breakfast foods can easily be made the low carb way, but we're not going to stop there. We're also going to talk about Walden Farms, which is one of the most popular brands in the world of low carb foods. They have some of the most delicious sugar-free syrups that you can buy, available in many different flavours you can choose from to top off your pancakes and waffles.
If you're not familiar with Walden Farms, take a look at this introduction article to learn more about the company and the different types of low carb food products they make. They're one of the finest low carb brands available, and our customers agree that the quality and taste are second to none.
Now, let's get going on breakfast!
Types of Walden Farms Syrups
First and foremost, we should definitely talk about Walden Farms Classic Pancake Syrup. This is the standard, go-to pancake and waffle syrup for many of our customers, who love the amazing guilt-free maple flavour. As with all Walden Farms syrups, it's 100% sugar-free, which makes it absolutely perfect for a low carb diet. Many people even use it as a flavour accent on things like cereal and smoothies, or as an alternative sweetener in coffee, lattes, and tea. It's definitely got plenty of uses in the low carb kitchen. You can find Walden Farms Pancake Syrup here.
Next up, let's have a look at some other syrups from Walden Farms. If you're in the mood to mix things up in the morning and try something new, they have several other flavoured syrups that work great on pancakes and waffles. Try some Strawberry Syrup to go with your strawberry pancakes, or perhaps some Caramel Syrup to accompany a piping hot Belgian waffle with sugar-free whipped cream.
Fans of blueberries will be happy to discover this tasty Blueberry Syrup which is amazing on top of blueberry pancakes or as a sweet addition to blended fruit drinks. For an even more decadent treat, throw some chocolate chips on top of your waffle and drizzle it with this fantastic Chocolate Syrup. We're pretty sure this will be a smash hit with kids and parents alike!
Once you start exploring the different flavours of syrup from Walden Farms, you'll find that they open the door to all kinds of custom pancake and waffle creations. For the full selection of Walden Farms syrups, click here to browse.
Now that we've got you craving some fresh, hot pancakes and waffles, it would be a shame to leave you without some incredible low carb recipes to try. So, we've gathered a couple of delicious recipes that you can use to test out all those new flavours of syrup this weekend!
Low Carb Pancake Recipe
Pancakes definitely qualify as comfort food, and this recipe will undoubtedly end up as your standard family pancake recipe from now on. It's simple to make, only requiring 6 ingredients, and produces light, fluffy, and delicious pancakes every time. The great thing about this Low Carb Pancake Recipe from Maya at WholesomeYum.com is that it combines both almond flour and coconut flour to produce a superior texture that you can't get with each flour on their own. It's a unique twist on low carb pancakes that makes a huge difference in the final product.
Once you get your stack of pancakes cooked up, top them off with whatever low carb toppings you'd like, such as berries, nuts, whipped cream, and your favourite flavour of syrup. Now, dig in!
Low Carb Waffle Recipe
Finding a great low carb waffle recipe is like finding a needle in a haystack. Fortunately, we did it for you so all you need to do is bookmark this recipe and start cooking! This recipe for low carb Waffles from Libby at DitchTheCarbs.com is not only sugar-free, but also grain-free, and still produces light, fluffy, waffles with no complicated ingredients or instructions. One fantastic tip that we just have to share about these waffles is that they can even be used as an alternative sandwich bread that kids will go nuts for. Now that's what we call a creative use of a healthy waffle!
Conclusion
We certainly hope that this article has encouraged you to check out some of the great syrup products from Walden Farms. Those recipes for low carb waffles and pancakes are absolutely perfect for a fun, hot breakfast that the whole family will love this weekend. Offering a selection of toppings and syrups to choose from will kick things up a notch and definitely inspire some creativity around the breakfast table. See what interesting combinations you can come up with, and don't be afraid to share them with the family. Although, they may just be so good, you'll want to keep them all to yourself! Happy eating!