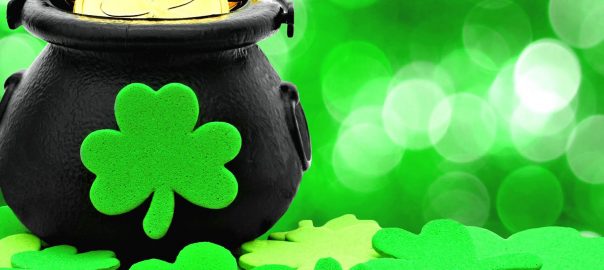 Irish Food The Low Carb Way
Delicious Low Carb Irish Foods to Celebrate St. Patrick's Day
St. Patrick's Day is nearly here, and with it comes the promise of green beer and plenty of laughter and merriment. To aid in your Irish celebrations this year, we thought it would be helpful to gather together a list of delicious low carb recipes that you can serve in honour of St. Patrick. Irish food is hearty, and in many cases is low in carbs even when made in traditional ways. These recipes take things to the next level by incorporating some interesting twists and alternative ingredients to make them even lower in carbs. Now, there's no time to waste in preparing a great Irish-themed menu for St. Patrick's Day, so let's get right to the recipes!
What better way to kick off a St. Patrick's Day menu than with the classic combo of corned beef and cabbage? This savoury, high-protein meal is definitely considered comfort food, and it's loaded with a hearty helping of vegetables to round out the recipe. It's quite simple and easy to prepare, and requires very little prep time. This particular version calls for the corned beef to be brushed with butter prior to serving for an extra-rich flavour. Serve with your favourite mustard on the side, and you've got a fantastic Irish meal to go with your pint of Guinness.
Traditional Irish colcannon is made from mashed potatoes and either kale or cabbage, but this recipe takes the low carb route and uses cauliflower in place of the potatoes. It also substitutes spinach as the secondary ingredient for added nutrition and a vibrant green colour, although kale can also be used for a more traditional taste. It also incorporates avocado and sour cream for additional depth of flavour, and the result is simply delicious. Serve alongside bacon or ham, and enjoy.
No Bake Irish Cream Cheesecake
Next up, we've got a delectable dessert that utilizes the unmistakable taste of Irish Cream to make a rich, creamy cheesecake that is simple to prepare, and requires no baking. These mini single-serving cheesecake desserts feature a do-it-yourself Irish cream that helps keep the carb count very low, and tastes amazing. You can also adjust the coffee amounts to your taste, making it either stronger or milder if you prefer. Serve with a dollop of sugar-free whipped topping, and we're sure you'll fall in love with this simple but decadent dessert.
There's just something about Shepherd's Pie that makes it one of the definitive comfort foods. It's easy to make, can be prepared ahead and frozen for a convenient meal whenever you need it, and this low carb version is amazingly healthy. This particular recipe comes from Dixie Diner, and features their low carb instant mashed potatoes as the topping of the pie. Alternatively, you can always use a cauliflower mash instead, which would help to add another serving of vegetables to this dish, and bring the carb count down even lower.
It's hard to believe that something this delicious can be made in just 20 minutes, but it's true! This stew is hearty and comforting, and you'll definitely want to have it year-round, not just on St. Patrick's Day. It uses a savoury combination of tender lamb chunks, garlic, green beans, zucchini, and a simple selection of herbs and spices to produce a delicious low carb meal that the whole family will definitely enjoy on a chilly evening.
Low Carb Irish Cream Ice Cream
Here's another tasty dessert option that you will love to serve up on St. Patrick's Day, or any other day where you're in the mood for some Irish cream deliciousness. This recipe is sugar-free and keto-friendly, with a nice light flavour that's not too sweet but definitely an enjoyable way to finish a hearty meal. Top it off with a little bit of sugar free chocolate sauce or serve it beside a low carb brownie for an extra-yummy dessert experience.
McCann's Steel Cut Irish Oatmeal
Finally, we have something to offer for an Irish breakfast that is amazingly simple and yet perfectly appropriate to kick off your St. Patrick's Day this year. McCann's Steel Cut Irish Oatmeal is made entirely from wholegrain Irish oats, and is loaded with plenty of nutritional value and vitamins. Oatmeal is also extremely high in fiber, and contains an essential fatty acid, making oatmeal a very healthy breakfast option. You can also top your oatmeal with a variety of different things, like your favourite flavoured syrup or some fruit and berries, to give it a personal touch.
Conclusion
Planning a healthy, low carb St. Patrick's Day menu full of Irish inspiration can be easy, and we hope that these recipes have encouraged you to try something different on your meal plan this year.
If you're looking at a fast and easy way to make other things more Irish on St. Patrick's Day, pick up a bottle of delicious DaVinci Irish Cream Flavoured Syrup. It's sugar free, and is a perfect way to inject the wonderful flavour of Irish cream in to your coffee, on your hot cereals, or as a sweet addition to the top of your favourite frozen desserts.
We hope that you have a wonderful St. Patricks Day, and cheers to your health! Or as they say in Ireland, slàinte!