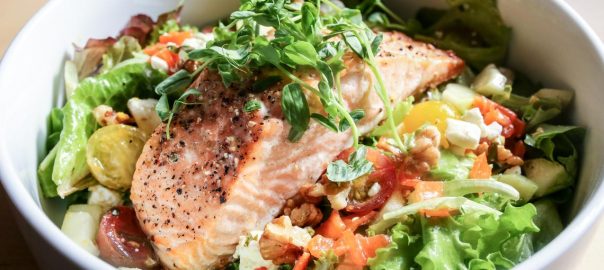 Ideas For Low Carb Dinners for Spring
6 Fresh and Fun Low Carb Dinner for Springtime
When springtime rolls around and the weather starts to shift from cold and dreary to warm and sunny, it's only natural for our minds to turn to a different perspective when it comes to the recipes we choose and foods we make. We start to look for meals that use fresh vegetables and lighter flavours that reflect the changes of the season. That's why we've put together this helpful list of delicious, low carb recipes that are perfect dinners to enjoy during the springtime.
In this list, you'll find a wide array of recipe ideas, including main courses, side dishes, salads, and more. These recipes range from simple twists on old classics, to new and exciting creations we'd bet that you've never tried before. Whether you're looking for a fast and easy dinner, or something fancy and made to impress your guests, you'll definitely find something here that will fit the bill. Let's get right to the first recipe on our list!
Red Coconut Curry Meatballs with Cauliflower Rice
We've decided to start this list of springtime dinner recipes with a meal full of delicious flavours and bright, vibrant colours. The distinctive taste of red curry pairs very well with these savoury chicken meatballs and the fluffy cauliflower rice, and everything is perfectly complemented by the freshness and vivid purple colour of the cabbage salad. All in all, this is a wonderful low carb meal to serve on a bright spring day, and its sure to be a big hit.
Cold Spiralized Sesame Noodle Salad
Keeping with the theme of bright colours and fresh flavours, this unique salad utilized spiralized carrot, cucmber, and zucchini noodles in place of traditional wheat or flour-based noodles. The result is a salad that works perfectly as either a side dish or light meal, and the Asian style dressing is a wonderful combination of tart and sweet that we're sure you'll love. This recipe is light, bright, and fun to make.
You may think that a Cobb Salad is really nothing new, but there are always new ways to add a fun twist to a classic recipe. In this version, things are kept light and fresh, with a healthy dressing to drizzle over the colourful arrangement of greens and reds. Bacon, chicken, and egg provide the protein, while lettuce, tomatoes, and avocado help round out the vegetable ingredients. It's a simple variant of a well-known favourite, and the taste of the blue cheese dressing is an absolutely perfect way to top the whole thing off.
Chipotle Turkey Burgers with Guacamole
These tasty little burgers are a great way to serve up something different for dinner on a warm spring evening. The ground turkey patties are infused with a simple blend of chipotle pepper, garlic which gives the meat a nice little kick that works well with the cool, fresh toppings like guacamole, tomato, and onion. Just like any burger, you can swap out traditional buns for your favourite low carb burger bun. Alternatively, you could opt to keep the carb count even lower by sandwiching the patty and your toppings between two crisp leaves of your favourite lettuce. However you decide to build them up, these burgers are simply delicious.
Simple dinners are sometimes the most satisfying, and this recipe for a fresh salmon fillet paired with basil definitely fits in to that category. The fresh citrusy taste of the lemon goes very well with the flavour of the salmon, and easily pairs well with any variety of seasonal vegetables including asparagus, zucchini, and more. This recipe is ready in under 30 minutes and uses just a handful of commonplace ingredients. The results, however, speak for themselves. This is definitely a great way to prepare one of the most popular types of fish for a nice family springtime meal.
Grilled Chicken and Veggie Kababs
Finally, we've found what is probably the most colourful recipe on our list. Kebabs are such a great way to prepare a healthy and delicious dinner in very little time, and it also lets everyone customize their dinner by selecting their own unique combo of meat and vegetables. In this recipe, you can easily build out your own vibrant assortment of vegetables to choose from, such as green or yellow zucchini, all colours of bell peppers, red onions, and more. Here's a chance to get creative and try some new vegetables to accompany your grilled chicken. Have fun with this one!
Conclusion
Spring is the season of change, so it just makes sense that you should work on changing up your meal plans and work in some exciting, fresh new recipes to try. We certainly hope that this interesting collection of springtime recipes has inspired you to try out some new and unusual flavours, as well as revisit some old classics that you may have forgotten about. In addition, as you get your barbecue grill fired up for the season, why not try some tasty new seasonings on your favourite steaks, chicken, pork, and seafood? The selection of rubs and seasonings available from Summer Kitchen here at The Low Carb Grocery has a wide array of tastes to choose from. You can check out the full range of Summer Kitchen spices and rubs here. These seasonings are a great way to add some unusual flair to your grilling experience.