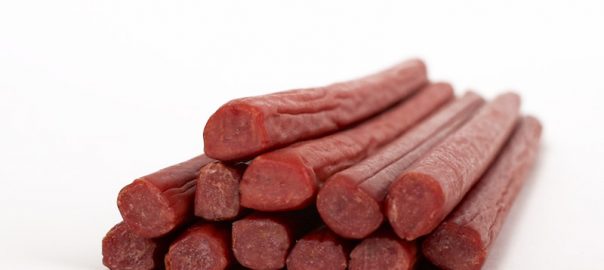 Nicks Sticks Organic Beef Snacks
All About Nicks Sticks Organic Beef Snacks
Snacking on the low carb diet can present a few challenges for many of us. Sometimes it can be tough to find a healthy snack that checks all the right boxes on our lists, including low carb count, great taste, and filling enough to satisfy our cravings. Fortunately, there are brands out there like Nicks Sticks that come to the rescue with delicious high-protein snacks that deliver everything a hungry low carb dieter could want.
In this article, we're going to take a look at Nicks Sticks, including how the company got its start and what their philosophy means to their customers. We'll also take a look at some of their most popular products and share a few links where you can find them here at The Low Carb Grocery.
History of Nicks Sticks
The origins of Nicks Sticks go back to a small town in Iowa where founder Nick Wallace grew up. With the importance of hard work and quality embedded deep in Nick's vision for the company, Nicks Sticks was founded with the purpose of delivering only the finest quality products made from pure and simple ingredients. Nicks Sticks are made only from 100% organic beef from free-range cows that are raised on a green grass diet. It's this combined dedication to quality and natural approaches to raising their cattle that is one of the biggest reasons for the success of Nicks Sticks.
Why is Grass Fed Beef Important?
There are many notable differences in the beef that comes from grain-fed cattle when compared to the beef that comes from grass-fed cattle. Most notably, grass-fed beef has been shown to have lower levels of saturated fat, higher levels of omega-3's, and high doses of conjugated linoleic acid (CLA), In addition, the grass-fed process of raising cattle is a more ecologically friendly approach. It's for these reasons and more that Nicks Sticks are always made from grass-fed beef, free of hormones and antibiotics.
Nicks Sticks Beef Snacks
Aside from the main ingredient of grass-fed beef, you'll find only a simple list of other ingredients that are used to make Nicks Sticks. Nicks Sticks refuses to use ingredients like MSG, nitrates, sugar, or red dye in their products. You'll only find grass-fed beef, organic seasoning salt, and a proprietary blend of spices in each and every beef snack from Nicks Sticks.
Original Nicks Sticks Beef Snacks
These are the sticks that made Nicks Sticks famous. These beef snacks have a big, bold flavour and a wonderful firmness and texture that make them the perfect beef stick. Each stick is about 120 calories, with 10g of protein, 8g total fats, and zero carbohydrates or sugars. You can find Nicks Sticks Original Beef Snacks here.
Spicy Nicks Sticks Beef Snacks
If you're a snacker who likes their beef sticks to have a bit more kick to them, you've got to try the Spicy version of Nicks Sticks Beef Snacks. They've got all the same goodness as the Original Nicks Sticks, but with the added heat from Jalapeno peppers to give them a unique spicy taste that you'll love. You can find Nicks Sticks Spicy Beef Snacks here.
Conclusion
Beef sticks are a great way to work in some more protein to a low carb meal plan, without the risk of adding in any additional carbs or sugars. They're a convenient snack that tastes great, is easily portable, and does a great job of satisfying hunger. Whether you keep a stash in your office desk to get you over the mid-afternoon slump, or are planning a summer road trip, Nicks Sticks are a perfect snack option that's healthy and delicious. You can be sure that when you buy Nicks Sticks, you're getting a top-quality beef snack made from only the finest natural ingredients, and with a taste that can't be beaten. Check out the full range of Nicks Sticks products here at The Low Carb Grocery.