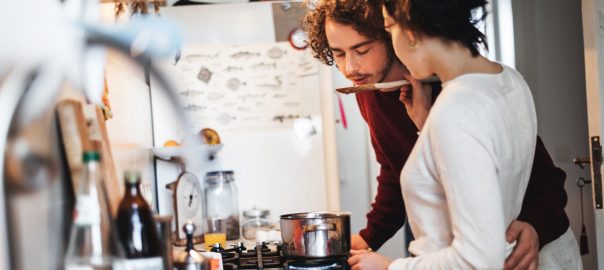 Healthy & Simple Recipes
Minimalist Healthy Cooking – Making Low Carb Meals with Simple Ingredients
If you are social distancing — and we hope you are — it's important to find ways to maximize your household food supply. Doing so will limit trips to the store and help you maintain a healthy low carb diet that's rich in protein, vitamins, and minerals. Of course, it's also important to make sure that you're not getting too repetitive with your meals during this difficult time, and to keep an interesting array of flavours and meal types on the table.
One way to successfully use the food you have on hand is to find recipes that focus on simple ingredient lists, but are still big on flavours. There are many healthy meals that can be prepared by utilizing a variety of non-perishables typically found in pantries, as well as meats and vegetables that can be frozen in order to avoid spoilage and extend their shelf life.
Here are some creative and simple low carb recipes that feature minimal lists of ingredients, common non-perishables, and many other types of foods that can easily be frozen. These recipes are delicious, easy-to-make and give you lots of variety in your weekly meal plans.
Simple Low Carb Meal Ideas
Please note that some adjustments have been made to ensure each recipe contains only low carb ingredients and popular pantry items. We've included a link to the original recipe if you wish to review or to add your own twist.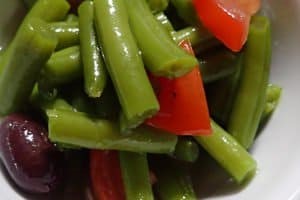 Keto Bean Salad
This delicious bean salad can be enjoyed on its own for lunch or it pairs nicely with a lean protein like pork loin.
For the salad, you need one can of cut green beans, ¼ cup of chopped tomatoes, ½ cup of pitted olives (we recommend Kalamata) and one thinly sliced green onion with the tops still attached.
Instead of using 4-5 ingredients to make a vinaigrette, we recommend Walden Farms Italian Dressing. It has the perfect amount of acidity for a dish like this and is made from the world's finest aged vinegar and fresh herbs and spices (plus it has no calories, fat, sugar, cholesterol, or carbohydrates!).
There are only a couple of steps to make this salad. Place the ingredients in an airtight container. Pour in the amount of dressing you would like but be careful not to overdress. Pop the lid on and give it a good shake for roughly 20-30 seconds.
Refrigerate the container for six hours. This will give the ingredients time to marinate in the dressing. If you have enough ingredients, we recommend making a big batch, so you have leftovers for a few days.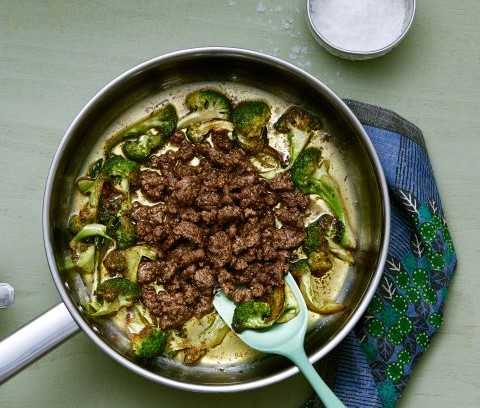 Ground Beef and Broccoli
This hearty meal only requires a small number of ingredients: 2/3 lb. of ground beef, 3 oz. of butter, ½ lbs. of broccoli and salt and pepper to taste.
To make, rinse and trim the broccoli but do not discard the stem. Then, cut the top into small florets. Before moving to the next stage, you must peel the stem and dice into small chunks.
Heat the butter in a frying pan big enough to fit the beef and the broccoli in a single layer.
Brown the beef on high heat and season with salt and pepper. Before the beef has completely cooked, lower the heat and add more butter to the pan. Once the butter has melted, add the broccoli and cook for 3-5 minutes. Make sure to keep stirring the ground beef and don't forget to season the broccoli as it cooks.
You can serve with a dollop of Walden Farms Amazin Mayo on top. This will add some creaminess and can provide more depth of flavour.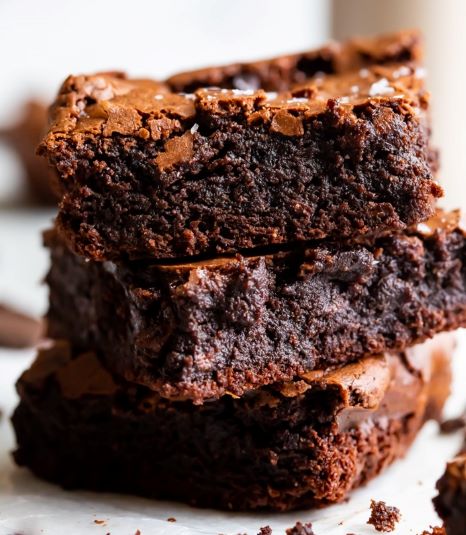 Vegan Rocky Road Mocha Brownies
Make these moist vegan brownies using Dixie Diner Brownie Mix and Crave Sugar Replacements as a sugar substitute.
All you need for the brownies is the right box of mix and 9oz. of hot coffee (whatever kind you use is fine). For the frosting, you will need ½ cup of low carb soy milk, ¾ cup of cold coffee and 3 tbsp. of cocoa.
Prepare the brownie mix per the package directions in an 8 or 9" square pan, substituting the hot coffee for water where applicable. Next, bake as directed.
While the brownies bake, combine all the frosting ingredients in a bowl and mix them so that they blend well. Once the brownies are ready and have cooled, top with the frosting.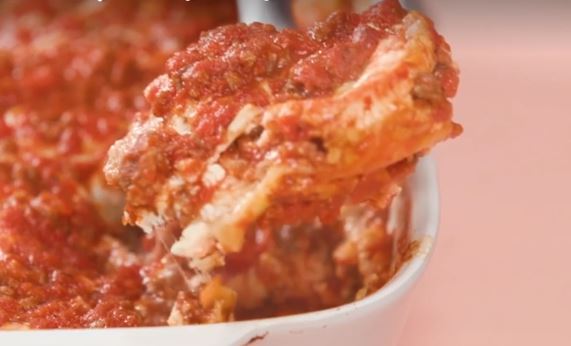 Extra-Easy Lasagna
Lasagna is the perfect minimalist meal. It's essentially an Italian casserole that isn't reliant on a ton of ingredients to provide flavour. This recipe is simple and easily allows for low carb substitutions.
The only ingredients are 1 lbs. of lean ground beef, 4 cups of Rao's Tomato Basil Pasta Sauce, six uncooked sheets of Dreamfields Lasagna Noodles, 7-8 oz. of cottage cheese, 2 ½ cups of shredded mozzarella cheese and ¼ cup of hot water.
Start by cooking the beef in a skillet over medium heat, stirring it often. Once it's no longer pink, drain the juices and then stir in the pasta sauce.
Now you can start assembling the lasagna. Spoon 1/3 of the meat sauce in a lightly greased 11 x 7" baking dish and spread it out evenly with a spoon. Start building the layers with three noodles, half of the cottage cheese and half of the mozzarella. Repeat this step until you've used all the ingredients. Slowly pour water along the edge of the dish and cover it with two layers of aluminum foil.
Bake at 375F for 45 minutes and then remove the foil and bake for an additional 10 minutes. Let it cool for 10 minutes before serving.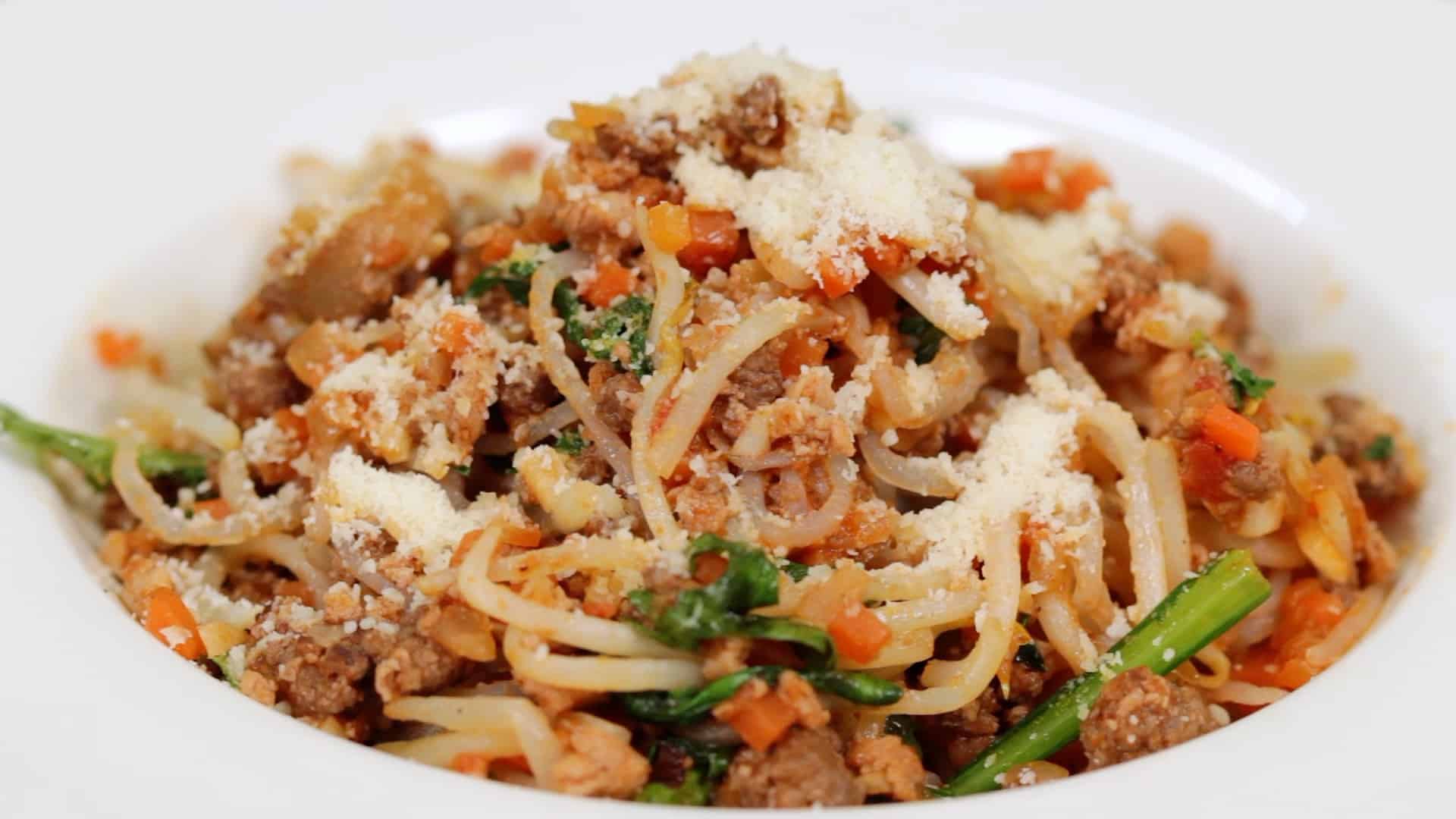 Meat Sauce Shirataki Pasta
This tasty dish utilizes the versatile Shirataki Noodles to make a simple yet satisfying meal.
You will need a 150g of Shirataki Noodles, 50g of bean sprouts, 1 garlic clove chopped, olive oil, 150-170g of homemade low carb meat sauce (prepared prior to cooking this recipe), parmesan cheese grated and salt and pepper to taste.
To start, place the Shirataki Noodles in a pot of water and bring to a boil. Cook the noodles for 30 seconds. Strain them with a mesh strainer, removing as much water as possible. Place the noodles on a cutting board and slice into shorter lengths. Remember not to touch the noodles as they are still hot at this point.
Place the parboiled noodles into a hot skillet and cook to reduce the remaining water. This will ensure that the ingredients will be able to properly absorb the sauce. The noodles are ready once they start making squeaking.
Pour in some olive oil and then add the garlic and sauté until it becomes fragrant. Toss in the bean sprouts along with a few pinches of salt and pepper. Give everything a good toss so that the seasoning mixes with the noodles and bean sprouts.
Move the noodles to one side of the skillet and spoon the meat sauce into the open side. Toss the noodles into the sauce so that they are fully coated. Let it cook until the liquid is completely reduced and everything is heated through. Transfer to a bowl and top with as much parmesan cheese as you'd like.
You can top with parsley or other fresh herbs. You can also include broccoli (even just the stems) to add a nice textural contrast. If you do so, make sure you add the broccoli near the end so that it doesn't overcook.
Stock your Pantry Today!
We hope these recipes provide some reassurance that you don't need a lot of ingredients to make amazing low carb meals. With a little creativity and the right guidance, you can continue to eat healthy without running to the grocery store several times a week.
Browse all the great low carb foods you can buy online at The Low Carb Grocery – find some truly amazing low carb brands and products. Take advantage of our fast, free shipping with minimum orders of $100).