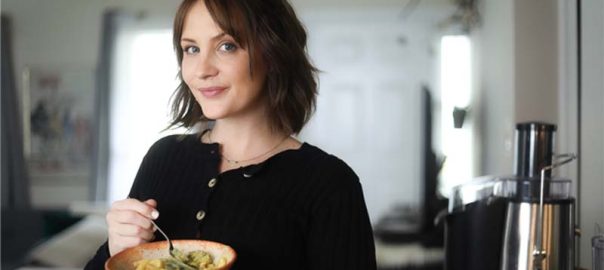 Fall Low Carb Foods
Healthy Fall-Themed Low Carb Foods To Celebrate Autumn's Arrival
The days are getting shorter, the air is crisper, and the leaves on the trees are changing to vibrant reds and oranges now that fall is nearly here. When this happens, we tend to find ourselves craving different kinds of foods that will warm us up and make us feel calm and comfortable thanks to rich spices and savoury flavours.
With autumn just around the corner, we felt it was the perfect time to pull together a great collection of savoury snacks, delicious baked goods recipes, and scrumptious comfort foods that are just perfect for this time of year. You'll discover a diverse selection of healthy low carb snacks, keto-friendly recipes for some of the most popular fall favourite beverages, and more. While some people may still be clinging to their refreshing summertime sippers and crisp cool salads, the irresistible scents of spices like cinnamon and nutmeg and rich flavours of pumpkin and apple are sure to draw you in and wrap you up like a warm hug on a brisk fall afternoon.
Let's start off our list of delicious low carb fall foods with a sample of what you can find right here at The Low Carb Grocery, then we'll share some must-try recipes we've found for you to explore. Here we go!
Eden Organic Dry Roasted Pumpkin Seed Snacks – Roasted pumpkin seeds are synonymous with fall, and they're the kind of snack that takes you back in time to when you were a kid. Eden Organic Dry Roasted Pumpkin Seeds are a healthy and nutritious snack that is low in carbs, high in dietary fiber, and rich in essential vitamins and minerals. Perfectly roasted, lightly tossed in fine Atlantic sea salt, and in a convenient resealable bag, these pumpkin seed snacks are the ideal choice for autumn road trips, hiking adventures, or to enjoy any time. Try Eden Organic Spicy Dry Roasted Pumpkin Seeds, too!
Sensato Apple Cinnamon Instant Hot Cereal – Nobody likes the fact that it can still be dark when you wake up early in the fall, but a warm and delicious breakfast can help you shake off the cold and start your day off right. Sensato's delectable Apple Cinnamon Instant Hot Cereal is just the thing you need to get fueled up for the day with plenty of nutrition and a great taste that you'll love. Ready in just two minutes with hot water, it's a quick and simple low carb breakfast that the whole family can enjoy. Also available in other flavours like Butter Pecan, Vanilla Almond, and more.
ANS Performance Keto Pumpkin Spice Pancake Mix – Pancakes are one of those breakfasts that kids hope for in the morning, but they've never had anything like these Pumpkin Spice Pancakes from AND Performance! This fast and easy complete pancake mix just needs water, and you're ready to cook up a hot stack of delicious keto-friendly pancakes that won't last long on the breakfast table. You can also try other flavours of ANS Performance low carb pancakes including Chocolate Chip, Banana, Blueberry, and Apple Cinnamon (another fall favourite).
Chatila Low Carb Pumpkin Doughnuts – Another pumpkin product? You bet! It's the most popular flavour of the season, and these incredibly delicious low carb doughnuts from Chatila will definitely show you why. Chatila's doughnuts are famous among low carbers for their great taste, perfect texture, and sugar-free ingredient list. Of course their lemon, chocolate and vanilla varieties are simply scrumptious, but Chatila's pumpkin doughnuts are the ones we crave above all others this time of year. Give them a try, and we're sure you'll agree!
SweetLeaf Liquid Stevia Pumpkin Spice Flavour Drops – If you simply can't get enough pumpkin spice flavour, why not spice up your coffee, sugar-free hot chocolate, or low carb baked goods with SweetLeaf Liquid Stevia Zero-Calorie Pumpkin Spice flavour drops? With just a drop or two, you'll get a delightful natural sweetness infused with the classic flavours of pumpkin, cinnamon, and nutmeg to elevate your favourite hot beverages and home-baked goodies. SweetLeaf Stevia flavour drops are available in many other flavours as well, including Hazelnut, Vanilla Crème, Chocolate Raspberry, and many more.
Low Carb Recipe Ideas
Now that we're fully immersed in the feeling of fall thanks to these tasty low carb products, it's time to share some healthy low carb recipes and keto-friendly cooking ideas we've found that are definitely going to become family favourites for years to come.
Sugar-Free Pumpkin Spice Lattes – You knew this would be at the top of the list, didn't you? Seasonal lattes have become an essential item on the menus of coffee shops and restaurants all over the world, but many of them are loaded down with way too much sugar. This recipe is a simple one you can make right at home to cut out the sugar and enjoy the full flavour experience of a classic pumpkin spice latte. Plus, this recipe also comes with variations to make it keto-friendly or vegan, if you choose. It's really easy!
Low Carb & Keto Butternut Squash Soup – We love hearty soups in the fall, and this rich and flavourful butternut squash soup is quickly becoming one of our all-time favourites. Squash is one of the definitive fall foods, and features prominently on Thanksgiving dinner tables across Canada. In this recipe, the full flavour of butternut squash is accentuated with just the right blend of seasonings, resulting in a warm, creamy and smooth blended soup ideal for lunch or dinner on those chilly autumn days.
Low Carb Apple Cinnamon Loaf – Going apple picking in the fall is a tradition that many families enjoy year after year, but how do you choose what to do with the apples that you come home with? This recipe might make it a bit easier to decide this year! Apple bread is a wonderful way to enjoy autumn apples, and this low carb version is a much healthier option than most other recipes that have excess sugar and carbs in them. Featuring coconut oil, almond flour, Swerve and Stevia sweeteners, this apple bread has all the warm aromas and rich flavours of the season, but keeps the carb count low.
Low Carb & Keto-Friendly Pumpkin Muffins – We're nearly at the end of our recipe list, but there just had to be one more featuring pumpkin! These keto-friendly pumpkin muffins are so moist and delicious, you won't even believe it. Using a blend of almond flour and coconut flour, the carbs are kept to a minimum while the texture is absolutely perfect. The delicate sweetness comes from Monk Fruit sweetener, which is ideal for low carb baking recipes like this. This recipe features a number of helpful variations to help you make it dairy-free, nut-free, and paleo-friendly. There's also a note on how to make them with a keto-friendly cream cheese filling that's so good!
Low-Sugar Keto Hot Apple Cider – It simply wouldn't be fall without a mug full of rich, delicious hot apple cider. Making hot apple cider without all the sugar to keep it low carb and keto-friendly takes a little creativity, but the end result is an amazingly easy to make warm and cozy fall beverage that you can enjoy any time. For starters, this recipe uses cinnamon apple spiced tea to get all the flavour without any sugar, but brings the sweetness you need with a little Swerve brown sugar alternative sweetener. Top it off with some sugar-free whipped cream, an organic cinnamon stick, and you're all set to warm up by the fire with a delicious cup of autumn flavour. You can even add a shot of your favourite rum, if you're in the mood for it!
Enjoy Autumn With Delicious Recipes & Healthy Foods From The Low Carb Grocery!
Fall really is a magical time of year, as the world around us becomes vibrant with intense hues of red, orange and yellow, and the crisp air is filled with scents of warm baked goods and comforting aromas of cinnamon and spices. We hope that you take the time to truly enjoy all that this wonderful season has to offer, and that this list of delicious low carb foods and healthy recipes has inspired you to share some special moments together with family and friends. We wish you all the best as you experience the crunch of leaves under your feet, a savoury snack to enjoy, and the warmth of a hot seasonal beverage in your cup!