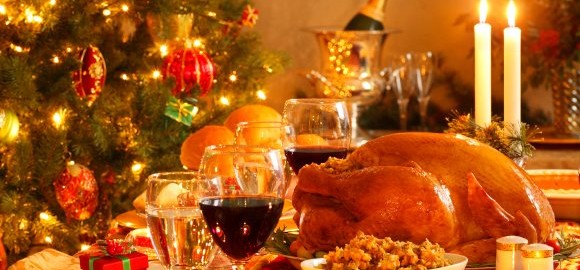 Low Carb Christmas Dinner & Recipe Ideas
Low Carb Christmas Dinner Ideas
The holidays are a time of family fun, good cheer, and of course, an amazing array of delicious foods that only come around once a year. For low carb dieters, this may seem like a challenging time to stick to your diet goals, but we're here to help you realize that planning a low carb Christmas is a lot easier than you'd think.
In this article, we've gathered our favourite tips and some helpful shopping advice to help you plan the perfect low carb Christmas foods that you and your family will love.
For starters, let's think about the most popular foods that many Canadians normally serve around the holidays.
Popular Christmas Foods
Turkey, Ham or Beef
The big meal wouldn't be complete without the traditional Christmas turkey making an appearance. Of course, it needs stuffing and gravy to go along with it, so you can't forget those either. Turkey itself doesn't really need any adjustments, as it's already low carb, but here's a brilliant low carb garlic butter roast turkey recipe. For those of you who maybe want to try something a little different than the standard Christmas turkey, you could roast up a nice prime rib or do a traditional style ham.
Prime rib is a wonderful cut of beef when prepared properly, and comes out moist, tender and incredibly delicious. Here's a foolproof holiday prime rib recipe from alldayidreamaboutfood.com you can try this Christmas that is sure to be a winner.
If ham is more your style, this simple recipe from Atkins for a maple-mustard glazed baked ham uses sugar-free maple flavoured syrup and Dijon mustard to keep the carb count low and create a sweet but bold glaze that is a perfect accompaniment to the saltiness of the ham.
Finally, if you want to try something perhaps a bit fancier or unusual, the wonderful low carb blog 'I Breathe, I'm Hungry' has this tremendous recipe for Rosemary & Mustard Crusted Baked Ham. Christmas dinner will go from joyful to legendary with this delicious meal on your table!
Stuffing
To make a great low carb stuffing, you can always use a low carb stuffing mix like this one from LC Foods, or you can get low carb bread, and low carb bread crumbs to make your own Christmas stuffing.
Alternatively, there are many recipes out there for stuffing's that don't use any kind of bread at all. The blog 'I Breathe, I'm Hungry' comes through again with a great collection of low carb stuffing alternatives. Check out their list of low carb stuffing recipes here, and we're sure you'll find something that strikes your interest.
Turkey Gravy
For gravy, this can be a simple matter of just using a different thickener instead of the wheat flour that many gravy recipes call for. Substituting cornstarch as a thickener works very well, and contains no carbs. Just make sure that you prepare enough gravy for everyone. It always tends to run out fast! If time is short, and you simply need to find a nice pre-packaged gravy mix, you can find many options here in our selection of low carb gravy to suit any type of meat that you may choose to serve.
Appetizers & Hors d'oeuvres
It seems like there's always something yummy to eat around the house at Christmas time. Whether it's a fresh batch of warm hors d'oeuvres or a colourful cheese plate, there's never a shortage of things to nibble on.
One popular hors d'oeuvres that many people enjoy as part of their holiday appetizers is small beef or pork meatballs served along with a tasty sauce for dipping. We prefer a nice zesty chili sauce, but any of your favourite hearty sauces will work just as well. Just make sure that you choose one that is low in sugar to keep the carb count down, like this chili sauce from Jok'N'Al.
Another simple, but very yummy, appetizer is nice smoked gouda cheese, sliced and wrapped in with a thin blanket of black forest ham. Although it sounds plain, the smoky taste of the cheese and the saltiness of the ham taste wonderful together. Use fancy picks for serving these and you can add some extra holiday style to the platter. Every time we make this low carb treat, the plate gets bare pretty quickly!
Desserts & Sweet Treats
Christmas cookies are an essential treat during the holidays for young and old alike, and with a good low carb cookie mix, you can bake up a fresh batch of cookies any time you want. Mix in your favourite seasonal ingredients, cut in the shape of stars, snowmen, or Christmas trees, and you're all set!
For the traditional dessert lovers, this amazing recipe from Atkins for a Chocolate Yule Log is definitely a winner. It uses a sucralose based sweetener to keep the sugar levels low, and whole grain soy flour to achieve a very low carb count. This recipe even comes complete with a decadent frosting to top it off! This is one dessert you won't want to pass up.
Conclusion
The holidays are supposed to be full of joy and happiness, and with these great recipe suggestions, you can relieve a lot of worry and pressure from your low carb diet plan. Of course, regardless of what you choose to serve on your table throughout the holidays, you still need to be diligent with your carb counting to make sure that you stay on track. There's no reason you can't sample a little bit of everything that your Christmas dinner table has to offer, as long as you make sure that you don't pile on too much of anything. If you feel like you need a refresher on carb counting, be sure to check out our carb counting guide here.
We hope that you have found these tips and ideas helpful, and we wish you and your family all the best this Christmas season – Happy holidays and Happy Eats!