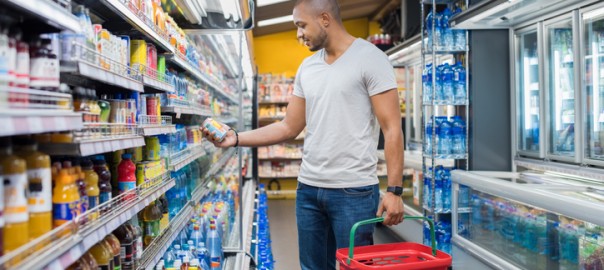 Low Carb Grocery List Essentials
Low Carb Grocery List Essentials
While on the surface, planning a grocery list might seem like an incredibly simple thing to do, it's amazing just how much time can be saved by incorporating just a little bit of planning and strategy in to your shopping list. Even the most diligent list-makers among us can still benefit from some simple tips and tricks to help make sure that each shopping trip is efficient and successful. In this article, we will give you some handy time-saving advice that you can use when you're putting together your meal plans and grocery lists to make things faster and easier when you hit the aisles.
Now, let's get right to it!
Know What You Need
Do you plan your meals around what you already have in the house, and then fill in the gaps with a trip to the store? Or do you plan your meals first, and then scan the cupboards and fridge for what you've already got before you compile your list? Most of the time you could use either method and still come out with the same list. However, if you have a big meal event coming up, it's a good idea to start with that and then fill in the rest of your meal plan around it. Alternatively, you could look at the main ingredients you already have first, such as meats and proteins, and build out meals that work with the rest of your on-hand ingredients, and then just fill in the gaps with your shopping list.
Whichever method you typically use, the basic idea is still the same. You want to minimize waste and duplicate purchases of things that you've already got, but also want to make sure that you don't assume you have a critical ingredient that you actually don't. In a nutshell, you want to minimize the number of items you need to get, and simultaneously make sure you have every necessary item for your meal plan. This way, you're spending less time hunting at the store, less money on your purchase, and still making sure your meals are 100% complete.
Essential Low Carb Items
There are a few products that are simply essential to low carb dieters, and you'll want to make sure that you always have these items in your cupboards and refrigerator. This way, you will always be able to craft your meal plan to fit all the criteria for carb counts and nutrients that you need. Here's some of the most essential items that every low carb kitchen will need to keep on-hand:
Meats
o   Chicken – Boneless chicken breasts are such a universally useful protein, you simply have to have some in your kitchen. We suggest buying larger quantities and breaking the pack up in to freezer bags with meal-sized portions that can be thawed whenever you need them.
o   Beef – Extra lean ground beef is another extremely versatile meat that can be used to make everything from hamburgers to spaghetti and meatballs. Having a set of nice grilling steaks is a good idea, too. These can either be grilled up fresh with some veggies, or sliced up thin and worked in to a stir fry.
Fruits and Vegetables
o   Fruits – You'll want to stick to our recommended list of low carb fruits (link to low carb fruit and vegetable article)as a guideline on what to buy and what to avoid, but generally a supply of berries, plums, kiwis, and cantaloupe helps keep the carb count on the lower end.
o   Vegetables – While vegetables are a much safer place to play for low carb dieters than fruits, there are some that are lower in carbs than others. Leafy greens like spinach and lettuce are essential, and a supply of bell peppers is very handy for a variety of recipes. Avocado, asparagus, and zucchini are also healthy options and have a lot of utility in the kitchen.
Other Essential Items and Ingredients
o   Sugar Alternatives & Sweeteners – Whether you need it for baking or just a scoop for your morning coffee, you'll want to make sure you have a sugar alternative in your kitchen at all times. Having a supply of packets like these from Swerve or in a bigger package like this brown sugar from LC Foods will make sure you cover all your bases for useful sweeteners.
o   Noodles & Rice – For low carb dieters, having a good quality noodle and rice is absolutely critical. You'll want to make sure you've got a couple of different varieties of low carb noodles like these fettucine and ziti noodles from Miracle Noodles, as well as a pack of Miracle Rice, as well.
Know Where You're Going
Not all grocery stores are created equal, and when you're shopping for a low carb diet plan, this is especially true. Planning a grocery list for maximum efficiency includes thinking about your destinations, and what items you need to get at each place. If you're only going to make one stop, then this is pretty easy. But if you need to hit more than one place to complete your list, it helps to keep things organized by location to help make sure you're getting everything you need at each store.
Online shopping is a great way to save a ton of time on your shopping trips, take advantage of special deals you can't get locally, and obtain unique or hard to find products that your local stores just don't carry. Consider making an visit to TheLowCarbGrocery.com as your first stop, since it will be the fastest part of your shopping routine and you can choose from a wide range of low carb foods from all the major brands. In addition, you will find a vast array of specialty products that aren't normally stocked in smaller stores or regular grocery retailers. Once you've completed your online order, we're sure that your list will be a lot shorter, so it just makes sense to take advantage of the added convenience of online shopping whenever you can.
Plan Your Route
Thinking ahead about your trip around the inside of the store will help to make sure you avoid backtracking but still hit all of your essential grocery store sections and complete your list. All grocery stores are set up with some type of consistency in order to make it simple to get around, and your list should be organized to take advantage of their layout. This means grouping and organizing the items on your list to sequentially go through each section in the order you'll hit them in the store.
Organize the items on your list by store section, such as meats and deli, vegetables and fruits, dairy, frozen foods, bakery, and so on. Check your list frequently, since it can be easy to forget an item when you're in a chaotic grocery store surrounded by dozens of other busy shoppers. Don't let any items slip through the cracks!
Go Digital & Collaborate
Making a grocery list is now easier than ever with the fantastic list apps available for your mobile devices. This article from Elizabeth Harper over at Techlicious breaks down the Best Grocery List Apps along with details on what they can do and how they work. Some can even be automatically shared and synced with more than one user, so other members of your family can easily add something to your list.
Conclusion
We certainly hope that you've found these tips helpful. We know just how important time is, and with everyone's schedules seemingly getting busier by the day, every little bit of help can add up to make a big difference. We think everyone should be able to spend less time walking around a grocery store, and more time enjoying the delicious meals with their family, so go ahead put these tips to good use on your next shopping trip.