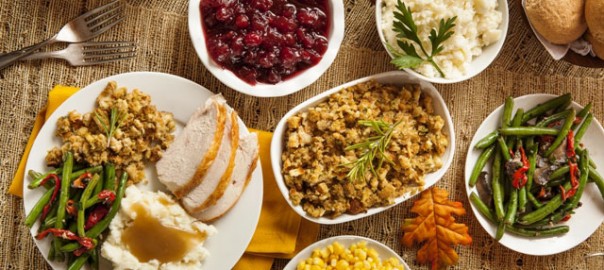 Low Carb Thanksgiving Meal Ideas
Low Carb Thanksgiving Ideas
Thanksgiving is a wonderful tradition that Canadians from coast-to-coast enjoy every year with their loved ones. It's an experience that is full of warmth, happiness, and delicious food that makes us truly thankful for all we have. Of course, as with most big holiday meals, this can be quite a conundrum for low carb dieters. Traditional Thanksgiving meals are not exactly light on carbs, but with a little help and some smart adjustments, you can prepare all the classic foods the low carb way!
In this article, we will go through the best tips and tricks for planning a delicious and satisfying Thanksgiving dinner, while reducing carbs and providing healthy options. By making a few smart adjustments, and putting a new spin on some old classics, you'll be amazed at just how easy it is to pull off a low carb Thanksgiving dinner, without sacrificing taste.
Starters
It's always a good idea to have some things prepared for everyone to nibble on while the main course is cooking. Preparing a few simple, delicious low carb appetizers is simple. Here are a couple of suggestions!
Cheese & Fruit Assortment
Appetizers don't get much easier than this! Simply select and arrange a selection of unique and flavourful cheeses, such as a bold blue cheese, a sharp cheddar, and creamy brie. Try choosing some options that are a bit more unusual, and pair them with a nice low carb cracker assortment, a few different nuts like almonds or pecans, as well as some fresh fruit like grapes or strawberries to complete the colourful presentation.
Veggies & Hummus
Keeping things simple and light, why not spread out an assortment of fresh veggies like carrot sticks, celery, mushrooms and cucumbers to dip in your favourite hummus? Hummus is a great low carb dip, and you can get a variety of different types, like red pepper or sun-dried tomato, if you want to try something unusual.
Main Dishes
Let's be honest – these are the foods that make us love Thanksgiving so much! Here, we will breakdown how to prepare your turkey, stuffing, and other sides with a low carb twist.
Turkey & Other Meats
Preparing your turkey is pretty much the same as it always is, but why not opt for a new poultry rub or seasoning to add a different kind of flavour to the bird this year? There are plenty of options available, like the no-salt spice rubs from Summer Kitchen. Try Rosemary Rush or Twisted Tarragon to give your turkey a lot of character!
Also, be sure to use the correct up-to-date roasting times for turkey, and not those listed in an old or outdated cookbook that will either dry out your bird or leave it raw in the middle. This reference for turkey roasting times from CanadianTurkey.ca will ensure that you're using the correct times and temperatures to produce a perfectly roasted turkey this Thanksgiving.
Of course, you can always go a different route and roast up a different meat if turkey isn't your style. If you're hosting a smaller crowd, you might opt for a roast chicken instead, as they are easier to prepare and take less time due to their smaller size.
Another crowd-pleasing main meat dish you might opt for is a nice ham, which is a great choice for a large holiday meal. We recommend choosing a bone-in ham, as they tend to come out of the oven a bit more moist and tender than boneless hams.
Keep the carbs low by using a sugar-free approach to your ham this holiday, like this recipe from BariatricEating.com for a No-Sugar Pineapple Glazed Ham. Simply delicious!
Gravy
For the turkey gravy, you'll want to swap out any flour that may be called for in a gravy recipe with a different thickener. Cornstarch or arrowroot mixed with spices such as pepper and salt, are popular options that work well to thicken up gravies and sauces. Just be careful that you don't add too much, as they will thicken the gravy much faster than a flour based thickener.
Alternatively, you could always choose to serve your gravy 'au jus', and skip the thickener altogether.
Whatever approach you choose for your gravy, you can always boost your gravy with a prepared gravy mix. This way, even if your meat doesn't produce enough gravy to go around, you can simply mix up some more and make sure that all your dinner guests get some.
Stuffing
This is where things can get a bit tricky. The main ingredient in stuffing is bread, of course, so the easiest way to reduce the carbs in your stuffing mixture is to use low carb bread crumbs, or if you prefer using fresh bread, by using something like Bakers Deluxe Dream low carb Bread, but there are even better ways to cut the carbs from this Thanksgiving staple.
For example, we recently discovered a totally different method for a Low Carb Cranberry and Walnut Stuffing that sounds way too delicious to pass up! Check out this amazing turkey stuffing recipe on sheknows.com.
Vegetable Side Dishes
Potatoes aren't going to make the cut for a low carb Thanksgiving meal, but there are plenty of other side dishes that you can serve up that are hearty and delicious alongside your turkey and stuffing.
Green beans are always a favourite vegetable to prepare for a big family meal, and they taste great when sautéed with ribbons of finely sliced prosciutto and a light squirt of lemon juice when they are cooking.
Brussels sprouts are making a big comeback as a popular vegetable, and with good reason. They are extremely healthy, tasty and can be prepared in a variety of ways. Try pan frying them with a bit of olive oil, and sprinkle lightly with salt, pepper, and garlic powder to taste – mmm!
Cauliflower is a really useful vegetable and works amazingly well as a mashed side dish. Simply boil and mash cauliflower the same way you would potatoes, and serve with a bit of butter and a light dusting of salt.
Desserts
It simply wouldn't be Thanksgiving without pumpkin pie for dessert, now would it? Fortunately, there are a lot of options for making low carb pie crusts. This low carb pie crust flour from LC Foods works really well. For the filling, substitute the sugar for an alternative sweetener such as Sukrin Fiber Syrup, which works wonderfully in desserts like pumpkin pie. Finish it off with a dollop of sugar-free whipped cream on top, and you're all set!
Conclusion
Thanksgiving is the time of year where we should be thinking about all the wonderful things we have to be thankful for, and not worrying about missing out on all the traditional foods that we know and love.
As you can see, there are plenty of alternative recipes to ensure low carb dieters can enjoy Thanksgiving as much as anyone else. Of course, you'll still want to moderate your overall carb intake and keep an eye on your portion sizes. Keeping count of your carbs will help you make sure that you get to try a bit of everything, but not have too much of anything. For more info on keeping track of your carb intake, read our article about counting carbs the right way.
We hope that you find these tips and advice helpful, and that you and your family has a wonderful Thanksgiving meal once again this year.
Happy Thanksgiving, everyone!