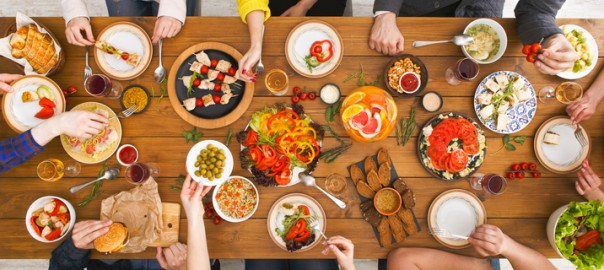 Fast and Easy Low Carb Appetizers
Fast and Easy Low Carb Appetizers
Aside from simply being delicious, the right appetizers can go a long way in setting the tone for a special occasion. There are countless recipes for appetizers, both hot and cold, that you can choose from to complement your meal, but it can be difficult to sort through them all and find the ones that fit best. In this article, we'll take a look at what factors can determine what appetizer best suits an occasion, as well as some tips for great hot and cold recipes to try. Let's take a look at some general tips you can use to plan what to cook up for appetizers at your next special occasion.
General Appetizer Tips
The foods we eat are closely related to the emotions we feel and our moods, so it should come as no surprise that different kinds of appetizers can help set the mood for a meal or special occasion.
For example, one type of event that typically has lots of appetizers on the menu is sporting event parties. When you're watching the big game, it's common to serve a wide variety of chips, dips, chicken wings, and other warm, savory appetizers. These types of appetizers can be considered types of comfort food, as they usually accompany exciting, fun events with family and friends. In addition, they are also pretty safe bets for anyone who may not be as adventurous in their cuisine exploration, but always love a nice spicy wing or crunchy chip and salsa.
On the other side of the spectrum, if you're planning on hosting a sophisticated cocktail party complete with champagne and caviar, the mood you're after probably won't come from a plate of spicy chicken wings. This kind of event would be better served with a charcuterie plate of specialty cheeses, fresh fruit, and a variety of cured meats. Perhaps some antipasto, marinated olives, baked brie, or mini quiche might appear on the menu, too. These are all less common than things like chips and dip, and tend to cause conversation about them.
While we're not trying to typecast certain appetizers in to only being suitable for a very particular type of event, we believe that choosing the appetizers based on the mood you want to set it a good way to start planning your menu. When you combine the nature of the event with the tastes and preferences of the guests, you can usually pick out at least a handful of appetizer options that really make sense and would be a big hit.
Types of Appetizers
While there are dozens of types of appetizers based on ingredients, the two high-level categories that are commonly used to sort them out is hot vs. cold. This way, you can get a general idea of what will be needed in order to prepare them, and know involved the process might be. Hot appetizers commonly feature meat, dairy, and sauces, while cold appetizers often include fruits, vegetables, cured meats and cheeses. Of course, these ingredients are certainly not limited to one or the other. Appetizers rarely follow strict rules, and can easily be customized for any individual taste or style.
Tips for Hot Appetizers
Hot appetizers come in many forms. They include items as simple as meatballs and chicken wings, to more complicated items such as phyllo pastries and mini quiches. One of the most important things about serving hot appetizers is timing. Many hot appetizers have very short cooking times, and if you're not paying very close attention you could end up with burnt pastries. Be sure to plan your cooking times carefully, and take advantage of the alarm app on your smartphone. In just a few minutes, you can set up multiple alarms and use subtle notification settings to keep your appetizers on-track and perfectly prepared.
Even though many hot appetizers use pastry or other types of flour-based dough, there are plenty of low carb alternative ingredients you can use to keep the carb count low. For starters, research some pastry and dough recipes that use alternative flours like almond flour. For example, here's a great recipe for a low carb pie crust from Kim at LowCarbMaven.com using almond flour that is great for any appetizer recipe that calls for a pie crust.
For appetizers that use sauces like chicken wings or meatballs, make sure you either choose a low sugar sauce like this sugar-free Mild Buffalo Wing Sauce from Wing Time, or if you're creating your own sauce from scratch make sure you go with low-sugar or no-sugar ingredients.
Hot Appetizer Recipe
If you enjoy hot appetizers that have a bit of a spicy kick, then you simply have to try these Low Carb Cheesy Spicy Sausage Stuffed Mushrooms from Brenda over at SugarFreeMom.com. These tasty little bites are perfect appetizers for a holiday party or big family get-together, and they are amazingly easy to make. With just a handful of ingredients, these can even be made up to two days in advance and refrigerated for even more convenience. Give these a try this holiday season, and you'll love them!
Tips for Cold Appetizers
Even though there are countless options for hot appetizers, there are even more for cold appetizers! Lots of cold appetizer recipes don't even require any cooking or complex steps to prepare, and there are recipes for any occasion that will suit a wide variety of tastes and dietary needs.
Because cold appetizers don't need to stay warm or risk getting burnt, many of them can be prepared well in advance of the event to save time and add convenience. However, there are some ingredients that you may find in a cold appetizer recipe that don't refrigerate well. For example, avocado-based dips like guacamole will unfortunately turn brown if left exposed to the air for too long, making them look much less appealing. In those kinds of situations, you can still measure out or prepare the rest of the ingredients in advance and simply perform the final when the time is right.
For sweeter appetizers that may use whipped cream, you may find that the whipped cream will lose its shape and consistency if prepared too early, so this is another instance where freshness and timing are important. In addition, to better suit the low carb diet, sweet ingredients like whipped cream or chocolate should be swapped out for sugar-free alternatives to help keep the carb count low. These sugar-free dark chocolate chips from LC Foods are a great alternative that have plenty of uses including making amazing chocolate-dipped strawberries, which are always a delicious treat.
Since lots of cold appetizers require some type of cracker on which to be served, low carb dieters may want to consider an alternative method, like these melba toasts from Paskesz, which are very low in carbs. As another option, cucumber slices make a perfect little platform for a variety of cold appetizers, and they're also great for using with lots of dips in place of chips.
Cold Appetizer Recipe
This amazing recipe for Smoked Salmon & Cucumber appetizers from Dara at CookinCanuck.com is the perfect example of how you can use simple ingredients to create something truly special. It uses a clever combination of capers, non-fat Greek yogurt, and dill to make a wonderful, creamy accompaniment for the smoked salmon. Placed on top of a fresh cucumber slice, these tasty bites won't last long on any appetizer table!
Conclusion
Whether you're planning a big holiday party or a simple dinner for two, we're sure that these tips will help you put together a fantastic appetizer selection that everyone will love. Appetizers are a lot of fun to make, and even more fun to eat, especially the low carb way! We hope that you've found these tips helpful, and that the recipe ideas have given you some inspiration to try something new. Happy cooking!